Karl Chevrolet gives you peace of mind when you purchase a GM Certified Pre-owned vehicle. We have been the #1 GM Certified dealer in the nation for 10 consecutive years. Before you make your next purchase, come see why more people nationwide drive a Karl Chevrolet Pre-owned vehicle than any other dealer-There is a difference, Come see why TODAY!!
DENVER — When Iowa State beat North Carolina to advance to the Sweet 16 two years ago in San Antonio, judging by the postgame locker room atmosphere, you would have thought that group had just won the national championship.
Immediately following Saturday's 78-61 thumping of Little Rock, the locker room was surprisingly restrained. It was actually kind of quiet — except that TV that was tuned into Virginia vs. Butler at least. That was kind of loud. 
That's because the Cyclones were a heck of a lot more interested in scouting their next opponent than dancing, celebrating or talking to us media types. 
Folks, this is what a locked in, high-level college basketball program looks like.
I'll explain.
It took a while, but this team is finally there. This is finally the team that you somewhat unrealistically expected in November.
*** Shooting 56 percent from the field and knocking down 11 threes.
*** Limiting the opposition to six second-chance points.
*** Only turning the basketball over six times.
All of that occured vs. a 30-win opponent.
What you witnessed on Saturday night — followed by what I observed in the locker room after the game — is what it looks like when a team is clicking on every cylinder at the absolute perfect time of year. 
This Iowa State team — the defensively stout one (say what?) that held Little Rock to 37 percent shooting — is a team that can beat anybody in the country on any given night. 
"We are back to the Sweet 16 and we all have one goal, just to win," floor general Monte Morris said when asked about the tameness of the locker room. "We've been preaching, don't smile. It ain't over. I think honestly that we really just know we are capable of going all the way."
Morris had a modest eight points and four assists in the win but defended Little Rock star Josh Hagins like a champ. Hagins, who dropped 31 in an upset over Purdue, went 3-for-8 from the field and only scored eight points.
"If you watched us guard ball screens all night, that's what we were envisioning all year," Steve Prohm said. "We didn't give up offensive rebounds. We guarded all of their ball screens. Monte was so locked in."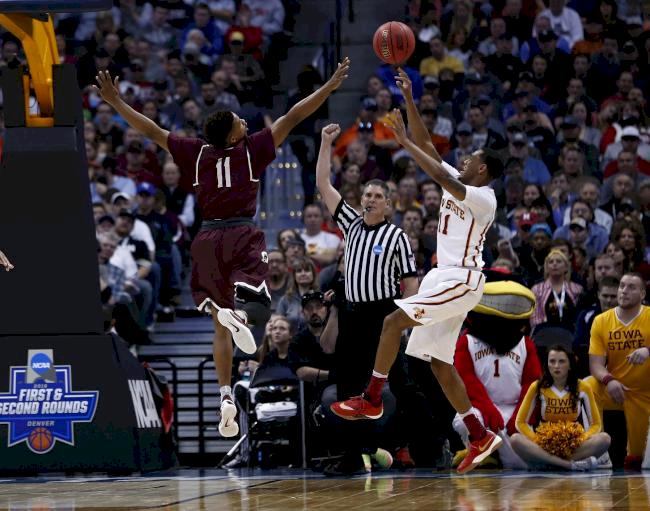 Iowa State didn't get to this point without its fair share of adversity though. 
There was the coaching change, which is difficult for any group of guys, especially when the exiting coach is Fred Hoiberg in Ames, Iowa. 
Then, its emotional leader and physical sniper Naz Mitrou-Long went down.
The turning point – when this team really started to grasp what Prohm was preaching — was following the highly publicized Jameel McKay suspension in February.
That's according to the guy who had to sit out.
"At that point I promised the team and we all made promises that there was nothing else and just move forward then," McKay said. "We did take two L's after that but from that, we got better. The team just played that much better. We lost to great teams but right now we are clicking and our confidence is skyrocketing."
That's when Jameel saw the change in this team. That's also when his teammates saw a change in Jameel, who had six points and 10 rebounds in the win.
"He is just unbelievable right now," Abdel Nader, who went 4-of-7 and scored nine points said. "All he has to do is play with a motor and he will play through the roof. That speaks volumes for his character to be able to play through adversity. We all love him. He is a great teammate." 
Matt Thomas went 4-of-8 from 3-point range, had 16 points and is easily playing the best basketball of his career right now. He's a completely different person and player than he was a year ago at this time.
Morris, who struggled with a shoulder injury in late February, has had a great tournament so far.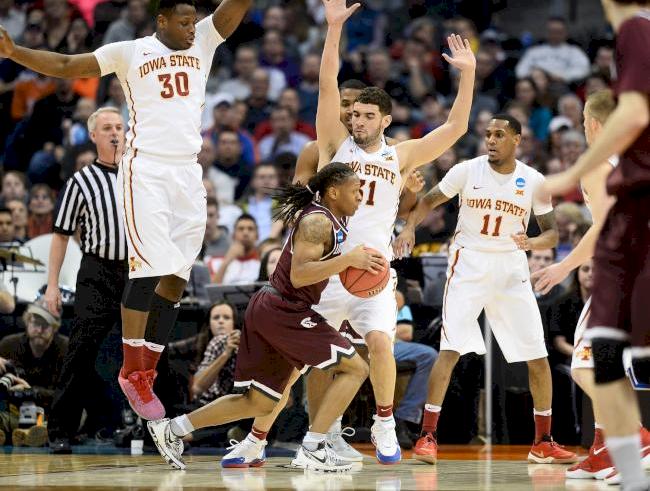 And then there's Georges Niang, the All-American who on Saturday passed Barry Stevens to become Iowa State's second all-time leading scorer. He's had terrible luck in his NCAA Tournament career but chased away many of those demons with two impressive 28-point performances in Denver.
"In March, your best players have to play their best," Prohm said. "We got him the ball where he likes it and he made great plays. But you are only going to win games this time of year if your best players make plays and ours did today." 
The first weekend of this NCAA Tournament could not have gone any better for Iowa State. 
Up next is a top-seeded Virginia team that is really, really good. Think of the Cavaliers as Little Rock on steroids. They actually play at a slower tempo than the Trojans but have high major talent and size.
"We still have more work to do," McKay said. "When people doubt us, that's when we play the best. So just keep doubting us."
Good news, Jameel. Iowa State opened as a five-point underdog for next Friday's game in Chicago's United Center.
The Cyclones don't care. The Cyclones won't listen. Unlike that team two years ago that went to Madison Square Garden without Niang (who had a broken foot), this team believes it can and expects to win a national championship.  
This team is ready, and they'll see you in Chicago.