Karl Chevrolet gives you peace of mind when you purchase a GM Certified Pre-owned vehicle. We have been the #1 GM Certified dealer in the nation for 10 consecutive years. Before you make your next purchase, come see why more people nationwide drive a Karl Chevrolet Pre-owned vehicle than any other dealer-There is a difference, Come see why TODAY!!
You're probably reading a lot of the following after Iowa State's 64-59 victory at Oklahoma State on Saturday.
"It wasn't pretty, but a win is a win." 
I beg to differ.
In fact, I'll go on the record right now and call that a beautiful win.
A win most certainly is a win (whatever that means), but it is always beautiful when a team comes together to overcome adversity, which is exactly what Steve Prohm's group did on Saturday in Stillwater's historic Gallagher Iba-Arena.
Following its second (and very rare) home loss of the season on Tuesday to West Virginia, the 2014-15 Big 12 Defensive Player of the Year, Jameel McKay, was suspended indefinitely and did not make the trip.
To make matters worse, Iowa State trailed Oklahoma State 10-0 (in basketball, not football) to start the game. 
Gross.
Cringe-worthy, really.
With Georges Niang on the bench in foul trouble, the Cyclones could have folded midway through the first half. It would've been hard to fault them for it too. 
So you thought Iowa State had depth problems in December when Naz Mitrou-Long hung up his sneakers for the season? On Saturday, Iowa State's bench attempted one field goal (Hallice Cooke made a three). One! 
You saw the Cyclones struggle to beat a team down two starters. I saw a TEAM come together when the chips were down, take to coaching (How about that fantastic defensive effort from Deonte Burton?) and do something that is always difficult to do when competing in the best conference in college basketball – win on the road – down two starters of their own.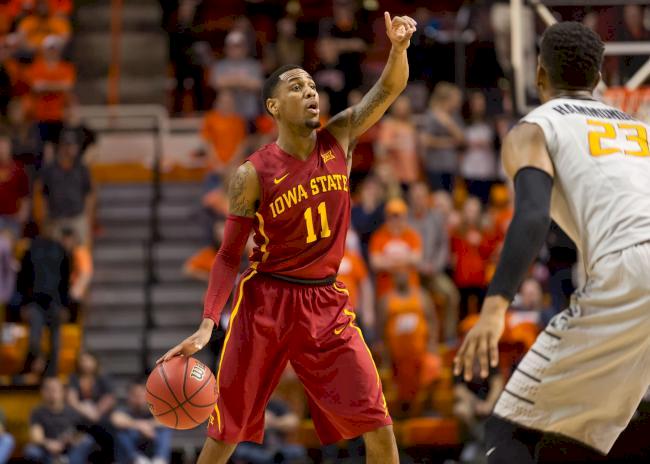 Mentally, Iowa State got better today. That "process" we always hear about isn't always full of rainbows and unicorns. 
Oh, and McKay's suspension is not related to legal issues. And he really is suspended indefinitely. According to the program's spokesman and additional sources of my own, it is unknown if its leading rebounder will play on Tuesday night at Texas Tech. This is all attitude related. Basically, it is Jameel's decision. 
My guess is that McKay watched this game on television (where he was sharply criticized by respected commentator Fran Fraschilla multiple times). McKay watched while his team could have used him, struggled, but still found a way to win.
I hope it was a humbling experience because let's all be real: Iowa State needs its starting center to make any sort of a run in March. 
Moving on, there was nothing "ugly" about watching two of the best players in America – Georges Niang and Monte Morris – score 29 of Iowa State's 42-second half points while Matt Thomas went 4-of-6 from 3-point range. 
Everybody (21 hard minutes were played by Jordan Ashton) contributed to this victory.
Those, the team ones, are the best victories.
There was nothing ugly about.