Forty-two is a staggering number.
According to the Phil Steele College Football Preview that recently hit newsstands, that's how many "starts" Iowa State missed out on during the 2014 football season due to injury or discipline (does not count one guy being benched for another due to performance).
Iowa State's whopping number was the most in the country and besides Wyoming (41), the Cyclones were the only program in America that surpassed 40.
According to Steele's data, this should be good news for Iowa State in 2015. The numbers show that over the last eight years, teams that have lost 34 starts or more and had nine or fewer wins have improved the next season 56.3 percent of the time. Those teams improved or stayed the same 68.3 percent of the time. Only 11.9 percent of the time have those teams had the same record the following year.
It's encouraging but Iowa State's injury woes the last two years still make me wonder if it truly has been a fluke or are the Cyclones just smaller and less talented than the opposition?
The truth probably lies somewhere in the middle.
The number 42 is mammoth though and is likely a bit of an anomaly.
Phil Steele will be a guest on my radio show, "Sports Fanatics" on 1460 KXnO today at around 4:30. Tune in for more of his insight on the Cyclones, the Big 12 and college football in general.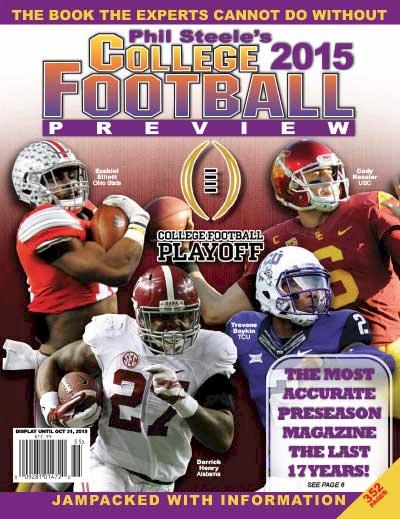 MORE NUGGETS FROM THE STEELE PREVIEW MAGAZINE
CYCLONES NO. 9: Steele has Iowa State finishing ninth in the Big 12 but also notes that he expects the Cyclones to exceed his expectations.
WATCH OUT: Here's a quote from Steele on Iowa State's wide receivers: "They have perhaps the nation's most underrated WR unit."
SoS: Steele ranks Iowa State's strength of schedule the 11thtoughest in America. 
2ND TEAM: Sophomores Allen Lazard (WR) and Colin Downing (P) are on Steele's All-Big 12 second-team. Cornerback Nigel Tribune received third-team honors. Daniel Burton (OL) and Luke Knott (LB) are on Steele's fourth-team.