Proudly landscaping Central Iowa since 1981, Country Landscapes has provided the ultimate in custom landscaping with innovative design and quality installation. Their locations in central, eastern, and northern Iowa serve Ames, Ankeny, Des Moines, Iowa City, Cedar Rapids, Clear Lake, Mason City, Marshalltown, and the surrounding communities. Their staff is local to you and loves to landscape–let them help you with all your landscaping needs!

Last Sunday, the Cyclone Fanatic crew started a historic email thread. In this thread, publisher Chris Williams, senior writer Rob Gray, columnists Brent Blum, Austin Narber and Kirk Haaland, and intern Jared Stansbury weighed in on this week's Big 12 Tournament. Read those thoughts in the first edition of Inside the Inbox. 
——————————————————————————————————————————————–
Jared Stansbury: Well, it's been a long season but the postseason is finally upon us. Iowa State will be the two-seed in this week's Big 12 Tournament with a matchup against the winner of the 7-10 game between Texas and Texas Tech. 
Personally, I am terrified of a possible third matchup with Texas. They are a team that I could see getting hot this week and then making a deep run in the dance. I'm high on Myles Turner. I think he could really help his draft stock with a good tournament run. 
Am I completely crazy for thinking this? What do you guys think?
——————————————————————————————————————————————–
Kirk Haaland: You're definitely not crazy but I wouldn't say I'm terrified of Texas. Pretty much any matchup would be difficult, even as early as the quarterfinals.
I'm not really a believer in the old adage, "it's hard to beat a team three times in a season." Not because it isn't hard but that's just a rationalization. In 2013, Kansas beat ISU with two miracles in close games in the regular season then more or less dominated the game in Kansas City.
Turner is an absolute stud and Isaiah Taylor is a royal pain but Texas is really good when Jonathan Holmes is producing. But hey, maybe the Red Raiders will pull an upset?!?!
I'm pretty sure this whole tournament in Kansas City is going to be complete chaos; and I'm not just talking about the P & L District across the street from the Sprint Center.
Which team do y'all think will make it to the title game from the top half of the bracket?

——————————————————————————————————————————————–
Rob Gray: Oh, you're crazy all right. To be fair, though, that observation has nothing to do with being leery of ISU's possible quarterfinal matchup with Texas. I reserve the "crazy" judgment for anybody under 30 – or anybody named Chris Williams (rim shot). 
Now that the old man's done with his lame jokes, I'll say this: I agree about the Longhorns being a scary matchup. But I'll also offer up a contrarian view. If Texas were to ever finally "get it," and fully mesh as a team, wouldn't they have done it before now? The 'Horns have faced numerous crossroads and so far have done just enough (probably) to barely squeak into the NCAA Tournament. 
So as long as the Cyclones find a way to neutralize Turner, as they did in Austin most recently, I like the matchup and think those clad in cardinal and gold can look forward to a Friday date with Oklahoma or Oklahoma State (OK, Oklahoma) — and many more drinks in the Power & Light District. 
I foresee an ISU-Kansas final, but would not be too surprised to see that end up being Baylor-Oklahoma.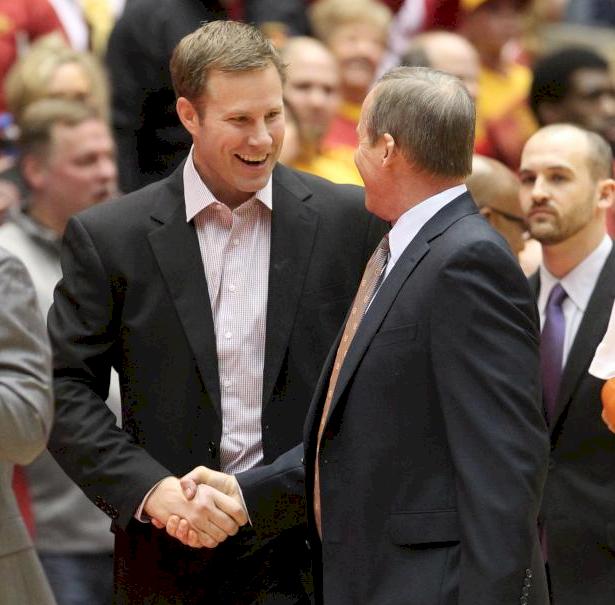 ——————————————————————————————————————————————–
Chris Williams: I'll go to bat for my boy Jared here. Texas scares the crap out of me. I don't like getting matched up with desperate teams in March. To Rob's point, the very thought of these out-of-sync Longhorns just clicking all of the sudden is a bit far-fetched. But that's a very, very talented basketball team. That's what I look at when I'm trying to pick a team that can run the table in a conference tournament too. For example, I don't think that Oklahoma State has the talent pool to do that even if all things are clicking. Texas though? That's a totally different story. 
As far as the top half of the bracket goes, a guy could make a serious case for Kansas, West Virginia and Baylor to all make it to the finals. Kansas has injuries and the Cliff Alexander drama to deal with. West Virginia has had its share of injuries too. Baylor, well, is Baylor is Baylor is Baylor. Who really knows?
Kansas would be the safe pick because of Bill Self and if you're like me, you probably find it hard to imagine that the Jayhawks won't play in the title game two years in a row. 
Let's look ahead to a potential semi-final matchup for the Cyclones, should they be so fortunate to get out of Thursday alive. I would hate to see Oklahoma again. I've said all along that I'd rather Iowa State draw KU in the semis than Lon Kruger's Sooners. 
Hypothetically Brent Blum, should the Cyclones and the Sooners meet again, what is the key for Iowa State to advance to the finals? I mean, Oklahoma pretty much had its way in round one this season and it took the largest comeback in program history to beat Oklahoma in Hilton Coliseum. 
——————————————————————————————————————————————–
Brent Blum: The key for Iowa State to defeat Oklahoma is start the game trailing 21-0 on the scoreboard. I'm joking, kind of. In the last week, Iowa State has taken a page out of the Ejim-Kane squad and hopped in a double-digit hole just to see how things look down there. Sort of like the Goonies (Jared, look that one up). I believe Iowa State found something in the second half against OU. The Sooners could not stay in front of Niang or Morris and once "The Mayor" figured that out, they ran very little "offense." 
I would assume Professor Kruger would come up with a different game-plan, but I like the Cyclones to score in bunches again if they meet OU. So the key would be to contain Buddy and Thomas. Those two can cause major issues, but if the Cyclones make others like Woodard, Booker and GET THAT STUFF OUTTA HERE Cousins beat them, I like Iowa State's chances. 
But if there was a guy in the tournament that could go all Shabazz and carry a team, it's Buddy and that is frightening. Anybody else have a guy they're terrified of in this tournament? And who else is ready for HOLLYWOOD HIGGINS time in the P&L?!
——————————————————————————————————————————————–
Jared Stansbury: I'm pretty scared of Rico Gathers. Not just his playing abilities, but him as an individual. I feel like he could crush me at any moment. Plus he averaged a double-double in the Big 12, which is really freaking hard to do. You know who else has done that in the last five years? Thomas Robinson in 2011-12. That's it. Two guys have done it in five years.
I would be pretty intrigued by a Baylor/Iowa State final.
Also, I can't believe you would think I don't know what The Goonies is, Blum. Smh. SMH.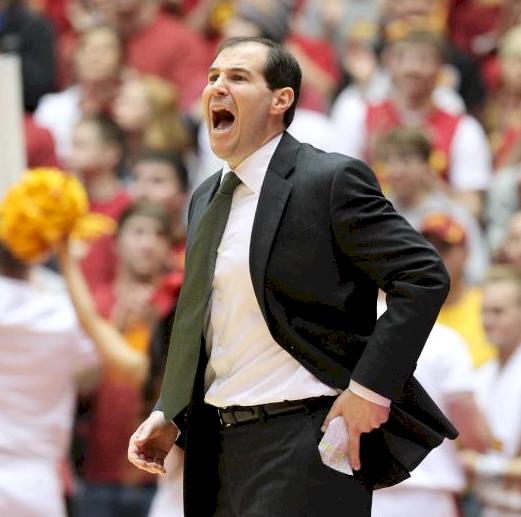 ——————————————————————————————————————————————–
Kirk Haaland: I'm also scared of Uncle Rico but not so much for his basketball abilities as his pass rushing skills with his hand on the ground.
Buddy is the main man to strike fear into every opponents' eyes and I think we saw that with the Player of the Year voting. Kansas has Perry Ellis as their only guy that has been a standout but Baylor and West Virginia are very much balanced attacks. Granted, Taurean Prince and Kenny Chery can be soul crushing but the league as a whole doesn't have a ton of star power, in my opinion. Not many lottery type picks outside of some young dudes at Kansas all based on potential.
Given KU is a bit of a MASH unit at the moment with injuries and suspensions, I wouldn't be surprised at all if Baylor or West Virginia picked them off. I'll go so far to say that I expect KU to lose in the semifinals again this year. I know I was pulling for the Tech upset earlier but I'll be greedy and pull for the Cowboys over Oklahoma as well. Nash and Forte can do some damage but that is a great matchup for the Cyclones.
You know what else I'm looking forward to? The ushers running onto the court at EVERY TV TIMEOUT. Where were those fine folks when the Jayhawks lost in Manhattan a few weeks ago?!? Also, I won't be relegated to listening to the Cyclone game in the middle of the workday for the first time in three years, so, that's neat.
——————————————————————————————————————————————–
Rob Gray: I forgot about those ushers, Kirk. Top shelf.
I couldn't agree more about Buddy Hield. His ability to score in bunches on anyone and at any time puts the Sooners into the nightmarish matchup category.
As for Rico Gathers Sr., I'd just like to see Junior. I hear Nick Saban's already offered. And that Royce O'Neale guy — who knew he could be a game-changer before he became one in conference play?
Kansas and its, ahem, issues aside, I expect Kelly Oubre and Wayne Selden Jr., (remember him?) to rise to the occasion as postseason goals swing into view.
I think we all can agree these four days in KC will serve as a microcosm for a wildly unpredictable regular season.
Prepare to be shaken and stirred. Stools all around!
——————————————————————————————————————————————–
Austin Narber: Well shoot, if it's not too late to come out and play, I suppose I have two or three cents to offer. For what it's worth, I've been in Chicago all weekend dodging idiot drivers on the interstate who I can now only assume were Illinois, Illinois State and Northwestern fans.
If I could dial all the way back to Jared's initial question, Texas does terrify me, and here's why:
Beating a team three times in a season? Sure. Neutral court, postseason basketball, anything can happen… I get that. But this reminds me of Kentucky, 2014. Remember when everyone's favorite thing was picking Wichita State to beat them in the Third Round… or Louisville to beat them in the Sweet Sixteen? And why wouldn't you? They were 24-10 in a weak SEC, massively underachieving. What most failed to realize is when you have the talent that stacks up pound-for-pound against almost anyone in the country, you only need to be better for 40 minutes. Throw out 24-10 (19-12 in Texas' case). Throw out the regular season. Rick Barnes till trots out every single frightening player we thought would catapult them straight to the top of the Big 12 back in October. The scary part is the anticipation for that switch to flip.
Top half of the bracket? The Baylor-West Virginia matchup is key. If Baylor comes away with a win Thursday morning, give me the Bears over Kansas. Baylor is playing their best basketball in three years, and certainly better than back on Jan. 7 when they choked one away to KU in Waco. Without Cliff Alexander, and if Perry Ellis isn't truly 100 percent, I think Baylor's length could be a nightmare for the Jayhawks.
The scary player? I think you guys have the wrong member of the Baylor frontcourt. Taurean Prince scares the living daylights out of me. Here are his point totals in the last month: 20, 14, 22, 14, 20, 20, 17, 24. As a 6-7 volume shooter from the power forward position, you tell me who in the Big 12 guards him comfortably.
And I haven't seen anyone make a bold prediction yet, so I will: look for Oklahoma State to knock off OU. I have a feeling the Sooners come into this tournament spread pretty thin, and that's no reflection on Lon Kruger's ability to get them prepared or anything. But if you trace back what they've been through lately from the season finale against Kansas, to giving the game away in Ames… struggling against TCU… letting Tech take them to overtime… It's just hard for me to say, "Yes, Oklahoma is the clear-cut favorite," especially against their rival on a neutral floor.
——————————————————————————————————————————————–
Jared Stansbury: I'm glad that I'm not the only one scared by Texas. Now that we have covered the other teams in the tournament a little bit, let's move on to Iowa State. 
Who or what do you guys see as being the x-factor for the Cyclones during the tournament? Also, which team do you see as the best-case scenario championship matchup for ISU?
——————————————————————————————————————————————–
Austin Narber: The X-factor for me is Monte Morris.DeAndre Kane won tournament MVP last year and while Morris' and Kane's styles of play are drastically different, I think their roles are identical. Above all else, Kane was able to facilitate and score. We always knew Morris could facilitate, but it turns out he's scoring at a tremendous clip lately too. I think Morris has a discerniblematchup advantage in the bottom half of the Big 12 bracket, so his efforts are going to be key in getting Iowa State to Saturday.
And I always struggle with "best case scenario" questions. I mean, I'd like to play TCU on Saturday, right? But I like the fact that we've played two pretty stellar games against West Virginia. I think seeing them in the final would be optimal.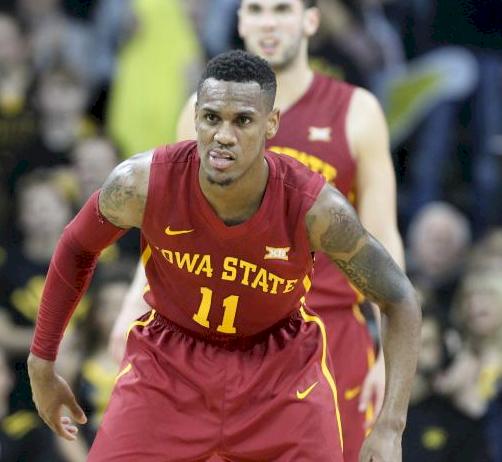 ——————————————————————————————————————————————–
Rob Gray: So many X-factors … so little time to decide on one. 
Here's the thing: The Cyclones have proven so dang tough to game plan for precisely because it's exceedingly to pin down who will be the guy — or the top two guys — to explode on the offensive end in any given game.
But let's concede that Georges Niang and Monté Morris are now firmly established as the two top offensive threats, given their ability to distribute as well as finish at the rim or shine from the perimeter. They've been the dual "closers" as of late, so I'm elevating them above X-factor consideration.
That leaves Jameel McKay and a slew of others worthy of wearing the "X" tag. I choose McKay. He was the glue that helped heal a loosening bond after the first half of the Oklahoma miracle win. The rock, as he said. He, as Fred Hoiberg is wont to say, affects so many things on both ends of the floor — and has shown an ability to finish with finesse or authority with both hands in the paint. If he's not getting to the line early and often against Texas, I'll be surprised. He'll have to hit them, of course, and that's, to me, one of the key elements of that likely quarterfinal matchup with the Longhorns.
I'm with Narber on best-case scenario musings. Sometimes the preconceived "best case" yield worst-case results. I'd go with West Virginia, too, though. Love the matchups and the fact ISU tends to take care of the ball reasonably well. The Cyclones shredded the press in Ames and I'd expect them to do the same in KC.
——————————————————————————————————————————————–
Kirk Haaland: I'm with Austin on a couple of things there. Picking a best case scenario always trips me out but Monte is also crucial. For the reasonsNarb-dawg stated but also because when he's hitting from outside like he has been recently Iowa State is almost impossible to defend.
As far as a preferred title bout contender? Give me the Jayhawks. For one, it is a good matchup for Iowa State.
I wouldn't mind another shot at Baylor but I hate being forced to play West Virginia's style and how they are officiated.
But Kansas is one of the few teams that doesn't try extremely hard to slow the tempo with the Cyclones and will run and gun with us. But, if Selden and Ellis are still dinged up they'll have some issues with playing three games in three days.
But most importantly, it adds to the mystique and budding rivalry. Especially if Iowa State can knock them out again. The environment would be insane with a near split in the fan bases and an epic game would lay the foundation for next year's regular season race and quest to knock KU off their perch. In my opinion, those inside the Cyclone program won't be thinking, "anyone but the Jayhawks" for next season's regular season title but rather, "nobody but us."
And the leaping point would be the Sprint Center in 2015.
——————————————————————————————————————————————–
Chris Williams: Solid analysis here fellas, Y'all just made JayBilas blush. 
I couldn't help but notice that my man Narber picked Travis Ford and Scott Drew coached teams to advance. 
Who woulda thunk it?
The Oklahoma State pick is especially interesting to me. Pound for pound, there's no question that Oklahoma is the better team. But Narber's point is well taken on the Sooners. They are incredibly inconsistent. They really, really remind me of Iowa State teams of the present and past. Lon Kruger's boys are basically playing Hoiball these days, but they're adjusted defense ratings are better than those Iowa State teams of the past. 
Exactly what I described above is why I don't want Iowa State to see the Sooners in the semifinals. 
I agree with you guys though. Earlier I noted that Kansas is the safe pick to make the finals from the upper half of the bracket but the key word there is safe. If we're going by the quality of basketball being played right now, it's hard for me to go go against the winner of that 4/5 game, assuming West Virginia has its big guns back and Bears keep rolling. 
——————————————————————————————————————————————–
Austin Narber: Closing thoughts: Gun to my head, I'll take Baylor over Kansas and Iowa State over Oklahoma State in the semifinals, setting up a rematch for the Big 12 Championship.
The Cyclones cut down the Sprint Center nets for the second year in a row. MVP: Monte Morris.
And hold onto your butts, but I think this is enough to slide ISU up to the 2 line.
——————————————————————————————————————————————–
Rob Gray: I'll close with this thought: Since missing the Big 12 Tournament finals for three straight years (2003-05), Kansas has not gone two tournaments in a row without at least reaching the championship game.
With Oubre, Selden, Traylor, Frank Mason — possibly a healthy Ellis, plus Brannen Greene's often unconscious 3-point shooting — I like Kansas over Baylor in one super-tight semi and ISU over Oklahoma in the other.
I agree with the astute Austin Narber on the MVP (Morris) and the final outcome: More face time for the Hoiberg twins after a second-straight nets-cutting at the Sprint Center. No. 2 seed? Doing all this counts toward Joe Lunardi's "win out" dictate, right? 
——————————————————————————————————————————————–
Jared Stansbury: I'm also going with an Iowa State/Kansas final with the Cyclones winning an absolute classic.Niang with big shot late and McKay with a block to clinch the win.Niang the MVP after a 25-point game in the final.
Cyclones grab a 2-seed and avoid Kentucky's region.
——————————————————————————————————————————————–
Brent Blum: This has the potential to be an all-time fun Big 12 tournament. Here are 10 things I'm looking forward to most. 
10. Phil Forte vs. Buddy Hield starring in "Phil and Buddy fire 25 footers extravaganza."
9. The RSDTO…random Scott Drew time-outs. 
8. Oklahoma State's cheer squad. 
7. Trent Johnson's and Bob Huggins', "I hate everyone and everything," scowls. 
6.  A vengeful Monte Morris establishing himself as the nation's real, best point guard.
5. The $12 beers at P&L (Or not).
4. Sad Kansas fans after they get bounced in the semifinal.
3. The outdoor party prior to the Saturday's final with 70 degree weather mixed with the buzz of beers and expectation. 
2. HOLLYWOOD HIGGINS MONITOR TIME.
1. Back-to-Back titles at Hilton South for the Cyclones.