AMES — Kansas is a stone cold lock to win (or share) its 11th the Big 12 regular season championship in a row. Just ask – you know – everybody (including this hack blogger). That was the talk of the town for the last week in central Iowa following Monday's 13-point Cyclone loss to the Jayhawks in Lawrence.  
Somebody probably better inform Fred Hoiberg that this is the case.   
Following Iowa State's (17-5, 7-3) suffocating 75-38 victory over a really bad Texas Tech (12-12, 2-9) team on Saturday afternoon, Hoiberg showed an obvious lack of interest in pretty much everything going on around him on during his postgame press conference. Iowa State's leader – who is usually very engaged with the media –  was engrossed in what was being shown on the television on the other side of the room – the winding seconds of Kansas' 67-62 road loss at Oklahoma State.
See for yourself (scroll to the 1:50 mark). 
However exiting Saturday, the Cyclones are once again only one game out of first place heading into Monday night's big, "Big Monday" matchup with Oklahoma. This will mark Iowa State's third appearance on ESPN's "Big Monday" in a row and once again, it's setting up to be an interesting game for multiple reasons.
DEFENSE 
I'm a firm believer that you can't take a shellacking of Texas Tech inside of Hilton Coliseum too seriously for a few reasons. 
Texas Tech is awful.
Also, the Cyclones played defense like their hair was on fire, and that's the thing about this team. More often than not, the Cyclones will get theirs on the offensive side of the ball. It's that defensive intensity that held Tech to a 4-of-20 day from 3-point range that this group absolutely has to discover – consistently – if it wants to make history in March.
In the four games prior to Saturday, the Cyclones had given up a whopping 40 3-pointers (44 percent) to the competition.
This problem had to be addressed.
The Cyclones responded – again – against a bad Texas Tech team with all of the reason in the world to be motivated.
Now don't get me wrong. That's better than Iowa State not responding and allowing Tech to hang around. A blowout in this game was just what the doctor ordered.
But will that carry over against a talented, well-coached Oklahoma team on the road Monday night?
Stay tuned.
WHO SHOULD START?
This is quite the predicament for Fred Hoiberg. 
Bryce Dejean-Jones and Abdel Nader were a few minutes late to Saturday's shootaround. It's not a huge deal. Hoiberg wasn't upset at all. In fact, Hoiberg even told a story about how this happened to him during his playing career at Iowa State.
But the guy who started in place of Dejean-Jones, Jameel McKay, went 7-for-7, scored 17 points and snagged eight rebounds. Considering the thought of Hoiberg making this exact lineup change has been "out there" for a few weeks now and McKay responded as well as he did, can you really go back?
Basketball wise, it might make sense.
Dejean-Jones reacted well to the "benching" on Saturday. He was active. His body language was solid. The man dished out five assists for crying out loud! 
But how would the senior react to being a sixth-man for the remainder of the season?
I have no clue, but Hoiberg probably does. In this case, it's probably just best to trust the head coach (who knows the nuances of his team) to make the right decision going forward. 
NADER LOVE 
Abdel Nader continues to impress me.
This is a guy who signed with Iowa State thinking he would be "the man" and playing 30 minutes per game. That obviously isn't the case right now but still, every time Hoiberg calls his name, Nader seems to produce.
Body language? Great.
Nader had nine and five against the Red Raiders.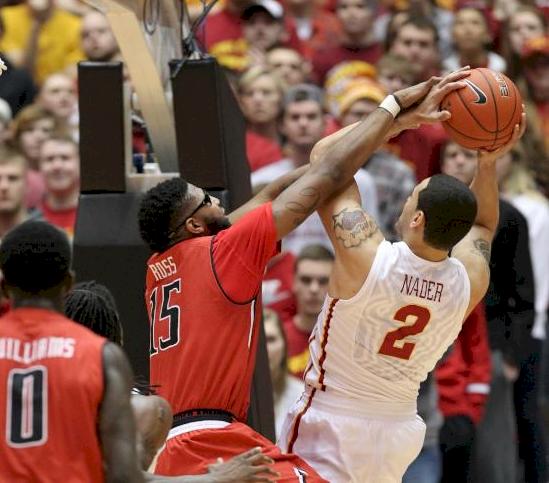 BIG 12 JOTTINGS 
*** Make fun of him all you want, but Baylor coach Scott Drew is doing the best job of coaching in his career right now. The 2015 Bears have less talent than Baylor teams of the past but somehow, the Bears are 6-4 in league play and Saturday's 87-69 rout of West Virginia in Morgantown was a real statement
*** Speaking of the Mountaineers, there wasn't a more fraudulent group during the Big 12's first half of the conference season than these guys. West Virginia is 6-4 in league play but 1-4 vs. ranked opponents during that time. 
*** General observation: Texas Tech has two league wins so far this season. TCU had just one. However, on a neutral floor, I think TCU is a good 10 points better than Tech, which is significant considering the pace that the Horned Frogs play at.
*** What I saw yesterday out of Texas Tech was one of the worst performances out of a Big 12 team that I've ever seen in that building.
*** Big 12 basketball be like…