AMES — Dustin Hogue leaped, struck and screamed.
 Iowa State's catalyst-turned-closer re-entered his Madison Square Garden state of mind Tuesday in the Big 12 season opener against Oklahoma State, hoisting the rest of the 17th-ranked Cyclones on his back.
 "He was our superstar," usual closer Georges Niang said.
 Hogue scored all 17 of his points in the second half — and unleashed an emphatic block with one second left that essentially doomed the upset-minded Cowboys (11-3, 1-1) to another head-shaking loss to ISU (11-2, 1-0).
 By the time Niang partially blocked Oklahoma State star Phil Forte's 25-foot prayer — and 14,384 fans packed into Hilton Coliseum finally exhaled — the horn had sounded and the scoreboard read, Cyclones 63, Cowboys 61.
 Whew? And then some.
 "It was a big thing to have that type of run at the end of the game," said Hogue, a Yonkers, N.Y. native who scored a career-high 34 points in ISU's Sweet 16 loss in March to eventual national champion UConn in New York City.  "I was scoring a lot and to have that go away if they hit a 3, it doesn't really mean anything. So you've got to close out a game, because it all means nothing if they hit that shot. I knew the game wasn't over."
 Not until Forte rubbed off a couple screens, entered catch-and-release mode (0.9 seconds remained) and found Niang blocking his view.
 "I just wanted to not let him get an attempt up and be far enough away that he didn't draw a foul on me," said Niang, who shot 3 of 12 from the field and lost five turnovers. "That was the biggest thing."
 And Hogue was the biggest reason a head-shaking 64-60 loss to South Carolina Saturday at Brooklyn didn't mushroom into a rare losing streak.
 Shine nailed a 3-pointer with 6:36 left that cut the Cyclones' once-11-point lad to one at 56-55.
 Hogue — who scored ISU's final seven points — answered, draining his third 3 of the game.
 "I didn't run a play, I'll be honest with you, to have Dustin shoot a 3-pointer," said ISU coach Fred Hoiberg, whose team swept the Cowboys last season behind buzzer-beating long-range baskets from Naz Long. "That wasn't the call. It was just the way the defense played it. I thought Monte (Morris) made a good read and Dustin just stepped up with confidence."
He accelerated from there.
 Forte sank a jumper, Hogue did the same.
 Le'Bryan Nash made two free throws, Hogue surged into the lane for a layup.
 Forte made one more shot, then Hogue sprang for the last-second block that made Hilton explode.
 "That play speaks for itself," Hoiberg said.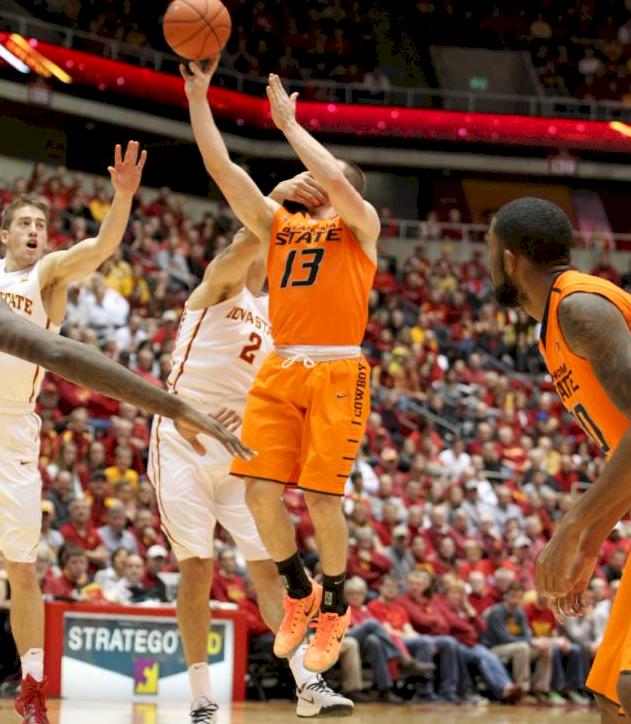 Hogue's breakout game — this season, anyway — was sorely needed as Niang and Bryce Dejean-Jones struggled again.
 The formerly hot shooting duo combined to go 5-for-19 from the floor. Dejean-Jones failed to reach double figures in scoring for the fourth straight game, but did lead the Cyclones with nine rebounds.
"This team has a lot of guys that can go out and play and make shots and get hot," Hoiberg said. "So it's going to be a different guy on different nights. I was proud of the way Bryce rebounded the ball. I thought he defended. He just struggled a bit on the offensive end but that happens."
 So do losses, but not Tuesday.
 Iowa State weathered missing its first eight shots from beyond the arc until Matt Thomas ignited an 8-0 run with a pair of long-range swishes to turn a 19-18 deficit into a 29-19 lead.
 "I think it just kind of got us going," Thomas said. 
 Hogue made sure they kept going until the buzzer blared.
 "It was definitely a big thing for us to win this game, especially coming into league play," he said.