AMES — Fred Hoiberg's program at Iowa State is well known for being a safe haven for transfers within the sport. For the most part, this has been a fair analysis over the years. However while transfers still are and will likely always be a major part of the recruiting process at Iowa State, an argument can be made that this program's heart and soul lies on the backbone of four-year high school players.
Diante Garrett won't ever get much credit but imagine Hoiberg's roster that first year without the 6-foot-4 point guard? 
Clearly, Melvin Ejim's value was vast during his four years at Iowa State. Statistics prove that the 2014 Big 12 Player of the Year is a top 10 player to ever don the cardinal and gold. Immeasurables just might put him in the top five. 
Hoiberg's program went from the Big 12 cellar to a perennial contender thanks to guys like Royce White, Chris Babb, DeAndre Kane and Will Clyburn (to name a few) but the year-to-year culture built by the four-year players has been critical. 
That trend is all but certain to continue this season. 
In Friday's season-opening 93-82 victory over Oakland, junior All-American prospect Georges Niang set a career-high with 30 points. 
When Niang struggled by going 3-for-12 from the floor in Monday's impressive 81-58 rout of Georgia State (he still had a double-double), two other former high school recruits stepped up in big ways. 
Sophomore point guard Monte Morris was brilliant. The Michigan product led the way with 19 points, nine assists, five rebounds and zero turnovers. Rob Gray wrote extensively about Morris' performance so I'll focus on the other member of this equation.
Naz Long's growth 
Regarding last night's win, let's focus on Naz Long's five 3-pointers that were critical in staving off a mid first half Georgia State run and gave the Cyclones a boost of energy to start a 46-point second half.
During last season's Sweet 16 run, Long was thought of as Iowa State's new version of Tyrus McGee – maybe. As a sophomore, Long developed a reputation of being an "energy guy" early. During Iowa State's run to a Big 12 championship that was followed by a Sweet 16 trip to New York, Long turned into the "clutch guy." 
As for the McGee comparison, Tyrus was great during his career as a Cyclone but was never much more than an ace 3-point shooter that came off of the bench for the sake of energy.
Long wants to be more than that and on Monday night, he absolutely was.
"He's got an incredibly strong body so he can stay with those guys," Fred Hoiberg said about Long's defense following the Georgia State win. "R.J. Hunter does a great job of the old Reggie Miller/Rip Hamilton kind of pushing off but Naz can stay with those guys. I think he showed us that last year by guarding Brady Heslip. Naz is making good decisions going to the basket and keeps improving as a basketball player overall."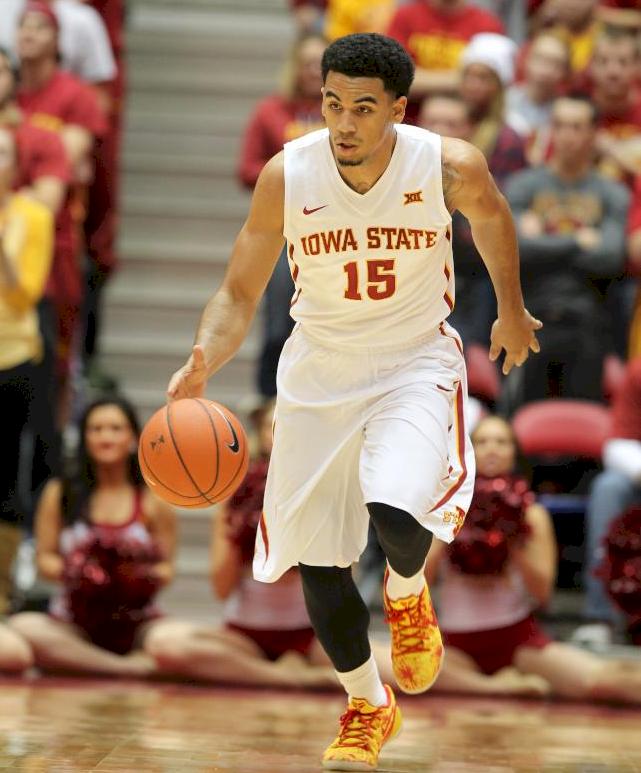 Along with important help from Bryce Dejean-Jones, Long helped keep Georgia State's NBA prospect R.J. Hunter in check. Hunter scored 21 but it took him 20 shots to do so. Long's newfound physicality on the defensive end had a lot to do with that.
"I take it upon myself to be a defender," Long said. "I feel like I need to be that Chris Babb type of guy who could take the main player." 
Offensively, Long wants to be more dynamic. Monday marked Long's eighth career game with at least four 3-pointers but he also showed the ability to put the ball on the floor, something he has done sparingly in the past. 
"I went to the basket a few times and I want to keep incorporating that into my game. I want to keep them guessing," Long said. "That kind of makes people wonder if I am going to shoot or if I am going to drive. That's just one thing I want to do. I want to add more."
He will need to. Long was an unknown to many last year but after the way he ended the season, that won't be the case this year. Teams know about him and they will key on him because of it. 
"I see guys really flying to me now," Long said. "In the zone they are always talking about a shooter being here or a shooter being there. In man I see it too."
To put a cherry on top, the charismatic junior scored those 17 points in front of his mom, dad and cousin for the first time ever inside of Hilton Coliseum.
"I'm just happy they could make it. It means everything," said Long, who made five threes and scored 17 points in the win. "That's why I've got their names on the back of my shoes. They mean everything to me. They're my motivation, so I'm glad they could be out here."
Long played 26 minutes on Monday and with the return of Matt Thomas and Abdel Nader to the lineup next week in Kansas City, his exact role on this year's team is still a bit of an unknown.
Will he continue to start? 
Will Long, one of the key leaders inside of Iowa State's locker room, be more of a 20 minute per game guy going forward?
Stay tuned.
Long had a solid offseason though and it is paying off early for the Cyclones. 
HOOPS JOTTINGS
*** Iowa State's opponent on Dec. 9 inside of Hilton Coliseum just might be for real. UMKC beat Missouri in its opener on Friday and last night, led a good Kansas State team 40-36 at the half in Manhattan. The Wildcats ended up pulling out the 83-73 win but UMKC is 2-for-2 on the young season when it comes to giving high-major opponents everything they want and more. 
*** Looking ahead to Kansas City: Unless Iowa State loses to Alabama next Monday night, I highly doubt that the Cyclones will play Arizona State in the championship of the CBE Classic. The Sun Devils only beat Bethune Cookman by 10 at home last night, which isn't that big of a deal but the 49-39 final score is alarming. That's a team that wants no part of "Hoiball."
*** Checking in on Alabama: The Crimson Tide are 2-0 with wins over Towson (82-54) and Western Carolina (80-74). Bama will play former Iowa State assistant coach Doc Sadler and Southern Miss on Thursday evening. For what it's worth, Southern Miss is 2-0 on the young season as well. 
*** Hoops Marathon: Lots of good games today but I'll have my eye on Baylor @ South Carolina, which will tip off at 11:00 central. Iowa State will meet the Gamecocks on Jan. 3 in Brooklyn and Baylor, well who really knows what to expect from Scott Drew's Bears this season? 
*** Hoops Marathon: Two big games tonight when Duke plays Michigan State and Kentucky goes toe-to-toe with Kansas. I'm calling for two blowouts too. Blue Devils and Wildcats will win big.