AMES — Monte Morris is a 6-foot-2, 170-pound, 18-year old true freshman. In the college basketball world, he is just a baby.
DeAndre Kane is a 6-foot-4, 200-pound, 24-year old fifth-year senior. In the college basketball world, he is a grown man.
On Iowa State's 2013-14 basketball roster, both Cyclones are called "point guards" first but when it comes to body type and experience, the two could not be more polar opposites.
For most true freshmen playing in a league like the Big 12, defense is the biggest challenge. This is why in preparation for Sunday's exhibition vs. Augustana (5 p.m. on Cyclones.tv), Fred Hoiberg has elected to break Morris' defensive skills in the best way he knows how. That's by forcing the baby, Morris, to defend the man, Kane, every single solitary day in practice.
"He probably won't face too many guys stronger than him with the exception of Marcus Smart when we are playing Oklahoma State," Hoiberg said before Wednesday's practice. "Just to battle a 24-year old day in and day out is big for him. He has to understand how to use his body and D up early on in the possession as opposed to letting him get in there too deep. DeAndre is a guy who we will use in the post a lot so that will force him to get in there on the block."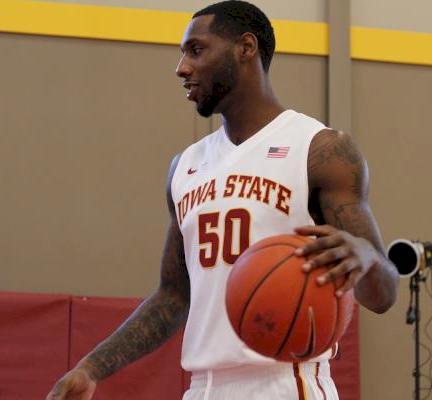 ABOVE: DeAndre Kane at Iowa State's media day earlier this month. 
Morris, who comes to Iowa State via Flint, Mich., had defense on his mind the day that he first stepped foot on campus this summer. The guy they call "Man-Man" recently admitted that understanding Iowa State's offense has come much easier to him than the opposite side of the ball. But he's stuck with the coaching methods of defensive-minded assistants Cornell Mann and Doc Sadler and with the season just over a week away, Morris feels like the hard work is starting to pay off. 
"When I watch film with Hoiberg, out there on the court you go out there and beat yourself up," Morris said. "But when I look on film, I know I am in the right position. I feel like I am adjusting really well. He tells me that I am in great position with my body on defense. I feel like it is coming along and he told me and Matt that we are ahead of schedule on defense." 
Morris, a two-time Michigan Class C state champ, is expected to be one of the first two men off of Iowa State's bench early in the non-conference portion of the schedule. Kane will get the start at point guard on Sunday and while Iowa State's biggest question going into the season is depth, the expectation is that Michigan's 2013 Mr. Basketball will provide just that.
Edozie works Niang in practice
While it is still way too early to know how much junior Daniel Edozie will see the floor for Iowa State this season, he has already left his mark on the practice floor – and Georges Niang's arms for that matter. 
"I'm getting sick of going up against Daniel Edozie," Niang said. "He's giving me bruises all over the place."
Edozie is a 6-foot-8, 235-pound forward who will debut this season for Iowa State via Tyler Junior College and previously from Compton, Calif. At the very least, early indications point to him being able to provide some tough minutes, hard fouls and potentially rebounds for the Cyclones this season. 
"He is really strong. He doesn't feel any pain," Niang said. "I try to catch him with a forearm here or there to box him out and he keeps coming back harder the next time. He is a great guy to have in practice because he is going extremely hard."
And the best quote I've heard so far this season…Wait for it…Wait for it…
"I told him that if he is going to beat me up like this then I want to see him beating up Cory Jefferson and Isaiah Austin when we play them," Niang said. 
Zing. 
JOTTINGS
*** Niang says that this Iowa State team is ahead of where last year's was at this time from the standpoint of chemistry.
"Coach Hoiberg preaches a lot about having each other's back and we're doing a really good job of that on the defensive end," Niang said. "Our chemistry has come a long way compared to where it was last year. I think we'll be ahead of the game when the season starts." 
*** Freshman Matt Thomas claims that he's watched anywhere from 10 to 20 games at Hilton Coliseum over the last few years during his recruitment. Even though it is only and exhibition, the Wisconsin sharpshooter cannot wait to finally take the Hilton Coliseum floor as a player.
"I'm just looking forward to finally stepping on the court and playing in front of the great fans," Thomas said.
*** Expect college basketball's new rules on defense, specifically when it comes to hand checking, to play a role in a handful of early season games. That's what Fred Hoiberg is anticipating anyway.
"It is going to be an adjustment," Hoiberg said. "There are times in practice where we are in the double-bonus with 10 minutes to go. There are a lot of fouls that were called in the scrimmage this last week. I think it is an adjustment process for not only the players but also the officials. As it went on, it got tighter and tighter. You just have to go out and make a concerted effort to play without your hands." 
Abdelmassih, Fennelly on Thursday's radio show
A quick note that Iowa State men's and women's basketball assistant coaches Matt Abdelmassih and Billy Fennelly will join Brent Blum and me on tonight's U.S. Cellular/Cyclone Fanatic Radio Show from 7-8 on Des Moines' sports station, 1460 KXNO. 
Probable women's starting lineup 
Bill Fennelly's Iowa State women's basketball team will play the first of its two exhibitions on Sunday as well (noon) as Wayne State will invade Hilton Coliseum.
I'm hearing that as of now, Fennelly's probable starting lineup will look like this:
G: Nikky Moody, Jr.
G: Jadda Buckley, Fr.
G: Seanna Johnson, Fr. 
F: Brynn Williamson, Jr.
F: Hallie Christopherson, Jr.
That group features no surprises at all. With two freshmen in top five, the Cyclones could experience some minor growing pains early but there really is no question that old school Bill Fennelly basketball will be back in action this winter in Ames. They will run. They will gun. They will shoot.
The women will wrap up their exhibition season on Wednesday night via a 7 p.m. tip vs. Carthage.