Make no mistake about it; Iowa State has a handful of questions regarding its defense heading into fall camp, specifically within the front-seven. However, Wally (The Wizard) Burhamn has proven to be a bit of a miracle work over the four years he's headed this crew up in Ames. Should recent history give Cyclone fans hope for 2013?
With camp beginning on Monday, here's a preview of what is in store for Iowa State's defense.
*** Fall Camp Preview: The offense *** 
Biggest question 
Surprisingly, it isn't replacing Jake Knott and A.J. Klein.
It's the defensive line.
Even so, the coaching staff seems to be quite confident in the young talent that it has acquired over the years the closer the calendar gets to September. This is a group that reportedly had a fine spring and building upon what was accomplished then is always the goal throughout the first few weeks of August.
"What you're looking for is that they've picked up where they left off," defensive tackles coach Shane Burnham said. "That any gains that we made in the spring with all of those young guys who made a lot of gains, you hope that they picked up where they left off. Really though for us, we're trying to establish depth."
Iowa State's starters are anything but set but despite what the depth chart currently looks like, an educated guess would make this the first four on the defensive line come August 31 vs. UNI.
DE: Willie Scott
DT (or NG): Brandon Jensen
DT (or NG): Rodney Coe
DE: David Irving
But as Burnham alluded to, establishing depth is they key when you're discussing the defensive line at Iowa State within the up-tempo Big 12. . 
"We have to find out who we feel comfortable putting on the field," Burnham said. "I don't know how many guys are going to play at this point. I know how many guys have played in the past but I need to find out how much quality depth that we have."
That's why during camp, Burnham and defensive ends coach Curtis Bray will work heavily on finding rotations that work – rotations that they can trust on Saturday.
"For me, maybe I have Rodney Coe and Brandon Jensen at the three-technique together," Burnham said. "It's finding the best combination of those four."
Burnham said that ideally, Iowa State will rotate its defensive line with five guys in the middle and five defensive ends. In a perfect world, that number would grow to six.
Pass-rush crew?
Size and athleticism are why Iowa State's defensive coaches seem optimistic about the line in 2013.
"As I look at those guys, this is a group that has talent," Rhoads said during the Big 12 media days in Dallas two weeks ago. "I'd rather be coaching young talented guys than young slow guys or undersized guys. So I think that position, where we have to replace tackles as well as ends, is a position, as the year unfolds, where we can maybe progress the quickest."
And because of that, Burnham is hoping that Iowa State will be able to do something that it has never been able to do during the Rhoads era. That's play what Burnham refers to as a "pass-rush crew," meaning Iowa State would put three defensive ends on the field at the same time.
"We've gotten bigger with Cory Morrissey and those kind of cats that are a little bit bigger," Burnham said. "They can go inside and rush. That's something we will look at this fall that we haven't done in the past."
"Replacing" the bash brothers
Iowa State's three starting linebackers seem somewhat set heading into camp. Jeremiah George and Jared Brackens are locks at the MLB and SLB positions. At WLB, Jevohn Miller appears to be the man, although redshirt freshman Luke Knott could be a factor when match-ups dictate that to be the case.
Iowa State's situation at linebacker is similar to the defensive line. Finding depth is the key here too. For instance, will the Cyclones elect to play Alton Meeks as a true freshman? As of now, that certainly appears to be the case as the 6-foot-2, 241-pound rookie sits second on the depth chart behind Brackens.
What about redshirt freshmen Kane Seeley and Darius White? They are George's backups but have never seen a snap at this level of ball. Are those guys ready if by chance, something would potentially happen to Iowa State's starter at the position?
That is a scary thought, which is why paying attention to Iowa State's linebacking situation throughout the month of August is an absolute must.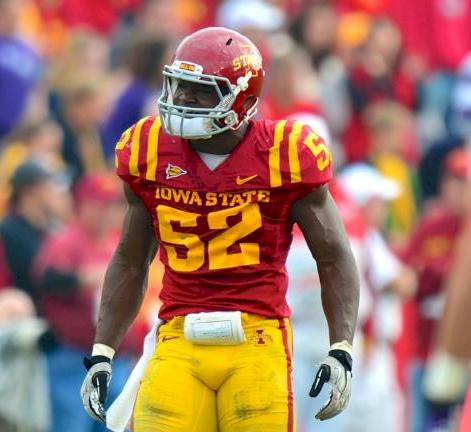 Secure secondary
This is a very different conversation. Iowa State's secondary is experienced and most importantly, deep heading into 2013.
Rhoads has six legitimate cornerbacks to choose from and the safety positions are rich with experience (Jacques Washington and Deon Broomfield) and potential (T.J. Mutcherson).
Even so, a secondary is only as good as the guys in front of it. Stay tuned on that behalf.
Three intriguing players
Jared Brackens – The junior reportedly had one of the best springs of anybody on the roster.
Rodney Coe – This JuCo transfer has a lot of pressure on him. Will he produce or is it all hype?
Charlie Rogers – Rhoads made a big move by placing this redshirt freshman as a first-string cornerback heading into camp.