This summer, Cyclone Fanatic will go one-on-one with news makers in Ames, giving fans an inside look at Iowa State athletics that you won't find anywhere else. Next up is the man who I constantly refer to as the "cornerstone" of Iowa State's athletic department, women's basketball coach Bill Fennelly who goes in-depth on the past, his family, how he almost left Iowa State, battling throat cancer and more. 
CF's "Conversation" Series:
Part 1: Iowa State assistant men's basketball coach Matt Abdelmassih 
—————————————————————————————————————————————–
CF: I'm going to start off by kissing up a little bit. For years now I have referred to you as the cornerstone of this athletic department based off of your longevity and how you represent this place so well. My first question for you is a loaded one. Based off of that, in your eyes, how far has this athletic department as a whole come since the day that you first stepped on campus in 1995?
BF: I think the analogy I have given people is that it is kind of the growth of women's basketball. I remember when I first started we were in vans driving six and eight hours one way – we'd play – we'd go to McDonalds and come home. Now the sport has grown and the budgets and exposure and whatever – it is the same thing here. The commitment here has really never waivered but I think there have always been people that have tried to do the right thing and wanted things to be done the right way. I think that Iowa State fans are extremely loyal. They want to win but they want to win in a manner that is representative of them as human beings. Hard working. Fair. Do it the right way. Be competitive. Have pride in yourself. The message that I have always given people is that we need to always embrace who we are and never apologize for what we're not. That's kind of the way I have looked at it here. 
It is funny because we have been through three presidents since I got here with a number of football coaches and basketball coaches and whatever. But right now, I don't think it has ever been better. Realistically, I think that Dr. Leath is following in Dr. Geoffroy's footsteps. Dr. Geoffroy was great to us – us meaning our team and me and Deb and us personally. Dr. Leath seems to be that interested. When you look at Jamie (Pollard), Paul (Rhoads) and Fred (Hoiberg), there isn't a place in the country that has that kind of talent, enthusiasm, they are young and aggressive. They understand the culture of what it means to live and breathe here. I think those kind of things kind of filter down as we've seen what Christy (Johnson-Lynch) has done in volleyball. When you look at the big picture, it has really grown into something that I don't think anyone anticipated from when we first got here to having a great office to surviving the whole Big 12 thing. That was a pretty low point for a lot of people around here. I remember sitting on decks and talking to people and it was pretty depressing as to not knowing what was going to happen. I think it was hard to quantify it and I got a lot of heat because of some of my Twitter comments about us doing things the right way. We have a phenomenal fan base. We have won enough and we have graduated enough but that wasn't good enough for somebody. I think those kinds of things – that was kind of the point that when we came out of that, it just seemed like the stock market kind of. It started to go and it is never going to go off of the chart to an Oklahoma or Texas type of thing but the rise has been very good in all areas and I think that is directly attributed to the vision that Jamie has had and his forward thinking. The way that Paul and Fred have kind of ignited this fan base has been really cool to see and fun to be a part of.
CF: I have noticed too just when I am out say in Des Moines, I see a lot more Iowa State gear that people are wearing than I used to…
BF: Oh absolutely. I remember my first or second year I just drove around town. I went into one of the stores in Ames and there was a little corner of really bad looking Iowa State stuff. That has all changed. We brag that there are more Iowa State graduates living in the state of Iowa now than Iowa graduates. There are so many things now that are better. I think that it isn't just winning games. I wasn't here for the Walden days or the days of Coach Orr and when Coach Floyd and Coach Eustachy were here, that was fun, but I got a sense that there was still a part of the Iowa State fan base that wasn't as fired up. They were kind of like beaten down. But now it doesn't seem that way. People kind of sit up a little straighter. They wear their stuff a little more proudly. There is an energy level that has been a little more consistent. Like you said, the substantive stuff is the budget and the fundraisers and sales and whatever, but when you start looking at the way that people go about it – like I said to somebody the other day, I see more Iowa State license plates that are being sold now. For us, a lot of little things add up to big things. How do we impact the future Cyclone generation? How do we get young people who have a choice to understand the quality of education here and the quality of life here? We want them to be life-long Cyclone fans. I think we have made a really nice step forward with that and we need to keep going. 
CF: Let's move on to something that I know is extremely important to you – your family. Your son Steven just got hired as an assistant at Cal State Fullerton. You've got Billy here. I'm curious if you can take the Dad hat off for a minute, what do you see in your boys that makes you think they will be successful in the coaching profession? 
BF: I think with Steven, the things that I have said about him and they are true, I have never been around a young person that works any harder than him in my lifetime. I have sat in this office and walked out of here at 1 or 2 in the morning with only one person still life here and it was him. He was going to graduate school at the same time. He has great communications skills. He can connect with any age. He was great at camp. I don't know where that goes specifically but I think he will be fine because he grew up with it.
They both understand how hard this job is. I think that a lot of people – I know that you live it and have to deal with it every day – and those guys did too. They saw me bring it home. They get that part of it. But I think they are committed to it. They love it.
With Billy, he made an immediate impact here recruiting wise and understood what we needed to get done. They have the passion that I hopefully give but I think they are sincere. They are caring and their belief in the person they are working next to they got from their mother. I think they will both be very good at it, I really do. They understand the job and the understand what it takes on a daily basis. They will do the work and spend the time and understand that this is a 24/7 deal that impacts everything that you do. It impacts your family and friends and you have to be able to understand that there are days when you are going to hear things that you don't want to hear. You just have to be above that and have a foundation of what you want to believe in. You have to surround yourself with good people. That is the biggest thing I think that they have an understanding of. They have seen successful sports programs on a daily basis so even though they are young and their resume is short, their life experience is very long and I think that translates into the job market.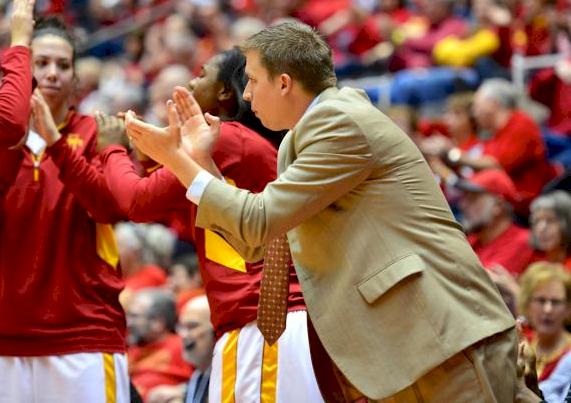 CF: Okay so now put that Dad hat back on. How proud are you that both of your boys are division one assistant coaches under the age of 30?
BF: Very proud obviously. It is great that I get to work with Billy every day. I am very lucky that the administration allowed that to happen. It is one of those odd things Chris because I missed a lot of stuff when they were growing up. You can't get some of that stuff back. I am lucky because my son is a part of my life every day. A lot of parents can't say that. And for Steven it is neat to see him get his opportunity. I miss him. Bad. He left here on his mother's birthday, which was a hard day for our family. But he needs to go. He needs to go do his own thing. To be a division one assistant at not quite 25 and the thing that I like is that he is at a place where he is going to have to do a lot of work and a lot of things at a lower level division one school. But he is with a head coach that as a dad, his boss is a good person. He will learn the right way and be around good people. That is comforting too. It is pretty cool.
CF: Let's shift gears now. I want to go back to the 2011-12 season when you couldn't talk. I know how challenging that was for you. When you look back at it now, did you learn anything about yourself that made you a better coach the next season because of that unfortunate experience? 
BF: I hope I was better because I was awful that year. That was probably the worst coaching job that I have ever done. Not just because I couldn't talk. I don't think that I managed the team well. I don't think that I managed our staff well. It was a miracle that we got into the NCAA Tournament. We weren't as good of a team in a lot of ways on the court and off the court. Part of that was that I couldn't do my job. If you ask every coach, 'What is your strength?' It's communication. Well it is hard to communicate when you can't talk. I didn't handle that very well personally. I don't like having cancer and I was a little worried about it but I didn't miss one day of work. I did my radiation. I showed up every day. I did my job. But I couldn't do my job the way that I needed to do it, especially with a team that needed me to do it better. And I couldn't. The team suffered. The program suffered. But to the kids' credit, we were 0-5 and we found a way to rally. That was a good thing but I think what I learned was to understand and appreciate even more there are certain things and certain battles to fight. Certain battles are more important. Certain things kids need. I thought a lot about that in the offseason. It was amazing. Everything that kind of with the exception of making the NCAA Tournament, everything that could have gone wrong with our team went wrong. If it was me, the chemistry of the team, it just was not good. Ultimately when you look in the mirror, all of that stuff came around and it was my fault. I needed to learn that better and I think that I did. We made some adjustments in the way that we do things and I think partially because of the way that we changed the way we manage our team, this team was more suited for what they needed to do and hopefully moving forward we all have a better understanding of a better way to do things. 
CF: You led me right up to where I wanted to go next which was last year. That locker room speech you gave after the loss to Georgia in the NCAA Tournament went viral on the Internet. In that speech you told your team, "What you gave to me I can never give back." What did you mean by that? 
BF: I'm not going to lie to you. There were times after the year before, I told the administration that I was ready to quit. Not because I was ready to quit coaching. Not because I wanted to leave Iowa State because I love this place. I hope that they want me to stay. My goal is to fulfill my contract, which is six more years. But I kind of feel like many times I have heard people say after so many years it is time to go. We had those discussions. I think that this team just gave me a renewed love for coaching and being around them every day. To see players really for the first time in a while completely buy in to what we call the Iowa State way. We never had a meeting. They just seemed to get it and I think that it started with seniors that understood it was their last year. People improve. People mature. The Nikki's and Brynn's went from goofy freshmen to a little bit more mature sophomores. "Kidd" added a little bit of personality to our team. It just seemed like it all kind of came together. I told them from the very first day that I am a basketball coach. I'm not a drama teacher. I said that if you show up and bust your butt for me every day and understand what it means to wear this (an Iowa State jersey) than we are going to be fine. That's exactly what happened. Every day they showed up and we had minimal issues. I started to question whether A) the current team and players we had could do that again after the year before and B) could I get them to do that again and C) maybe it was just time. Every year is hard to end. This one was one of the hardest because it was fun for everyone. The way that they handled it with the grace and the dignity – it sure helps to win. I'm not going to lie to you. It helps to win. But to do the things that they did in the way that they did them made it fun for everyone. I remember Coach Eustachy used to always say, 'The greatest thing about our sport is that the year ends and you start over if you have a bad year.' The bad part is that the fun years end too. This was a bad one because this was as much fun as I have had in a long time coaching and being around a group of people. The two worst things for me – I remember walking out of the building at Gonzaga – there was a cop that I got to know because we were there so long – he said "Coach you guys are great. Iowa State people are phenomenal. What is the worst part about this?' I kind of looked at him and I said, 'No. 1, I won't be at practice with these guys tomorrow. No. 2, the three seniors aren't going to be a part of my life like they are right now. No. 3, I will never walk out of the tunnel with my son Steven ever again.' He gave me a hug and told me to travel safe. But those are the types of things that go through your mind when things are good – things that are heartfelt. In other years you're like 'Hey, let's start over and hopefully it gets better next year.'
CF: So is it safe to say that last year's team rejuvenated your career?
BF: Absolutely. I don't think there is any question – if it would have been anywhere near whatever term you want to use from the year before – if it would have been anywhere close to that either the school would have fired me or I would have just said that it is time. I love this place. What Iowa State has done for me and my family – to move here 18 years ago and not know what was going to happen – we moved here when Billy was in eighth grade. Steven was in first grade. We took a pay cut to come here. We knew that the Big 8 was going to end and that we were going to the Big 12. Deb and I made the decision and if it didn't work out, I was a pretty good bartender in college. It was one of those things that we felt like we had to try it and I have told people that if I was smart I would write a book. Not that anybody would ever buy it but just the journey of what has transpired here in my life and my family's life. It is incredible to think that I've had that true blessing to be here and be around the people I have been around. I literally could count on one hand the number of people that I have had to deal with at Iowa State that I would say I really hope I never see again. That is pretty cool in this environment. We had a head coaches meeting the other day. Just to sit in a room with all of those people with our administration and Paul and Christy and Fred. It is fun to be a part of something like that and see people so committed. It is hard to believe that it has been 18 years and we have made it this long. That's a good thing.
CF: I want to talk just a little bit about your team before I let you go. Being in the media I'm not supposed to pick favorites but Hallie Christofferson holds a special place in my heart. I broadcasted a few of her games back when she was in high school so I've followed her career for a long time now. I know too just how low the level of competition was that she was going against on a nightly basis. I knew she could be good here but I had no clue that she could be as good as she was as quickly as she was. Did that surprise you at all how she just jumped right in and looked like a veteran?
BF: It was funny because when she was getting ready to scored her 2,000th point, I think she is one of four in the five-player era to score 2000, I took Deb with me to Exira. They were up on Villisca 47-2 at halftime. I took Deb to Hamlin and we had tenderloin in Hamlin. She looked at me and said was like she is really good but gosh, to go from Villisca – and Villisca was in the state tournament this year by the way so it is nothing against Villisca – but from that to playing against Baylor. I think that anyone who says we knew she would be great is not telling the truth. I think that anyone who knew she would be a great addition and a great person was absolutely correct.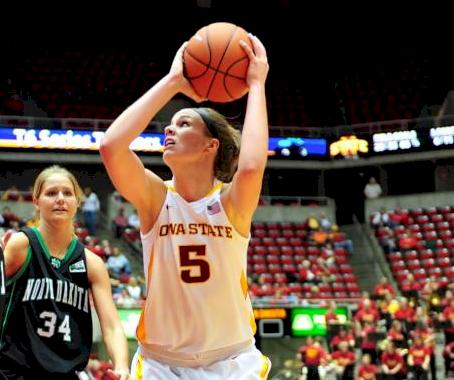 I have told people, every single day that Hallie Christofferson is around is a better day. Whoever it is. If it is College of Design, us – the most low maintenance player and human being that I have ever been around. The kid comes in completely unknown and makes the all-freshman team. That's unheard of. Alexis Prince won Freshman of the Year this year just because of her reputation. She doesn't even play hardly at Baylor. But she has a reputation. Sophomore year she (Christofferson) kind of leveled off. We had a conversation and I told her no pressure but we need more. Then she goes off and has a unanimous first-team all conference year. She wasn't preseason all conference. Matt Shoultz is amazing. Her numbers compared nationally are off the chart. She got invited to the USA World University trials. She will go down in history as one of the greatest players to ever play here and people won't even realize it. That sounds kind of goofy but people don't realize how good she is. You're talking about a kid who has played every position and the thing about it is Chris is that we get beat and the next afternoon, the music turns on and she is out there shooting. She is the last person who should have been doing anything. She's a Dean's List kid. She's a small town Iowa kid from a great family. She appreciates everything and is a great teammate.
It was funny because I was I was driving home from the draft and I got a call from a friend and I got home and Deb was talking to me about it. I said, 'Yeah it is kind of funny that everybody is celebrating. We had two kids that got drafted but our best player still has another year to go.' She is that kind of kid too. Everything we ask her to do, she does it. She is in the College of Design, which is a monster major. She has to put in 320 hours of and internship this summer. She never complains. Every once in a while I have to go up to her and tell her that I am talking to her because I never have to. She just does her deal. We're really lucky. She loves Iowa State. Loves everything about it. Someday her jersey will be hanging from the rafters at Hilton. There is no doubt about it. It is an amazing story and it is attributed to that kid's work ethic and the way she was raised and taught to appreciate things and do the work. She will have a good year again even though she will be under more pressure. She is kind of our Doug McDermott. Just catch it and score and don't say a whole lot. Then the game ends and you win games. She won't have as much help next year and we need to get creative but she will be fine. 
CF: Overall though next year, you lose two very good post players but you are adding some guards. Will we see more of a traditional Bill Fennelly run, gun and shoot the three game next year compared to a little slower show a season ago?
BF: I don't want to say this because it probably isn't fair but we will be closer to the men. We don't be that good and that creative – Fred is a hell of a lot smarter than me. But we will be smaller. Kidd will be better. Brynn will be better. Nikki will be better. Jadda Buckley is going to be somebody who our fans will just fall in love with. Tyseanna Johnson has a chance to be really, really good. We have always said that we want to put the best players on the court and figure out a way to play with them. Well next year the best players are going to be smaller so we are going to have to be more creative and that's what I am doing now – just going through things and trying to figure out some offensive ideas with some kids. We will be more of a spread you out and beat you off of the bounce. The challenge is that we were a great rebounding team. I think we were 14thin the country in rebound margin. Next year we won't be a good rebounding team. This year we were terrible in assist-to-turnover ratio. This year that has to get better. We were 14thor something in 3-pointers and that number has to be about the same. We led the nation in free throw percentage. The rebounding compensated for some of our ball handling errors and our lack of the ability to turn you over. And offensively we made free throws. We are going to have to cut down on our turnovers, make a lot of threes, try and turn you over a little bit more and extend our defense to try and make up for our loss.
CF: You led me up to my last question when you mentioned Hoiberg. You've been around all sorts of different coaches for decades. When he was hired with no experience there was some head scratching that went on. Coach-to-coach, what do you see in him that has allowed him to be so successful so soon?
BF: I think No. 1, he has immediate credibility because he was an NBA guy. All of those guy s want to play in the NBA. He has a personality where he doesn't get too flustered about things. His pedigree is that he has been around a lot of great coaches. When you are around the people he has been around, Larry Bird and Kevin McHale and Larry Brown and Tim Floyd and Johnny Orr, you are going to get something out of those guys. He is just one of those people that is really committed to doing the things he needs to do to be successful. He surrounded himself with good people when he got here. I think just the whole idea of how he approaches the game and the style that he wants to play and at the end of the day, we all say that 'This is my school,' this is his school. When people say that this is personal, this is beyond personal for him. I think he understands that and he wants to be good and not let the fans down. I remember when Jamie called me and said that he was thinking about hiring Fred. I was thinking that it was one hell of an idea. I think what happens is that Jamie has the courage and the idea to go out and get a guy who had never-ever coached but that doesn't mean you can't do it. I think that when it comes to relating to players, recruiting and the style of play that he has put in is unique to the league. It has brought back the fan base a lot and he is really good at it. The challenge for him is – every so often during the year when things go bad – he'll walk over here and ask how I've done this for so long. He has those kind of moments and I tease him that he is going to look a little more worn around the edges at some point. I think that some people just have a feel for things and that 'it' factor. He has got it. I think he has it in a place that adds that little extra to it. There aren't many people coaching at their alma mater that it means that much to them to be successful. He can look across the table and say, 'I went to school here.' He is recruiting at a whole different thought process. I don't know what his long-term end game is but I think what he has done here and what he can continue to do is going to be really special.