Enough chatter. Enough "expert" predictions. Enough of the off-season!
For college football, 2012 is finally here.
Actual football storylines are about to take center stage here at Cyclone Fanatic. In honor of that, here are 10 key stories (in no particular order) to pay attention to not only this Saturday when the Cyclones take the field against Tulsa, but over the entire 2012 Iowa State football season as a whole. 
— How will Iowa State use its running backs?
Four running backs on the Iowa State football roster have the potential to play significant minutes this fall. Juniors James White and Jeff Woody are the reliable ones. With these two, you know what you're going to get. 
But then throw Shontrelle Johnson into the mix. Johnson, who came into Iowa State as one of the most highly-touted backs that I remember three years ago, is coming off of a serious neck injury that put his career in jeopardy last season.
Paul Rhoads and his coaching staff tell us that Johnson is healthy. How healthy? Like 100 percent and ready to go? It sounds like it. If so, then Johnson has the ability to lead Iowa State in every major rushing category. I predict that he will do just that. 
But then there's the other wildcard – redshirt freshman DeVondrick Nealy (pictured below). Running backs coach Ken Pope can't keep the smile off of his face when discussing Nealy's skills. Rhoads has been vocal about Nealy's progress throughout the fall. I'll admit that I haven't seen much of Nealy's game myself, but folks in the know (our Austen Arnaud being one of them) tell me that he's on Shontrelle's level as far as explosiveness goes.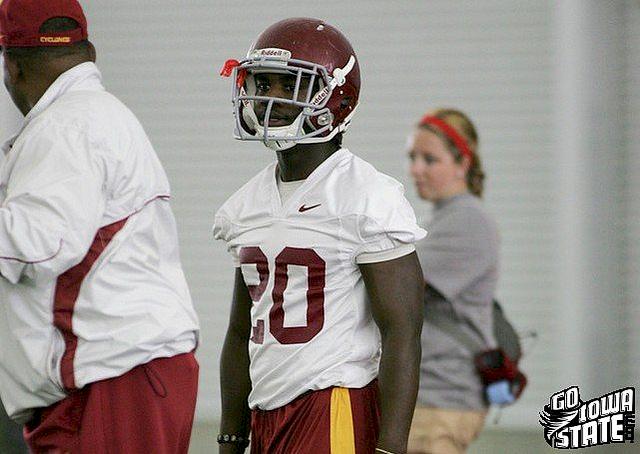 Is Nealy just a really good freshman or is he the type of back who you can't afford to keep off of the field?
Things that make you go hmm…. 
— How will the quarterback position play itself out?
Steele Jantz is the starter but what will Jared Barnett's role be throughout the season?
Is he strictly the backup? Will Rhoads elect to use Barnett like he did Jerome Tiller (behind Austen Arnaud) back in 2009?
How stable will Jantz be this season? Will he keep the job or make some mistakes and allow an opportunity for Barnett to sneak back into the conversation?
The best case for Iowa State is for Jantz to hold onto this thing for 13 football games. If that goes down, it means that he's being productive in Courtney Messingham's offense.
There are no sure things though. After all, Jantz and Barnett were both ranked in the bottom eight of division one signal callers in quarterback rating a season ago.
— Will the tight end position come back to life in Ames? 
"Our tight ends will be a part of our system when it comes to throwing the ball and they must be," said Rhoads on Monday. "If you're going to make a defense really understand they've got to defend everybody who can catch a ball out there and schematically adjust that way, they've got to be a part of our offense."
Iowa State's quarterbacks will have three options to work with in 2012. When it comes to being an actual threat in the passing game, Ricky Howard, Kurt Hammerschmidt and Ernst Brun are all unproven.
One or more of these guys stepping up will make life a heck of a lot easier on Jantz or Barnett.
—Who is the man at wide receiver?
It's got to be senior Josh Lenz right? One can only assume so. Regardless, somebody has to step up and be that "security blanket" for Iowa State's duo at quarterback. Iowa State hasn't had a wide receiver catch 50 passes since 2009 (Marquis Hamilton). The theme to this season just might be who can help out these quarterbacks the most? An emerging star at wide receiver might be the answer to that question. If he stays healthy, my money is on Lenz being that guy.
— What's the deal at kicker?
Nobody knows. No really. Paul Rhoads doesn't even know. In fact, the ball coach has said repeatedly that he might not make a decision on this kicker competition until Saturday morning.
Rhoads insists that both Cole Netten and Edwin Arceo have kicked the ball well in August but even the most optimistic Cyclone fans can't help but feel nervous about an inexperienced kicking game.
— Two or three-headed monster at linebacker?
At this point, you know what you're getting with Jake Knott and A.J. Klein. It's the greatest linebacking duo in Iowa State history.
I'm intrigued by the junior Jeremiah George though. He gives Wally Burnham options that he's never really had before. Against a run-first team like Tulsa on Saturday (and even Iowa on Sept. 8), a guy like George might come in handy.
I'm just curious to see when we look back on the season in January which set proved to be Iowa State's "bread and butter" during the 2012 season. The base 4-3 or the nickel?
Sure – It's going to depend on matchups and what not but we'll be able to tell which one Burnham prefers with this group after a few games in the Big 12.
— The Paul Rhoads Special?
I'm not talking about a pizza here. Where is the upset going to come from this year? I'm going with a road win at TCU on Oct. 6.
— How will the newbies fit in?
Speaking of TCU, I think watching the Horned Frogs and West Virginia Mountaineers in year No. 1 of their Big 12 lives will be a top storyline to follow all season long. West Virginia is a trendy No. 2 pick in the league this year thanks to a ridiculously talented offense led by quarterback Geno Smith. However, something tells me that each program will struggle in year one. West Virginia was only a few plays away from being 6-6 in the Big East last season while TCU's jump from the Mountain West will be larger than most originally thought in my opinion. I could be wrong as there is a boat load of talent on both sides, but I see growing pains in the future.
— Good to go in the trenches?
I'll start on offense, where Iowa State is forced to replace some guy named Kelechi Osemele and Hayworth Hicks as well. We've all read a lot about Iowa State's deep offensive line heading into this season. Indeed, the depth chart does look impressive. But is this group of five truly ready to go? So much attention has been paid to the quarterback position, the wide receivers and the passing game as a whole all offeseason long and rightfully so. But you don't have to be Mel Kiper to know that it all starts up front. The time for talking about how good some of these young guys is over. Many are young but they do have experience. Guys like Brayden Burris and Carter Bykowsky have  been a guy on the line year's past. Now, they'll need to be the guy. Are they ready for the challenge?
And on defense, I think we're all well aware that Iowa State's line doesn't contain some sort of scary – Jason Berryman like – pass rusher. At least we don't know about it if that man is on Iowa State's roster. But like on the offensive side of the football, we've heard a lot about depth. We saw how depth on the defensive line works a season ago. Is this 2012 crew ready to put on an encore of the second half of 2011?
— Will the Cyclone Nation stick around?
Don't take that the way that it reads Cyclone Nation. You were phenomenal last season. No really. You were. You also just broke a season ticket record for 2012. That's cash money right there. But what if, just what if the Clones struggle this season? I'm not being a negative Nancy. I'm just pointing out a hypothetical situation. The Clones are hosting West Virginia on Black Friday on national television. That place has to be rocking!  
In year's past, Thanksgiving Weekend never treated Iowa State football well. You turned out last year vs. Oklahoma State and we all saw what happened. Will you do it again?
This is a new era of Iowa State football. My money says regardless of record, yes you will. 
Enjoy the 2012 season Fanatics.