By Chris Williams, CycloneFanatic.com PublisherFollow Chris on Twitter @ChrisMWilliams 
AMES — Iowa State's new wide receivers coach/passing game coordinator Todd Sturdy took center stage after Thursday evening's spring practice.
How have his first few weeks of working with Iowa State's wide receivers gone?
What does the position group need to do to get ready for the 2012 season?
Sturdy tackles these questions and more in this Q&A with Iowa State's local media.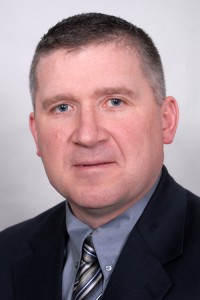 Q: What was your first impression of the wide receivers when you got to town?
TS: I am really excited about the position group. I think that we have a mixture of some veteran players and obviously some young, talented players as well. You never know what you've got until you get out there and start working but after watching film and doing all of those things, I was excited. I've been able to get out here with them in spring practice and I'm excited about that group.
Q: Has the fact that you've had some injuries at that position made things more difficult or have you turned it into a positive by young guys getting more reps? How would you access the situation?
TS: It always makes it difficult when you lose good players, starters and things like that but it also provides reps for other guys. We haven't batted an eye at the position. I think we've kind of moved forward. Obviously we need to get those guys back as well but you can look at it as the glass is half empty or half full. You just have to be positive and move forward. The next guy in. The players have done a nice job with it.
Q: Have you gotten any of those guys back? I know that Ja'Quarius' (Daniels) was pretty minor…
TS: He (Daniels) was running around tonight. Chris Young was out there again tonight. Albert (Gary) was out there running around tonight. It's day-to-day.
Q: Typically you guys start with three wide receivers. Josh Lenz is there. You've got two open starting spots. What are you looking for from the group of guys who are competing for those two other spots?
TS: I think that you have to look for consistency in their play. Guys who are gonna make plays consistently both in the run and the passing game. That's really important. You have to have guys who play well together as well. We're building that commodore in the position group and I've been really pleased with some leadership that I've seen. I've challenged them in some leadership roles. I'm really excited about that but then it just gets down to coaches, all of us understand what each guy can do really well. What are his strengths? What are his weaknesses? Just being smart about putting guys into situations where they can succeed.
Q: Since you haven't been here for very long, how are you doing picking up on that?
TS: I am getting a pretty good handle on it. I feel really good about it. Spring ball is the time where you get to do those things and I have a really good feel about the position group right now and obviously it is a competitive situation every day so you want those kids to come out and compete. It's been good. I'm pleased with where we are at. I'm more excited with where I think we can be at. We're nowhere near where we need to be but I've been pleased with a lot of things I've seen. I'm excited where we've set the bar. I'm excited where the group is headed.
Q: What do you need to see out of them between now and throughout the fall? What do they need to do to get them where you want them?
TS: I think consistency again. I'd like to use that word again, in everything that they do. Not just on the field. But just consistent performance, day in and day out. Speaking to just on the field stuff, consistently getting things done correctly. Mental mistakes, making plays, doing things correctly and all of the little things. Not just knowing your assignment but knowing your assignment and doing it with great passion, urgency, getting it done correctly and being a smart football player. I'd like to continue to see us learn the system, grow with the system and do the little things.
Q: Speaking of assignments…We were talking with Josh (Lenz) a week ago and he said that the biggest transition for them (the players) was terminology. Is that what you noticed was the hardest thing for you to deal with?
TS: With me coming in?
Q: Yeah.
TS: Yeah. I don't know how many different college football games I've play called personally, but I've been running the same offense for twenty-some years. It's been harder on me than them. Don't let them fool you. We call it a trips formation, it was trio to me. Every once in a while I'll have that mental lapse where I'll say 'trio.' Things like that. It's all cleared up now for me. I feel really comfortable with it.
Q: How was that transitional process for you then?
TS: It's always easier for one guy to learn it than everybody. I've really tried to adapt as much as humanly possible with everything.
Q: Is it almost like you're the player having to learn the playbook all over again?
TS: Oh yeah. It's the same stuff. It's just called something different. Very s similar. A snag route was a whip route. The same stuff.
Q: Which individuals have had the best spring so far?
TS: I don't know if I'm ready to really single out guys as in this guy is doing this or that. You know I've been proud of some of the older players because of their leadership. That's where I've really challenged them. I think I've gotten some consistent performance out of those guys. They are not where they need to be from  a leadership standpoint and all of those things but I am proud of where that is headed. I think that our younger players are learning every day. I think we are taking little steps every day, which is important. I see a little bit of growth every day and that's what I'm excited about.