By Chris Williams, CycloneFanatic.com PublisherFollow Chris on Twitter @ChrisMWilliams
AMES — Too many mistakes.
That was the theme of Iowa State's second full scrimmage of the spring that took place on Saturday morning in Jack Trice Stadium.
Head coach Paul Rhoads counted five turnovers that his offense committed.The defense played scrappier football than it did a week ago. However, the defense isn't what Rhoads is necessarily worried about this spring.
"We had too many penalties today," said Rhoads. "And we turned the ball over five times. That's good on half of the team but not good on the other half and the other half is the one I'm concerned about losing football games and not winning."
Rhoads recalled that linebackers C.J. Morgan (pictured below) and Matt Morton recorded interceptions in the scrimmage.
It wasn't all doom and gloom that came out of the scrimmage though. Rhoads noted intensity as a bright spot.
"It was a very physical and energized scrimmage," said Rhoads. "It was a Big 12 scrimmage. Make no mistake that that was a Big 12 football team in that stadium. They acted like it and they played like it."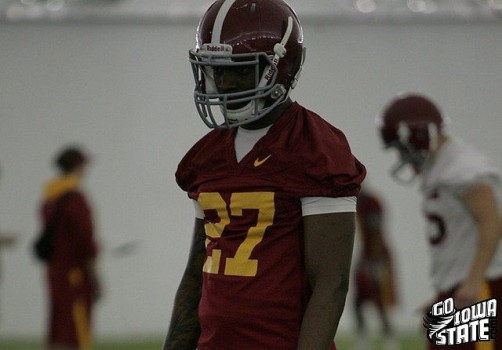 BIG PLAYS: It's been a constant area of focus from Rhoads' coaching staff since arriving in Ames four years ago. The offense needs to produce more big plays.
"In last week's scrimmage and this week's scrimmage, I feel like from the offensive side we still had a lot of big plays," said quarterback Jared Barnett.
Quarterback turned wide receiver Jerome Tiller caught a touchdown pass on Saturday.
"JT ran a great route, got open and made a great catch and took off down field," said Barnett. "It was great to see."
Tight end Ernst Brun continued to up his stock as well as the 6-foot-3, 240 pound junior caught a touchdown pass of his own.
Rhoads and running backs coach Kenith Pope both mentioned that junior running back James White had a long touchdown run in the scrimmage.
"Maybe even 90-some yards, or 80-some at least," said Rhoads of White's explosive run. "There was more of that today than we've seen in most spring scrimmages and all scrimmages for that matter and that was encouraging."
INJURY REPORT: The Cyclones had a positive week on this front, as Rhoads had no new serious injuries to report to the media on Saturday afternoon.
— Senior defensive end Roosevelt Maggitt (knee) is inching his way back towards 100 percent. Rhoads said that Maggitt's workload increased over the last week and that he'll participate in team drills for the first time next week. However, Rhoads seriously doubted that Maggitt would participate in next Saturday's spring game.
Maggitt said that he plans on being 100 percent by the time that fall camp arrives in August.