By Chris Williams, CycloneFanatic.com PublisherFollow Chris on Twitter @ChrisMWilliams
After Tuesday night's 25 point victory over Prairie View A&M, Fred Hoiberg said that he couldn't wait until the day that his Cyclones put together a full 40 minutes of basketball.
Hoiberg didn't get 40 in Friday night's 86-76 Cyclone (7-3) win over Iowa (5-5), but 35 was plenty.
A sold out Hilton Coliseum's raucous pre-game atmosphere set the tempo.
Royce White's two big dunks, a jumper and assist resulted in Iowa State's first eight points of the game and kicked this Cyclone party into another gear.
"You could tell that they were on the edge of their seat waiting for something to happen," said White. "It was fun for it to be me that got that spark and led off for us to get a good win."
White converted on his first seven field goal attempts in the game and led the Cyclones in scoring with 17 points on the night. White said that his first ever Cy-Hawk experience was not a disappointment.
"It was intense man," said White. "I could feel the emotion in warm-ups and coming out in the beginning. It was so intense. The emotion was there for me and I'm from Minnesota. It was an incredible experience."
BOX SCORE: Iowa State 86, Iowa 76
PLAYER OF THE GAME
Royce White – Scott Christopherson and Bubu Palo both deserve honorable mention notice for Friday night's hardware, but how do you not give Player of the Game honors to White, who also grabbed eight rebounds while dishing out three assists in the win?
"My team has confidence in me. My coaching staff has confidence in me," said White. "They (Iowa) really over-planned me, trying to deny that high-post entry that we run a lot of our sets out of. Just noticing that and taking advantage."
White only attempted one shot in the second half and ended the game going 7-for-8 from the field.
It was White's eighth double-digit scoring performance of the season.
THREE UP
BuBu Palo – By far, sophomore walk-on Bubu Palo played the best game of his young Iowa State career vs. the Hawkeyes. With Chris Allen being in foul trouble for the majority of the game, Palo played 30 minutes and scored a career-high 14 points in the Cyclone victory.
"He was so rock solid," said Hoiberg. "We had a couple of turnovers there against their press and we bring Bubu into the game and everything just calms down."
Palo also dished out six assists compared to only committing one turnover in the game.
"He was tough, defensively and offensively," said White. "I'm looking here and it says that he shot 15 free throws. He's tough to guard off of the bounce. He's real crafty and he shows that in practice."
Don't let Palo's defense go unnoticed.
"Defensively, he is as good as we have as far as picking up the other team's point guard and applying pressure," said Hoiberg.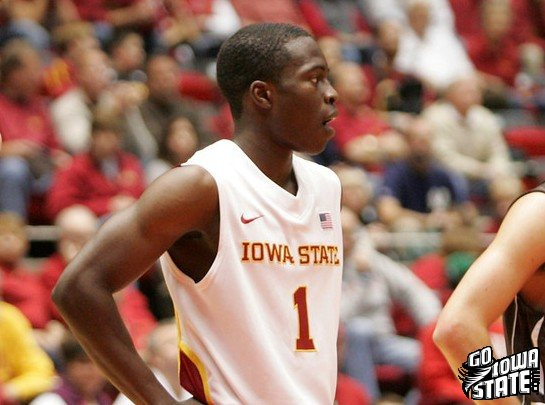 Scott Christopherson – The Iowa Hawkeyes tend to bring out the best in Scott Christopherson. Iowa State's senior scored 30 points against the Hawks in Iowa City a year ago. On Friday night, the sharp-shooter snapped out of his early season slump and went for 16 points, while going 3-for-6 from long range.
Most importantly, Christopherson finally looked like himself again.
"I have been playing like garbage lately," said Christopherson "I just wanted to come in and get back on the right track. Last year was great and everything but this is a new team and a new year. More than anything, I just wanted to contribute to helping our team win."
This marked the second game of Christopherson playing the two-guard position, after starting out the season at the point for the Cyclones. Hoiberg said that Christopherson looked more relaxed on Friday night.
"His arc looked better," said Hoiberg. "His shoulders were more relaxed. He just went up and trusted his stroke and that's what you have to do as a shooter."
The win marked Christopherson's third and final game against rival Iowa. His record?
"It's a great thing to say that you've never been beat by the Hawkeyes."
THREE DOWN
Didn't close – The Cyclones led Iowa 79-59 with 2:36 to play in the game. Iowa State only won the contest by 10. Iowa's full-court pressure wreaked havoc on the Cyclones late in the game as the Hawkeyes ended the contest on a 17-5 run.
Finals week – The Cyclones are finally starting to gel. Friday night's first half was the best 20 minutes of basketball that we've seen from this team all season long. I'd like to see this team get right back on the court on Tuesday or Wednesday. Next up for the Cyclones is Central Michigan on Dec. 18.
KCCI Weather spot – Is it just me, or does the KCCI weather forecast late in the second half suck the life out of Hilton Coliseum every game?
NOTEBOOK
— Five Cyclones ended the game in double figures (White, Palo, Christopherson, Melvin Ejim and Chris Babb).
— Iowa State dished out 17 assists in the game compared to Iowa's 12.
— Rebounding and turnovers were fairly equal in the contest. The Cyclones won the battle of the boards 32 to 30. Turnovers were equal as both teams committed 12.
— Iowa State has out-rebounded nine of its 10 opponents so far this season.
— Scott Christopherson is now Iowa State's fourth all-time leading 3-point shooter. Christopherson now has 147 on his career, which moved him past Michael Nurse at 146.
— Bubu Palo's six assists tied his career high.