By Chris Williams, CycloneFanatic.com PublisherFollow Chris on Twitter @ChrisMWilliams
What: Iowa State (3-1, 0-1) @ No. 25 Baylor (3-1, 0-1)
When: Saturday, Oct. 8 at 6 p.m.
Where: Floyd Casey Stadium in Waco, Tex.
TV: FOX Sports Net (Bill Land, Dave Lapham and Emily Jones)
Radio: Cyclone Radio Network
—————————————————————————————————————————————-
Through two and a half years of the Paul Rhoads era in Ames, the Cyclone Nation has learned to expect the unexpected.
In 2009, a deflated Iowa State team (playing without its starting quarterback and running back) limped into Lincoln, Neb. and shocked the college football world in a 9-7 upset over Nebraska.
Then, there was last year's win at Texas.
Only one week before that historic victory, the Oklahoma Sooners had taken Rhoads' Cyclones behind the woodshed and clobbered Iowa State by a 52-0 final.
After a disappointing opening to the Big 12 season last weekend, Saturday's road trip to Baylor has the same sort of 'backs against the wall' feel to it.
Does Rhoads, who is one of college football's best motivators, have another trick up his sleeve? Or will a determined Baylor team send Iowa State onto Columbia with an 0-2 mark in the Big 12?
Let's break this down.
BREAKING DOWN THE CYCLONES
Developing a game plan to slow down the great Robert Griffin is not an enviable task. Assignments like these are why Iowa State's defensive coordinator Wally Burnham makes the big bucks.
What if I told you that in my opinion, the biggest key to an Iowa State victory on Saturday night has nothing to do with Griffin at all?
Iowa State's defense can play a great game against the Bears and still give up 35 points. After all, the Bears are averaging 47.25 points per game this season.
In my humble opinion, there's more pressure on Tom Herman and Iowa State's offense in this game than that of the defense.
Regardless of how the defense plays, the Cyclones are going to have to score a lot of points in order to leave Waco with a victory.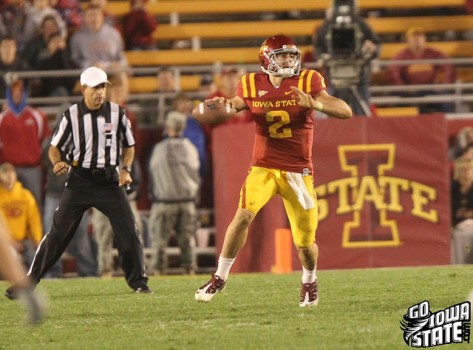 Banged up offensive line
Iowa State's offense is going to have to excel without its starting right tackle, Brayden Burris, who is out for the next six weeks after breaking a bone in his lower leg against Texas.
Up next on the depth chart is sophomore Kyle Lichtenberg, who is slated to start on Saturday night. Expect backup left tackle, junior Carter Bykowski, to see some significant playing time as well.
"I feel comfortable out there. I know that I have four other guys on the line who will help me out," Lichtenberg said. "Going into a game even at second string, you have to be ready to go in there. You're one snap away from getting in there."
I have no doubt that the pair can tag team and fill in for Burris. But left tackle Kelechi Osemele has been fighting an ankle injury all season long. What if both starting tackles are down at the same time?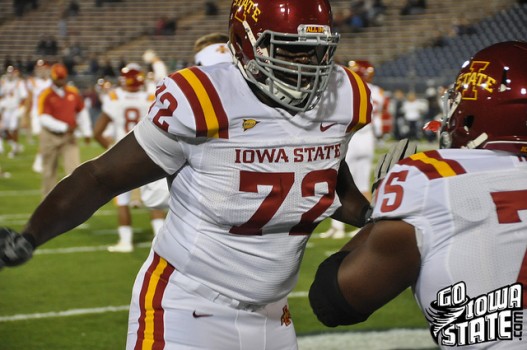 That concerns me.
However, Paul Rhoads seems confident in his two-deep on the offensive line.
"Kyle is extremely athletic," Rhoads said. "It's a matter of generating that athleticism, explosiveness and power and not allowing him to be eager with that athleticism. By that I mean, he has the tendency to get somewhere quick and then be aggressive with his upper body where he leans out over grass and it puts him at an unbalanced position. We have to get him to stay back with his weight balanced."
And Bykowski?
"Carter is a physical player," said Rhoads. "Every chance Carter gets to get more snaps, I believe he gets better. The better competition that he goes against, the better he gets. If KO at some point can't go again Saturday and Kyle and Carter are the guys who we are out there with, we're confident that we can execute our offense."
=== QUOTEABLE ===
Baylor head coach Art Briles on Iowa State's offense…
"The thing about Iowa State – Tom Herman's their offensive coordinator, who I've been around, he was at Rice a couple years ago – [they are] very good schematically. I really respect what they do on the offensive side of the ball. A lot of good run pass options. I think they've been on the cutting edge for a while, quite honestly. They've got a guy that can do it in [Steele] Jantz. He's a big, strong kid that is fearless and they believe in him. He's a guy that can keep the plays alive. They run in two or three running backs that are all good. They feed off each other well; they all bring something different to the table. They've got good people and good schemes and they're a team that has beaten some really good teams over the last two or three years. So, any time you get [into] Big 12 play, you toss the coin up, just about. It all comes down to penalties, turnovers, momentum, and field position."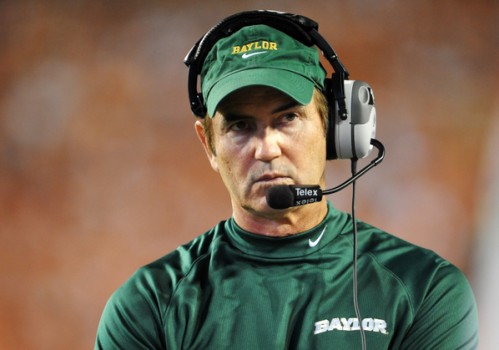 Iowa State offensive lineman Hayworth Hicks on road trips…
"We don't dwell on the past. We just keep moving forward. It's just us. We can stay focused because there aren't all of the distractions that come with a home game. I love it. It's a business trip. We're going there to do business. Everybody is going with the same goal."
What to watch for:
A couple of things that I'll be specifically watching for on Saturday night…
— At times last week, Iowa State was moving the ball at ease against the nation's 15th ranked defense. Baylor's defense is currently ranked 76th against the run. Iowa State should be able to move the football. The issue will be keeping up with Baylor's scary offense…Running the football will be crucial for the Cyclones. A clock that is constantly moving will help keep Griffin off of the field.
— How many Baylor turnovers will Iowa State force? The Cyclones have only forced five turnovers so far this season. Like Iowa State, Baylor is a turnover prone football team, losing the ball seven times this season and ranking 77th nationally in turnover margin. Turnover margin is a two-way street. Iowa State's defense needs to create more takeaways. — For more on Iowa State's turnover woes, CLICK HERE for Brent Blum's latest.
— Will we see more of Jarvis West at wide receiver? The redshirt freshman caught a career-high four passes in last week's loss. He appeared to be awfully slippery too. Was that a fluke or was it the beginning of a trend?
— Can Iowa State make a kick? Zach Guyer and Grant Mahoney are a combined 2-of-6 on field goals this season for Iowa State. Read more about this problem HERE.
— Will the Cyclones finally get off to a better start? Iowa State hasn't scored a first quarter point yet this season.
BREAKING DOWN THE BEARS
How good is the Baylor's offense? Here are a few facts to prove how deadly the Bears actually are…
– Quarterback Robert Griffin has only thrown one interception in his last 173 pass attempts. "RG3" leads the nation in pass efficiency (230.33), completion percentage (82.3 percent), passing touchdowns (18) and total points responsible for (28.50 per). The Heisman Trophy candidate is also ranked third nationally in total offense (370.25).
– Baylor's is the only school in America averaging over 300 passing and 200 rushing yards per contest.
– The Bears are ranked second nationally in passing efficiency, fourth in scoring offense, fifth in total offense, eighth in passing offense and 28th in rushing offense.
(Gulp)
"They are a really unorthodox offense. They do a lot of different things. Watching the things that Robert Griffin, Kendall Wright and the running back can do, it's like a three-headed monster really," said Iowa State linebacker Jake Knott.
"They run plays that you really won't see ever again. They run the fake option and then throws it back across the body. It's plays that only their quarterback can run and that's why you'll probably never see them again."
Griffin gets a ton of hype and rightfully so. For lack of a better phrase, he is the straw that stirs this very potent drink. But keep in mind that really for the first time in his career, RG3 has help. Baylor has speed, strength and a ton of talent all over the football field.
"They have some great receivers. Great speed and great athletes that catch the ball," said Iowa State defensive coordinator Wally Burnham. "You never know where they are going to line up. They do a great job of getting open and they are a big screen team, a bubble-screen team. They do a good job of getting the ball to the athletes on their team that can make plays in open space. That is a major concern."
It all begins with Griffin but for seven times already this season, it has ended with Baylor's 5-foot-10, 190-pound wide receiver Kendall Wright. Wright, a senior, is averaging 10 receptions per game (43 percent of Griffin's pass attempts) and leads the nation in receiving yards per game at 155.25.
"There is no way that you can say that you're going to stop the wide receivers or stop Kendall Wright, who is probably one of the premier receivers in the country right now," said Burnham. "He gives you extra problems. Do you put two people on him? Do you play a zone and try to keep him in front of you? Do you double him? There are a lot of questions that you have to answer because of personnel."
Dating back to last year's Texas Bowl, Wright has recorded 100 receiving yards or more in five straight games. Wright notably set a single-game school record for receiving yards in last week's loss to Kansas State, with 201.
Oh yes. Baylor can run the ball too.
Junior Terrance Ganaway is averaging 81.8 rushing yards per game, while scoring three touchdowns in Baylor's first four games.
"He is a downhill guy now. He is going to run the ball downhill and will make it a physical game when he has the ball in his hands," said Burnham. "They have a good complete offense."
CRAZY STAT: Per the Big 12's weekly media release:
Baylor is averaging under two minutes (1:49) tim e of possession on 28 scoring drives this season. Fourteen of Baylor's 28 scoring drives have taken less than two minutes, including seven scoring drives of less than 60 seconds.
The Bears are obviously not known for their defense, but here are a few notes on that unit.
— Kansas State ran for 210 yards against the Bears last Saturday. Expect Iowa State to try and do the same. Again, keeping the Baylor offense off of the field is critical.
— Baylor's pass defense is ranked 32nd nationally, but that's mostly because their opponents have been so successful running the ball against them.
PREDICTION
Based off of the tone I observed during Art Briles' weekly press conference, I'll be very surprised if the Bears aren't 110 percent focused and to be honest, a little bit ticked off after last weekend's loss to Kansas State.
"We certainly felt like we let one slip through our fingers," Briles said. "That's just what's hard to take in this business."
It pretty much goes without saying that Iowa State needs to get off to a better start to win in Waco on Saturday. Some say that this team has an urgency issue. I disagree. I think that the problem is execution, not urgency. Just look back to last week against Texas. In the first three offensive possessions, fans saw Darius Reynolds drop an easy pass that would have resulted in a first down. Steele Jantz then missed a wide open Aaron Horne. Jantz and James White had handoff issues resulting in a fumble and then, Jantz threw a foolish interception.
Iowa State moved the football right down the field in its opening drive against Iowa, which resulted in a fumble.
Execution has been the problem. Not urgency.
Clean that up, even things out, and Iowa State can beat Baylor and a lot of other teams on its schedule.
Keep turning the football over and fans might as well start counting down to basketball season.
I think that the Cyclones will surprise a lot of people this Saturday night. After one of the best week's of practice that this team has had all season, I believe they'll keep it close and give the Bears a heck of a football game.
THE PICK
Baylor 35, Iowa State 27