As always, CycloneFanatic.com's coverage of Iowa State women's basketball is brought to you by our good friends and partners at Wilson Toyota of Ames, located at 2212 S. Duff Ave. in Ames.

By Ian Smith, CycloneFanatic.com ContributorFollow Ian on Twitter @IanWsmith3
Au revoir, Kelsey Bolte.
Goodbye, 557 points, 170 rebounds, 52 assists and more leadership qualities than even Rainman could count.
Bolte is now a professional basketball player in France. Left behind is an Iowa State squad searching for scorers and more importantly, an identity.
The Cyclones better find it quick if they want to return to their sixth-consecutive NCAA Tournament.
"Who's the leader of team?" said Iowa State coach Bill Fennelly at the team's annual media day Tuesday. "Who's the scorer? Who's the person who becomes the face of the team? Every good team has it. Kelsey Bolte, Allison Lacey, you can go in that room right there and see a wall of them. I'm waiting for someone on this team to earn a spot on that wall."
Luckily for Iowa State, it's not counting on just one player to pick up Bolte's 16.9 points per game. A handful of Cyclones are poised to take the next step in their careers.
Talent on the block
Bill Fennelly coached teams do their damage from the outside. At least most of the time they do. That could all change this season with Anna Prins, Hallie Christofferson, Chelsea Poppens and Amanda Zimmerman wearing Cardinal and Gold.
On a team that doesn't return one player who averaged double figures in points, the post is where a majority of the Cyclones' points figure to come from.
That's because Iowa State – who finished 22-11 last season – suits up versatile scorers at the position. Prins averaged 9.9 points and 5.5 rebounds last season and hit 27 3-pointers. Christofferson wasn't far behind with 9.3 points and 5.1 rebounds.
"I love that I can go outside and shoot the 3-pointer," Prins said. "It really helps when things aren't going well in the post to have the option of coming outside. I think it's important for this year to dominate as much as we can in the post."
The key for Prins is staying healthy. The 6-foot-7 center missed two months this summer due to injury and just started working out two weeks ago. In fact, most of the Iowa State players were battling a nagging injuries at some point this offseason.
"Anna is someone that is unique with her size, her skill sets, her ability to score the ball around the basket, shoot the three," Fennelly said. "She is a great free throw shooter. In about 22 minutes per game last year, she averaged almost 9.9 (points). She was our best player in the NCAA Tournament game against Marist. She is very, very capable of changing the dynamic of our team."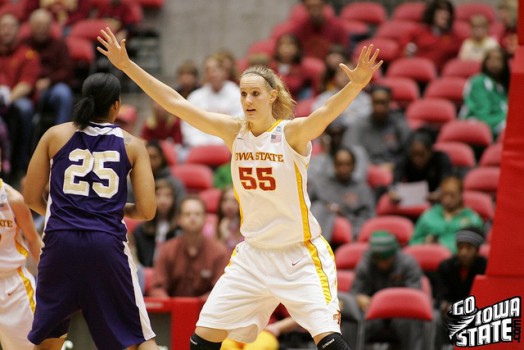 The same could be said for Poppens, but she can dominate a game in a completely different manner – on the glass and on the defensive end.
The junior from Aplington notched 8.6 points and 7.5 rebounds per game last year. Poppens also drew 36 charges on her way to being named to the Big 12 All-Defensive Team.
Besides improving her free throw shooting, her shot from the elbow and finishing around the hoop, Poppens wants to help take some of the leadership role Bolte left behind.
"I feel like I'm viewed definitely as more of a leader than I was last year, especially with Bolte gone," Poppens said.
The wildcard in the bunch is Zimmerman. The junior – who is fighting a foot injury – can light up the scoreboard in a hurry, but will also disappear for spurts. A more consistent Zimmerman should make Iowa State more dangerous on offense.
"The good teams we've had, there has been a surprise," Fennelly said. "We need a surprise to step forward and take that role of being a person you can count on. Every basketball team has a player you can throw the ball too. Every coach has a playbook that you can throw to ball to a certain person. Hopefully, we can find that person."
Consistent backcourt
To max out its scoring punch, Iowa State will shift Lauren Mansfield from point guard to off guard this season. The change should help create a consistent backcourt rotation.
Mansfield showed ability to score last season while averaging 8.8 points and five assists. Five of her six highest scoring games came at off guard.
With Mansfield entrenched at the two guard, Chassidy Cole and freshman Nikki Moody will battle for time at the point.
Cole is a steady defender and passer who likely won't offer much scoring. Moody is a talented newcomer trying to figure out Fennelly's system.
"I told Nikki, there isn't a point guard in the country with a better chance to play than her because the position is wide open," Fennelly said.
Junior Jessica Schroll and freshman Brynn Williamson will also see time, but at more of 2-3 combo position. Both players offer size and can score inside.
With so many moving parts, Iowa State is glad it won't need to be put it all together until Nov. 1 when the Cyclones tip off against Coe College. Until then, Iowa State is hoping to get healthy and find the next Lacey, Bolte or Angie Welle.
Easier said than done, but with Fennelly leading the way, don't be shocked when that happens.