By Chris Williams, CycloneFanatic.com PublisherFollow Chris on Twitter @ChrisMWilliams
On a scale of one to 10, how jacked are you for Saturday's game?
I'm flat out giddy fanatics.
I'm giddy about the big game and I'm super amped up to write this mailbag column.
Let's start things off with an insightful question from the one and only Ketelmeister.
Ketelmeister writes: If Bevo were castrated, how would you prepare the RM Oysters? Fried, Baked, Sliced, barbequed, and what would be the side dishes?
CW: I don't even know what to say to that…Got anything else?
Who are your top teams, in order, to add to the Big 12?
CW: Louisville is my favorite of the schools that have been mentioned, mainly because I love the state of Kentucky. Back in the day, my family and I would take road trips to see our relatives in South Carolina and stops I remember how beautiful driving through Kentucky was. I'm a big hoops guy too. So having Rick Pitino in the Big 12 would be fantastic.
If the Big 12 only adds one school, BYU makes the most sense. Biggest fan base = a lot of TV sets = more money for everybody.
If the league goes up to 12 or 14 schools, this is who I would like to see added in order. Keep in mind that I'm not factoring academics or geography. I'm specifically talking about sports here.
1, Louisville – 2, BYU, 3, West Virginia, 4, South Florida (opens up more Florida recruiting for Iowa State),  5, Boise State – 6, TCU – 7, Cincinnati….
And the list goes on. This is very off the cuff so don't kill me too much for the list and order. I can't even put into words how fatigued I am by this story. I just want it to be over with.
Having said all of that, regardless of who the Big 12 adds, this is going to be one hell of a basketball league.
Zwclones51 writes: Out of the 3 teams that have left the big 12 as of now: Nebraska to Big 10, Colorado to Pac-12 and A&M to SEC, which will have the best success in their new conference in all sports. And out of those 3 which will the Big 12 miss the most?
CW: I assume that you're talking about football only? If that's the case, Nebraska in the Big Ten by a landslide. It's a great fit. The Huskers can play their vintage smash mouth football and actually match up well with opponents at the same time. Colorado lacks tradition and Texas A&M could be in for a world of hurt. Main reason is that I don't believe in Mike Sherman. If Texas A&M can hire a headhunter as its next head coach, that program could thrive in the SEC. But again, I'm not convinced that Sherman is the guy to do it. Keep in mind that the Aggies have only won a single bowl game dating back to 1997. That was the prestigious GalleryFurniture.com Bowl back in 2001. After making it to the Cotton Bowl last year, I'm supposed to believe that the Aggies are back? I'm not buying it.
Cyfan964 writes: How many people on the current roster do you feel have a LEGITIMATE shot at the NFL? Is it the most we've ever had at ISU? I can count 8-10, which is more than I can ever remember.
CW: This is a TOUGH question to answer, mainly because you just don't know how some of these young linemen are going to develop. Here's my very rough list.
Kelechi Osemele, OL
Hayworth Hicks, OL
Jake Knott, LB
A.J. Klein, LB
Leonard Johnson, CB
Ter'Ran Benton, S
Jevohn Miller, LB
Jared Brackens, S
Kirby Van Der Kamp, P
Tom Farniok, OL
Shontrelle Johnson, RB
Those are guys who popped out at me when I skimmed over the roster. I think that it is way to early to rule out any of those redshirt freshmen offensive linemen, who Rhoads and his staff are so high on. I threw Farniok on the list, just because he's starting as a freshman and he's only going to get bigger and better.
I also think that if he keeps up what he's done so far this year, you have to give Darius Reynolds a long shot. Last week, Rhoads described "Money," as a "physical freak." That could earn him a look from somebody.
I put Jevohn Miller on the list, mainly because of how much the staff seems to love this true freshman linebacker. The size is there. He's 6-foot-4, 244 pounds. Jake Knott weighs 243 pounds and is 6-foot-2, It doesn't hurt that Miller will learn from Knott for two straight seasons.
With a guy like Jared Brackens, I'm obviously projecting. It's a reach but from what he's shown since he arrived on campus this summer, I think he has a chance. Hope that helped.
Kentkel writes: Coach Rhoads alluded to the fact that Josh Lenz could play both sides of the ball (ala Deion Sanders). Do you get the impression that this could happen in the near future, or was CPR referring to Lenz possibly playing defensive back at the next level (instead of WR)? Thanks, & good luck to your Braves this week.
CW: Thanks for jinxing my Braves Kentkel. Just kidding.
Referring to Rhoads' comment about Lenz, he was asked to tell Josh's recruiting story. Coach was praising how good of an athlete Lenz is. He mentioned that during Lenz's recruitment, the staff thought that Josh could play on either side of the football. He then said that to this day, Josh could be a quality defensive player.
No, I don't think that we'll ever see that. Coach was more making a point of how quality of an athlete that Lenz is than anything.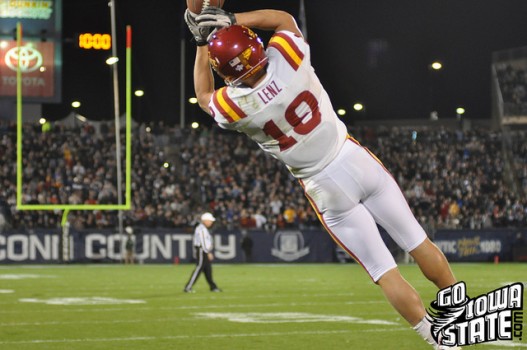 Cystheman writes: if you could add one thing to ISU's gameday atmosphere what would it be (either realistic or non realistic, no limitations).

CW: This is more for outside of Trice and a pregame atmosphere, but more vendors and a band. For real. How sick would a live cover band be outside of the Jacobson Building between hours 3 and 1 of kickoff?
As for inside of the game, I'm not really the person to ask. That's the one thing that stinks about sitting in the press box. All of the windows are closed. I can barely hear the crowd or the sound system from up there.
00clone writes: Sounds like you had an interesting weekend with the puppy shaking and all. So, has Paisley been one of Cy's Pets of the week?
CW: Thanks for asking. Paisley appreciates it. No, she hasn't been Cy's Pet of the Week yet but that is a goal of her mother by the end of the year. In fact, I'm making a serious push to get dog jerseys on theCycloneFanatic.com Store that is powered by Sigler on Main (shameless plug).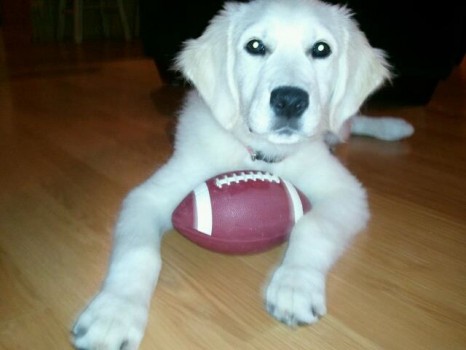 M6WS6 writes: I am having trouble with productivity this week at work…My mind is on the game and activities set for this weekend. What to eat for tailgating? How is our offense going to perform? Will we turn the ball over one to many times? How many field goals will we make/miss? Is our defense going to be able to take care of business? What tailgating game am I going to dominate this week? etc etc….
Now, my question, how to I get to a point of productivity at work? Any suggestions so I can turn this week around and get productive at work? I need this week to go fast…
CW: Luckily for you, we provide help for sickies like you all of the time at CycloneFanatic.com. Just log onto our website constantly. Click on the ads a lot. Read a bunch of threads. Comment on our content. At least you'll be looking at your computer right? It will appear that you're actually working. That's all that I can help you with.  It sounds like you are past the point of no return my friend. Stick a fork in yourself. You're done. Go State.
Cyrocksmypants writes: Who would win in an arm wrestling fight: Jake Knott or Jesus on steroids?
CW: Jake Knott.
Triggermv writes: Aaron Horne has been deadly on that little short pass across the middle where you then just let him cut and run in the first 3 games. While that play has come out at least a couple times each game, is it happening enough? Aaron Horne is my man and has been since I first saw his practice highlights. Part of me wants to see more of it.
CW: I don't think that you can complain about Horne not getting the ball enough. He has more receptions (14) on the team than anybody. I agree with you about that play though. It's legit. You'll see more. He's obviously a security blanket for Steele. You'll see more.
3GenClone writes: Last year, A-Rob torched Texas for 120 yards and 2 TDs. Will Shontrelle do the same? Or at least score his first TD of the year this weekend?
CW: I can't predict the future, but I think establishing the run will be crucial for Iowa State on Saturday. Texas is going to be hell bent on showing Steele Jantz all sorts of different looks and blitzes, which worries me. In order to win, Iowa State has to run the ball successfully on Saturday.
Also, news has been rather quiet about Clyburn and Lucious. Do you have any info on how the two are adjusting to the practice squad this season?
CW: Haven't heard much on those two. My gut tells me that like the transfers last year, no news is good news. I'll try and get a hoops update for you guys here over the next couple of weeks.