By Chris Williams, CycloneFanatic.com Publisher
Follow Chris on Twitter @ChrisMWilliams
Have you ever woken up on a Monday and felt like you never had a weekend? That's me today. Having said that, the non-existent weekend that I speak of was quite the weekend for the Iowa State men's and women's basketball teams. Do you think I can somehow work the word "weekend" into this opening paragraph again? I'll give you some brief thoughts on those stories and more in this week's Monday musings.
–       First of all, I want to thank everybody who came out to the Keg Stand last Thursday for our second annual CycloneFanatic.com recruiting party. CLICK HERE to check out photos from the event. After passing around a hat and then CF doubling the profit, we donated nearly $4,000 to the Cyclone Gridiron Club. That wasn't even the best part of the night though. How often do you get to sit down and drink a beer (or two) with the Cyclone football coaching staff? Exactly.
–       Easily, the best part of the night was watching Wilson Toyota's Tron Smith escort Paul Rhoads to the stage for his big speech. For the record, Tron was wearing a muscle shirt. As one fanatic put it on our Facebook page, "Tron has really let himself go."
–       In its four combined games prior to Saturday, Iowa State was 12-of-25 from the free throw line. In its 83-82 win over Nebraska, the Cyclones were 19-of-22 from the charity stripe.
–       Speaking of free throws, Diante Garrett's percentage from the line has improved immensely this season. During his first three years at Iowa State, DG was a 70 percent shooter. Right now, he's sitting at 78 percent, going 49-of-63 from the line this season.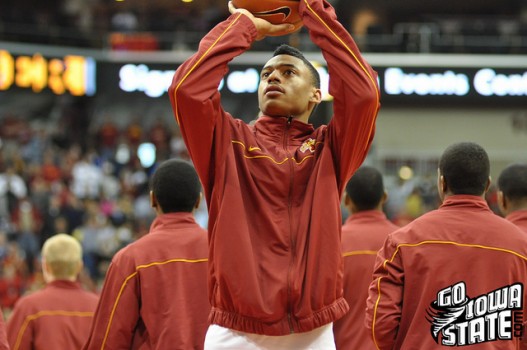 –       Last week, I predicted that Nebraska would lose its last four games of the regular season. I also called my shot that Colorado would win its last four, while upsetting fifth-ranked Texas along the way….I hate to boast, but….I know, I know. I've got another week to go.
–       Enough with the "Nebraska to the NCAA Tournament" talk already. This team has won one game away from home all season, had one of the weakest non-conference schedules in America and it is 6-8 in conference play. Unless they run the table in Kansas City, stick a fork in the 'Skers. They're done.
–       What's the latest on former Michigan State guard Korie Lucious? Who knows? Lucious is no longer taking or returning calls from reporters. I thought that we would hear something late last week. That obviously didn't happen. Having done this gig for a few years now, I have noticed a trend. The longer these things go on, the worse these things tend to look for Iowa State.
–       As far as I know, Calif. defensive end Steve Dillion did not commit to Iowa State over the weekend on his official visit. He also didn't say no. Stay tuned.
–       ESPN.com currently has the Iowa State women's basketball team as a seven-seed in the NCAA Tournament. CLICK HERE to check it out.
–       "The King's Speech" won "best picture" last night at the Oscars. This is exactly why I do not watch the Oscars. Of the 10 movies nominated in that category, I have only seen three of them. True Grit was solid (I love westerns). Inception was kind of messed up but still good. Instead of watching last night's awards program, the wife and I finally saw The Social Network. I give it an A+. Next up on Netflix? Pure Country 2. The first one was pure gold. Long live King George.
–       One more note on the Oscars….Why wasn't The Town nominated for best picture? That's one of the best movies I have seen in years.
–       We're down to three in "The Bachelor." My pick for tonight? See ya Ashley!