By Chris Williams, CycloneFanatic.com Publisher
Hello Cyclone fans. I know…I know. It has been nearly a month since I've posted a mailbag here on CF. Because of this, I've got two words for you today…My bad.
I'm ready to roll here today though so let's get things started off with an intriguing question from timapplegate.
Timapplegate writes: We make the NCAA tournament next year, or we win 9 games in football. Pick one.
CW: This is one of the easiest questions I have ever answered Tim. Give me the nine wins in football. I didn't even have to think about it. It isn't that I wouldn't love to see the Clones back in the NCAA Tournament. It's the fact that football runs the show that makes this such an obvious answer. Remember that realignment jazz last spring? Yeah…On that scale, nobody gives a rip about hoops. Just ask perennial power Kansas. Football makes the money. If Iowa State could somehow win nine games in the new Big 12 with an unproven quarterback, this entire athletic department could blow up (in a good way). It's all about the Benjamin's baby. Football is king. As the great Ricky Bobby once put it, "make that money!"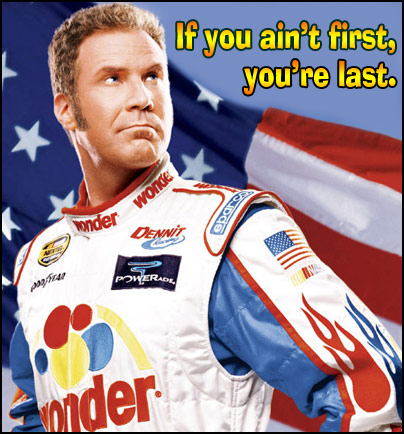 Triggermv writes: With all the talent we've got hitting the starting lineup for basketball next year, I still have no idea who our starting point guard will end up being. Do you think Tavon Sledge has the maturity to pull it off in his first year, or do you see Allen, Babb, Christopherson, McGee, or even Bubu shifting into that spot? I personally think not having a veteran true point guard is our weakest point coming into next season.
CW: The more I think about next year, the more I think that as long as Fred Hoiberg is the coach, Iowa State won't really have a "true point guard." I asked Fred about this a few weeks ago and he basically told me that in the future, we'll see three and sometimes four guys out there handling the basketball. Fred has mentioned Chris Babb playing the four some next season, so that should tell you exactly the type of ball that Hoiberg wants to play. My guess is that Tyrus McGee will handle the ball more than anybody else on next year's team, with Chris Allen coming in second. No, I do not think that Sledge will start at the point as a true freshman. To make a long answer short, I wouldn't worry about it too much. The staff knows what they want to do and they're ecstatic with the players who are coming in.
Chuckd4735 writes: To me, it seems as though this team has not been the same since the first 39 minutes of the Oklahoma State game. What do you blame more for this 10 game losing streak…the Oklahoma State loss or lack of depth and talent?
CW: Lack of depth. There's no question that if Iowa State would have won in Stillwater, the season could look a whole lot different right now. But the same can be said about the Nebraska game too. Still, even if Iowa State would have won those games, depth was always going to be a problem down the stretch during Big 12 play. Winning one of those games wouldn't have made any difference. Jamie Vanderbeken still could have sprained his ankle. Scott Christopherson still could have had elbow issues. Calvin Godfrey and Jordan Railey still could have been suspended and Fred Hoiberg was still going to be stuck with only eight scholarship players. Regardless of anything you can possibly throw out there, this team was going to be thin. I think that with a little more depth, Iowa State could have won home dates with Texas Tech, Oklahoma, Kansas State and Missouri. With wins there, we're talking about a completely different season.
The 2nd Annual CycloneFanatic.com Recruiting Party featuring the ISU coaching staff – Thursday Night at the Keg Stand in West Des Moines
Cystheman writes: Blast from the past question. Who would win in a cagematch…Johnny Orr or JoePa?
CW: This is the second easiest question I have ever had to answer. Johnny would dominate Joe Pa. Can you imagine what Johnny's ring entrance would look like? He'd come out to the Tonight Show theme…He'd be a crowd pleaser. Paterno would stand no chance.
Cyclonepower writes: What is your list for possible 1st round opponent in the Big XII Tournament from the most ideal to most difficult? These are your choices: Baylor, A&M, CU, Neb, K-State, Mizzou .
CW: Okay, I'll list the teams in order of the ones I'd like to see Iowa State get, to the ones that scary the living you know what out of me: Baylor, Nebraska, Colorado, Texas A&M, Kansas State, Missouri.
Reasons: Iowa State has already beaten Baylor by 15 points this year. The Bears are an undisciplined basketball team that could walk into the tournament half asleep for all we know. Nebraska and Colorado are both terrible away from their home courts. A&M is overrated in my opinion, but they're still a much stronger team than Iowa State. Kansas State is really coming along and Missouri is a bad, bad matchup.
Jonecy writes: 2 quick Vikings questions for ya….
1. Greenway was franchised this week – do you like this move as a Vikes fan?
CW: Yeah, I like the move. Greenway is a solid player and you know that he's not going to give you any trouble. Plus, the Vikes need all the help on defense that they can get. I'm fine with it.
2. If Gabbert is available for the Vikes 1st pick, would you support him as your future QB?
CW: I might be in the minority with this opinion. I hope that the Vikes don't draft a quarterback in the first round. They already have a developmental quarterback in Joe Webb. If they like Webb at all, which it sounds like they do, then why bring on another rookie? I hope that they pick up Kevin Kolb or Vince Young, keep Webb as the backup and sign some journeyman as well. They still have good players on the roster. I don't want to wait on a young quarterback to develop. I've been patient with this franchise for two decades. I want to win now.
State43 writes: Coaching question… How confident are the coaches in this coming years secondary? I know that we have experienced corners but do they feel the safeties are going to take a hit? Are they going to have to count on a talented freshman or do we have a redshirt with big promise?
CW: Great question. If you don't mind, I am going to push this back to next week's podcast with Austen Arnaud. We can have a nice discussion on the future of Iowa State defensive backs. Thanks.
Lakeliving writes: 1.How many basketball starting lineup threads will we have between today and the start of the next basketball season?
CW: 1,162
2. Iowa Cubs season tickets or Barnstormer season tickets? (price is not a factor in your decision)
CW: Iowa Cubs. During that time of year, I like being outdoors. Hot dogs + beer + baseball = awesome.
3. Best prediction…Will entire basketball and football coaching staffs stay in tact for next season?
CW: No.
Chizit writes: NBA MVP: D-Rose or Lebron?
CW: I am a Bulls fan so it shouldn't surprise you that I'm going with my boy D-Rose on this one. Dude is ridiculous.
Cyhiphopp writes: CW – Are you a gamer?  If so…PS3 or 360?  What games do you play and why?
CW: I am an occasional gamer and when I do, I go PS3. I've never played an X-Box in my life and I don't plan to start at any time in the near future.
I love racing games but NCAA Football is my favorite. I play online with some old high school buddies every once in a while but ever since I got married, time has been lacking in that department. Honestly, I haven't played a video game since probably October.
Steve writes: If I'm not mistaken, the 5-year anniversary of CF is approaching sometime in the next month. Are any special plans or events in the works?
CW: I have only been with CF since Oct. of 2009, so this is news to me. Thanks for bringing it to my attention! We have no special events in the works. I'm in over my head with this recruiting party that we're throwing tomorrow night!
Do you prefer wooden or silverware for gift suggestions? Or are you going to turn the tables and reward us fanatics with an infusion of credits?
CW: No more credit stimulus'. They've become inflated! CF is registered at Best Buy, Target and Bed Bath and Beyond. Your generosity is appreciated.