By Chris Williams, CycloneFanatic.com Publisher
She was a wild one. I'm speaking of the 2010 calendar year in Cyclone athletics of course. There were ups and there were downs. There always are. Here is my attempt to rehash the last 365 days in 1,500 words or less. Enjoy.
BIGGEST STORY – THE MAYOR RETURNS!
I never thought I'd actually see the day when Fred Hoiberg was the head basketball coach at Iowa State. If that time did eventually come, I thought he would at least have some head coaching experience. In what was maybe the boldest move (there have been many) of Jamie Pollard's tenure in Ames, Hoiberg was given the keys to Iowa State's once prestigious basketball program last April, after Greg McDermott bolted for a gig at Creighton.
Hoiberg's homecoming was surreal to many. During his opening press conference, hundreds of Cyclone fans gathered in and around the Jacobson Building to hear "the Mayor's" initial comments.
After the disappointing 2009-10 Cyclone basketball campaign, Pollard turned to one of the men responsible for Hilton Magic to bring it back.
So far, so good for Hoiberg, whose Cyclones currently sit at 11-2. He's upgraded the talent level in Ames immensely and regardless of how 2010-11 turns out, the future looks bright with four high profile transfers all sitting this out this season.
Without a doubt, this was the story of the year in Iowa State athletics.
BIGGEST STORY, HONORABLE MENTION – Conference realignment
It was one of the most fretful weeks of any passionate Iowa Stater's life. This story dug so much deeper than sports. Jobs were on the line. Ames' economy was at risk. Cyclone athletics as we know them were on the verge of extinction. The Big 12 was done. Iowa State was on its way to Conference USA, where the highlight of future football seasons would be occasional Tuesday night showdowns with Tulane on ESPN2 (If you could not tell, that last sentence was my attempt at being sarcastic. Please hold your emails and comments.) Texas and the rest of the South were heading to the Pac-16 and the super conference era of college football was upon us, leaving the Cyclones behind.
As one of my lifelong heroes Lee Corso would say, "not so fast my friend."
Nebraska and Colorado have gone their separate ways and for the time being, Iowa State is safe when it comes to big time college athletics.
Next year will be different, as the league will move on with only 10 schools. Everybody is still waiting on a new television contract that will supposedly be more lucrative than ever for Iowa State. Keep your fingers crossed and stay tuned. The Cyclones are safe, for now.
BEST WIN – Iowa State 28, Texas 21 (football)
Texas wasn't a very good football team in 2010. The very thought of the mighty Longhorns not going to a bowl game (not winning six games) is beyond being a head-scratcher. But with the southern heavy future of the Big 12 lying ahead of Iowa State, this win showed me something about Paul Rhoads' program. Under Rhoads' leadership, the Cyclones can and will play with the fat cats from the south in years to come. Think about this. Iowa State beat Texas Tech and the Longhorns in last season. That's remarkable considering that before 2010, Iowa State was 1-14 all-time vs. the two schools. What made the Texas win so special is the fact that it wasn't a fluke. Critics can't fall back on the "eight turnover" argument for this one. As Paul Rhoads likes to put it, Iowa State hit Texas coming off the bus. The Cyclones were simply superior to the Longhorns on that October Saturday. That win backed up 2009's upset over Nebraska. It proved once again that on any given Saturday, you will have your hands full with the Cyclones. That is exciting for the fan base and most importantly, it is exciting for recruits.
WORST LOSS – Colorado 34, Iowa State 14 (football)
Absolutely nothing went right. Austen Arnaud got hurt. Cody Hawkins looked like John Elway in the mile high air. The Cyclones didn't even compete with an inspired, three-win Colorado team that was playing for an interim coach. On Nov. 13, Iowa State walked into a dark ally and went head-to-head with a ticked off pit bull. The pit bull won and it wasn't even close.
The Cyclones had three chances to become bowl eligible and came up short in all of them. The other two losses were at home to nationally ranked programs in Nebraska and Missouri.
Now I pondered putting Sept. 18's 27-20 loss to Kansas State (in Kansas City) ahead of the debacle in Boulder in this "worst loss" category. But at that point in the season, the Cyclones weren't playing well. Iowa State was fresh off of its second consecutive embarrassing loss to rival Iowa. We still didn't really know exactly what to expect out of the Cyclones in mid-September. But after defeating Texas Tech, Texas and taking Nebraska to overtime, fans had a right to expect more out of this team than what they got that fateful day in Boulder. Losing at Colorado is one thing. Being blown out by the hapless Buffs is another.
WORST LOSS, HONORABLE MENTION – Duke 86, Iowa State 65 (men's basketball)
We go all the way back to Jan. 6, 2010 for this one. It was supposed to be Iowa State's coming out party on the national college basketball scene. That's what we thought when Iowa State's showdown with Duke (on ESPN in Chicago) was scheduled at least. It turned out to be everything but that. The Cyclones were embarrassed by one of the most prominent programs in the game, after the eventual national champion Blue Devils pasted Iowa State by 21. After the game, then head coach Greg McDermott publicly called out freshman Chris Colvin for his actions in the locker room after the game. At that time, it was clear that the wheels were starting to fall off and McDermott was losing control.
I wanted to put Iowa State's 63-60 home loss to Northern Iowa on this "worst loss" list but that game actually took place on Dec. 2, 2009.
BEST MOMENT –Fennelly's 500th win
CLICK HERE to read the column I wrote after the Iowa State women's basketball team defeated Drake 64-46 on Nov. 15, which resulted in Bill Fennelly's 500th career victory. What happened after the win was what made the night so special though. For a good 15 minutes, multiple members of Fennelly's family, former players, former coaches, etc., honored him in a video that was played on Hilton Coliseum's big screen. You can watch that video by clicking below.
The Cyclone women's basketball team made yet another Sweet 16 run in 2010, after finally being ousted by top ranked UCONN.
WORST MOMENT – The Flood of 2010

Take a look at the pictures below that I took on August 11. They should sum this category up pretty well.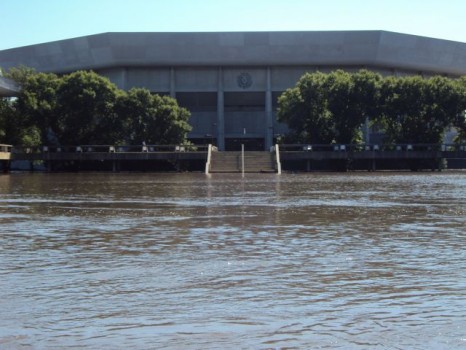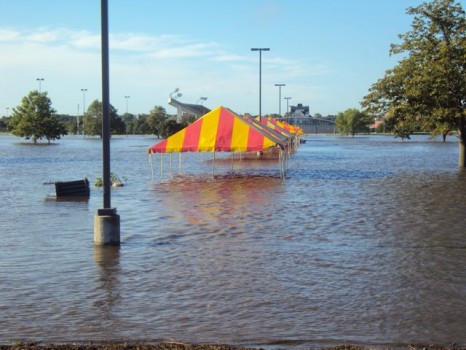 CLICK HERE to view that complete photo gallery.
WORST MOMENT, HONORABLE MENTION – Arnaud goes down
Ask 100 different Iowa State fans who their favorite Cyclone football player is. I'll bet you that at least 75 percent of those people will say "Austen Arnaud."
When Arnaud went down with a season ending knee injury in the second half of Iowa State's 34-14 loss to Colorado, the entire Cyclone Nation got nauseous at once. As every division one quarterback does, Arnaud had his fair share of critics during his tenure as Iowa State's starter. But nobody wanted to see it end like that.
As expected, Arnaud handled this setback with nothing but class. The Monday after suffering his injury, Arnaud vowed to help prepare backup quarterback Jerome Tiller for the Cyclones' final game against Missouri.
Arnaud leaves behind quite the legacy in Ames. He is Iowa State's second all-time leading passer, second in touchdown passes, second in total offense and first in completion percentage. That's not bad for an Iowa boy who played under three different head coaches and coordinators.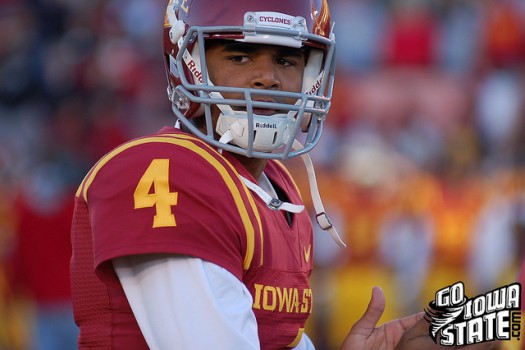 BIGGEST SURPRISE – Jake Knott
During the winter of 2010, I began hearing rumblings that Iowa State had something special in soon-to-be sophomore linebacker Jake Knott.
I never thought that Knott, a Waukee native, would be a legitimate First Team All-Big 12 candidate for a 5-7 Iowa State team. Knott wrapped up 2010 with 130 tackles, four interceptions, four forced fumbles and a sack.. With his "Clone" A.J. Klein beside him, Iowa State's future at the linebacker position looks promising in 2011 and beyond.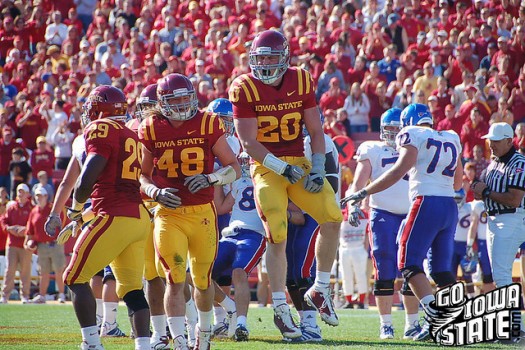 UNFORGETTABLE MOMENT – Failed 2-point conversion vs. Nebraska
I hate to bring it up, as I know it was painful for many of you fanatics. Iowa State's botched PAT in overtime against Nebraska (possibly for the final time) hurt everyone who has anything to do with the program. The 'Skers went onto win this one 31-30.
I just realized that this is a terrible note to end on. Nonetheless, happy New Years fanatics! Here's to a memorable and exciting 2011!