By Chris Williams, CycloneFanatic.com Publisher
A few quick thoughts before I begin the Cal preview….
–       Just relax everybody. The meltdown to Wednesday's loss at Northern Iowa was a bit excessive in my opinion. I'm not sure if the backlash went that far because it was the first loss of the season, some questionable calls or what. All I know is that it got to be a little ridiculous. I get it. You're tired of losing to Northern Iowa. You should be. But don't act like UNI is an inferior program right now. When the Panthers were playing in the Sweet 16 a season ago, Iowa State was a program in turmoil. It was a frustrating contest for Cyclone fans to watch, no doubt. But that is Ben Jacobson basketball. That's what he does. I watched the tape of that game again yesterday and it was clear that Jacobson had a game plan and he stuck with it for 40 minutes. He was hell bent on making Diante Garrett beat him. Garrett sealed the deal vs. Creighton. He couldn't throw a throw a golf ball into pond in the second half of Wednesday's game. UNI's game plan worked. What you saw out of Iowa State was what I feared we would see all season long.
–       Having said that, Saturday's date with Cal is an attractive non-conference home basketball game. Not only is a decent BCS program heading into Hilton, but it also is a huge game for the future of Iowa State's season. How will the Cyclones bounce back from scoring 54 points and shooting 33 percent from the field? How will this team respond to losing? There's no reason for Hilton to not be packed at 1 p.m. Saturday.
–       Don't be upset that Iowa State shot 33 percent from the field on Wednesday. That stat only proved that the Cyclones are human. "We were due for one of these nights," Iowa State head coach Fred Hoiberg said after the game. Hoiberg, one of the best shooters in school history, would know.
Iowa State (6-1) vs. California (4-2)
Dec. 4, 1 p.m. * Hilton Coliseum in Ames
FOX Sports Net – Cyclone Radio Network
BREAKING DOWN THE CYCLONES
Iowa State's probable starters
G: Diante Garrett, 6-4 Sr. – 17.4 PPG, 6.0 APG
G: Jake Anderson, 6-2, Sr. – 12.7 PPG, 8.4 RPG
G: Scott Christopherson, 6-2 Jr. – 14.0 PPG, 3.0 RPG
F: Melvin Ejim, 6-6 Fr. – 14.4 PPG, 5.9 RPG
F: Jamie Vanderbeken, 6-11 Sr. – 10.7 PPG, 5.1 RPG
Christopherson "questionable"
According to Iowa State's release on the game, junior guard Scott Christopherson is listed as "questionable" for Saturday's contest due to a sprained left ankle that he suffered vs. Northern Iowa. With the questions surrounding DeMarcus Phillips' status, Christopherson missing any time at all would be a monstrous blow for Iowa State as depth is already a major concern. Christopherson is currently shooting 60.6 percent from 3-point range and averaging 14.0 points per game on the season.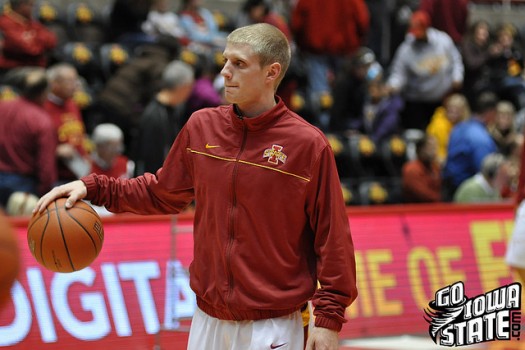 No update on Phillips
I've got nothing as far as an update goes for you on the status of junior guard DeMarcus Phillips. According to program reps, Phillips did not travel with the team to Cedar Falls on Wednesday so that he could focus on his academics. Since Saturday's game is in Ames, it is still up in the air as if Phillips will be on the bench or not. Keep an eye on CF as game time approaches on Saturday for updates. Phillips has played in five games for Iowa State this season.  He's averaged 3.0 points and 2.4 rebounds per contest.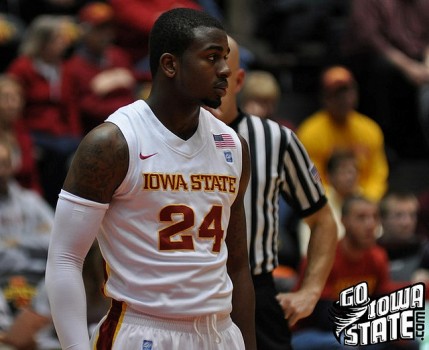 Join Cyclone Fanatics's Facebook page today!
BREAKING DOWN THE BEARS
Cal's probable starters
G: Jorge Gutierrez, 6-3 Jr. – 12.7 PPG, 3.8 APG
G: Gary Franklin, 6-2 Fr. – 10.0 PPG, 2.5 APG
G: Allen Crabbe, 6-6 Fr. – 8.0 PPG, 5.8 RPG
F: Harper Kamp, 6-8 Jr. – 11.7 PPG, 5.3 RPG
C: Mark Sanders-Frison, 6-7 Sr. – 8.2 PPG, 7.3 RPG
Cal will start two freshmen in its backcourt on Saturday. Combine that with the fact that the Bears will be tipping off at 11 a.m. west coast time tomorrow, I like Iowa State to win this basketball game. I'll touch more on that down in my prediction section though.
To state the obvious, guard play has been inconsistent for California so far this season. For instance, the Bears only scored five points in the first half of their 57-44 point loss to Notre Dame back on Nov. 26. Easy buckets have been tough to come by for the Bears.
As you'd expect from team with young guards, the Bears have been up and down all season long. They were blown out by Notre Dame and Boston College, but figured out a way to beat a good Temple team. Cal also embarrassed New Mexico 89-64 on Nov. 20. Cal defeated UC-Davis on Wednesday night by a 74-62 final.
For game updates all season long, follow Cyclone Fanatic on Twitter!
NOTEBOOK
–       If you're going to the game, remember that it is Iowa State's annual "Color it Cardinal" day. Fans are encouraged to wear Cardinal to the game.
–       Iowa State is 2-1 all-time in the Big 12/Pac-10 Hardwood Series. The Cyclones beat Oregon State twice in 2007 and 2008. Last year, Iowa State lost at California 82-63.
–       The Cyclones are 8-1 all-time vs. Pac-10 teams in Ames. Iowa State is 2-2 vs. Cal all-time.
–       Iowa State has shot the ball better than all seven opponents they've played this season. Surprisingly, shooting 33.3 percent from the field against Northern Iowa was still better than the 32.7 percent that the Panthers came up with.
–       With his two steals in Wednesday's loss to Northern Iowa, Diante Garrett is now No. 16 on Iowa State's career steal list with 112.
–       California was picked to finish seventh in the preseason Pac-10 Coaches poll.
–       Cal head coach Mike Montgomery has 597 career victories. He's also a two-time national coach of the year, in 2000 and 2004.
PREDICTION
Iowa State has better guards. California has the stronger frontcourt. I'll take the backcourt advantage any day. Iowa State should be able to control the tempo at home in this one.
THE PICK
Iowa State 74, Cal 68