By Chris Williams, CycloneFanatic.com Publisher
Iowa State (4-0) vs. Kennesaw State (2-3)
Wednesday, Nov. 24 * 7 p.m. – Hilton Coliseum
No TV – Cyclone Radio Network
BREAKING DOWN THE CYCLONES
Iowa State's probable starters
G: Diante Garrett, 6-4 Sr. – 18.5 PPG, 7.3 APG
G: Jake Anderson, 6-2 Sr. – 12.8 PPG, 10.0 RPG
G: Scott Christopherson, 6-3 Jr. – 14.8 PPG, 3.5 RPG
F: Melvin Ejim, 6-6 Fr. – 15.3 PPG, 4.5 RPG
F: Jamie Vanderbeken, 6-11 Sr. – 12.8 PPG, 5.0 RPG
Through the first four games of the Fred Hoiberg era, Iowa State has blown three inferior teams out and won one of the most exciting games in program history. Heck, the Cyclones are even getting a vote in the AP top 25. This team has exceeded expectations. I'm not telling you to go purchase tickets for the NCAA Tournament, but what we've seen so far has certainly been refreshing. Here is a quick list of some specifics that have surprised me so far.
–       I knew that he would score more, but this next stat made me give a double-take while reading game notes earlier today. Diante Garrett is quietly leading the Big 12 in assists, averaging 7.3 dimes per game.
"It is his team now," Jamie Vanderbeken said about Garrett's performance. "Before this year, it was Craig's team. He was okay with that. This is DG's team."
Garrett scored a career-high 28 points, while knocking down a career-best five 3-pointers in Sunday's win over the Bluejays.
–       I knew that Melvin Ejim (below) would be Iowa State's best freshman this year, but I never thought that he'd be the team's second leading scorer a this point in the season, averaging 15.3 points per game. On Monday, Hoiberg said that Ejim showed more in his 22-point outburst against Creighton than he'd shown in practice thus far. Ejim is a gamer. He's is shooting .686 percent from the field in Iowa State's first four games and was named the Big 12's Newcomer of the Week on Monday.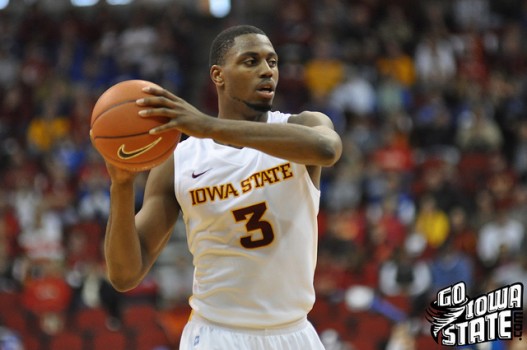 –       Jake Anderson has recorded two double-doubles this season, including his 19-point, 15 rebound outing against Creighton last Sunday. Right now, he's averaging a double-double.  He's also been playing with the flu. When asked about his toughness on Monday, Anderson simply replied, "I'm from Chicago." Anderson reminds me a little bit of Curtis Stinson. He's tough. He can score near the basket. Don't try to push this guy around.
BREAKING DOWN THE OWLS
Kennesaw State's probable starters
G: Spencer Dixon, 6-0 Jr. – 18.6 PPG, 4.8 APG
G: Markeith Cummings, 6-7 So. – 18.2 PPG, 4.0 RPG
F: LaDaris Green, 6-9 So. – 9.4 PPG, 7.6 RPG
F: AaRon Anderson, 6-7 So. – 8.4 PPG, 7.2 RPG
F: Andrew Osemhen, 6-9 Fr. – 2.4 PPG, 3.6 RPG
Kennesaw State is a tough team to get a read on. The Owls hail from the Atlantic Sun Conference. Iowa State is 7-1 all-time vs. Atlantic Sun teams, with the one loss that came to Jacksonville back in 1982.
Everybody has heard about Kennesaw State's 80-63 win over Georgia Tech earlier this month but nobody is talking about the fact that the Owls then lost their next three games to Chattanooga, Alabama State and Northern Arizona. The Alabama State and Northern Arizona (two teams that ISU blew out) games weren't even close.
Here is my gauge on the Owls. They are very big and they are very talented. They're also very young and sporadic. You just don't know what team is going to show up on a nightly basis.
Here is Fred Hoiberg's scouting report on Kennesaw State:
"They have some big-time athletes. They are big. Their shooting guard is 6-foot-7. Their small forward is 6-foot-9. They have a point guard who will come up and fire at any time. It is a tough team to prepare for. Transition defense will be huge. We are going to have to be selective when we do go out there and shoot early shots. We want to go out and play our style of basketball. If we take care of ourselves, we should be fine."
"They change up defense. They are a team where you have to be prepared for anything. They run a lot of isolations. They try to expose a mismatch."
Sophomore Markeith Cummings is that 6-foot-7 shooting guard that Hoiberg spoke of. From a size standpoint, he will create a bit of a mismatch for Iowa State. But when you consider that Kennesaw State will start a freshman, three sophomores and a junior along with the fact that this game being played in Ames, Iowa State shouldn't have much of a problem tonight.
NOTEBOOK
–       The last time that Iowa State played an Atlantic Sun team was on New Year's Eve, 2008. The Cyclones beat Mercer 67-49.
–       One area for concern for Iowa State is free throw shooting. As a team, the Cyclones are currently shooting only .662 percent from the charity stripe. That nearly burned them last Sunday against Creighton.
–       In four games, Iowa State is shooting almost 51 percent from the field. Cyclone opponents are shooting 36 percent. The Cyclones have converted on 45 percent of their 3-pointers too, averaging 9.8 treys per game. That leads the Big 12.
PREDICTION
I think that Kennesaw State's win over Georgia Tech happened for two reasons. The first is that it was a home game for the Owls. How many times does a school like Kennesaw, that was D-2 less than a decade ago, host an ACC team? It is a minor miracle that the game even took place. You think the Owls and their fans were jacked up for that one? Tech walked into a hornet's nest. The second reason is that Georgia Tech just isn't very good.
If Iowa State shows up and competes with the level of intensity that we've consistently seen through four games, the Owls should be no problem for the Cyclones.
If there is any sort of a Creighton hangover, this one could get interesting. This is a big game for the Cyclones for that very reason. Plus, I assume that Hilton Coliseum won't necessarily be rocking on the night before Thanksgiving, with all sorts of bad weather in the area. Will the Cyclones get up for this game? That is my only worry. I'm betting that they'll be just fine though.
THE PICK
Iowa State 85, Kennesaw State 65