By Chris Williams, CycloneFanatic.com Publisher
What's up on this fine Thursday my fellow Cyclone Fanatics?
I'm back here in Ames after taking a trip to Florida last week for my honeymoon. Props go out to my main man Brent Blum on his guest mailbag appearance a week ago. I'm glad that you all enjoyed it. We've got a lot to get to today so why not start out with a question from Cdekovic.
Cdekovic writes: Iowa State has had an incredible run of bad luck, karma, whatever, in men's basketball the last six months. The expectations of last season were so high and every game became more and more painful. The end of the season has brought nothing short of more disaster with defections by both players and coaches. That said, what are the behind the scenes plans of the Athletic Dept. (aka Jamie Pollard), to get this thing turned around and bring the men's program back to the glory days of the Orr, Floyd and Eustachy years of conference titles, NCAA tournaments, NBA draft picks, etc.?
CW: It's been a bad offseason? Really? Let me ask you this Cdekovic. Were you a big Greg McDermott backer? When I ask that, I mean, were you all in on McDermott, thinking that he deserved to finish the five years left on his contract? If so, I get your question and for the record, respect your opinion.
The reality of the situation is that most members of the fan base realized that Greg needed to do something in a hurry to survive in Ames. In fact, many fans had become jaded and simply lost hope in the direction of Cyclone basketball. McDermott had $2.5 million and five years left on his contract heading into next year. He jetted for Creighton and Iowa State got paid for McDermott, instead of owing him $2 million, had they elected to fire him after next year (which I'm not totally convinced would have happened.)
My take is that this has been a fantastic offseason for Iowa State. It's a fresh start for this program and McDermott as well.
Let's investigate the turnover.
Chris Colvin and Justin Hamilton were already gone. Charles Boozer made a big mistake that got him in trouble with the law. The status of LaRon Dendy had been in limbo for quite some time. We all knew that Antwon Oliver was on his way out.
Craig Brackins is about to get drafted and Marquis Gilstrap graduated.
Other than Boozer, nothing above shocked me.
So I choose to look at it this way.
Hoiberg was hired. Every single member of the 2010 recruiting class stayed signed with Iowa State. The staff added a former MAC Freshman of the Year, who can play right away. A 37 percent 3-point shooter who is formerly a quality Big Ten athlete signed with Iowa State.
Not a bad month in my opinion.
What is Jamie Pollard doing? His work is done. It is up to the Hoiberg staff now.
Yaman3 writes: Do you think there is anything to the theory that you leaving us brings good luck?
CW: No. Not at all. That is a myth. Don't give up on me Fanatics. I am on your team.
If you are LeBron and all teams besides the Lakers and Celtics are offering the same money, where do you go and why?
CW: This is simple. I go to Chicago (I am a Bulls fan FYI). So because of that, I'm going to take the Bulls out of the equation. I want to be fair. I'd go to the Nets. If I'm LeBron and you're telling me that I could team up with Jay-Z, a ton of salary room and the number three pick in this year's draft, I'm all in. No questions asked. Do you remember Jay-Z's old album called "The Dynasty?"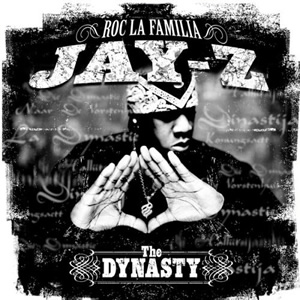 That's what would be formed in Brooklyn. The next big dynasty in the NBA. That's what I'd do if I were LeBron. If you take Jay-Z out of the equation, I'd go anywhere but Cleveland. I realize that he's from there but really, for God's sake, it is Cleveland. I'd rather live anywhere in Nebraska than Cleveland. Heck, I'd rather live in Missouri, Arkansas, Alaskska, anywhere but Cleveland. I've never been to Cleveland, but I've heard stories. I'm not a big fan. Lesson of the day: Stay as far away from Cleveland as you possibly can.
Cyphan writes: where'd you go on your honeymoon?
CW: Sanibel Island, Fla. You can read all about it by CLICKING HERE.
Coachdags writes: Any Kids Yet…?
CW: NEXT.
Jsbwrites: Congrats on the marriage! As one of your female posters, I'm curious what colors you guys had for the wedding—and use the actual colors your wife would use (there are a lot of different kinds of red, for example!) 🙂
CW: Black and pink. It was more of a hot pink than a light pink. Make sense? Luckily, she let me go with the white tie with an all black tux. My groomsmen were not so fortunate. There's a picture from just after the ceremony. It should help get the correct colors in your mind.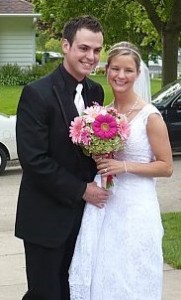 What do you think the odds are that Jamie, Scott, Bubu, and Diante are all back next year?
CW: I am extremely confident that all of the players listed above will be back next season. I'd put it at 99 percent sure.
Are you worried that we don't have the whole staff filled out yet? Should I be worried?
CW: No. Just relax about this. I'm sure that things are happening behind the scenes. Don't lose sleep over this topic whatsoever.
Why do I love McDonalds iced mochas so much? Those things are like crack, which makes me assume they are filled with sugar.
CW: Like crack? I never thought of a cup of coffee that way. Wow. My wife is going to be upset when I tell her about this analogy. She too is obsessed with mochas. In fact, here's a quick story about her love for mochas. She's currently working the overnight shift at the vet hospital in Ames. She sent me a text at 9:30 last night, requesting a Starbucks iced mocha. Starbucks closes at 10, so being the nice newlywed husband I am; I rushed across town to pick one up. The lesson of the story is that she went into work at seven. She couldn't go two and a half hours without one. It must be a female thing. I have a confession to make though. I start working on CF at about 7:30 every morning. I have like six cups of coffee drank by 11 every day.
Isucyfan writes: On X's and O's only, what grades would you assign our MBB coaches from Johnny Orr to Greg McDermott? For extra credit, assign a grade to what you think Hoiberg will be in the future.
CW: Let me first declare that in no way, shape or form and I an "expert" on this topic. All of those men had forgotten more about the game of basketball by the age of 30 than I'll ever know in my life. Honestly, I don't even feel comfortable answering the question. I feel that Wayne Morgan was the weakest when it comes to X's and O's. But his teams didn't play the strong X's and O's type of game. I just can't get over that ridiculous zone defense that they used to play out of my mind. McDermott's teams didn't win but I still think he's a fine X's and O's guy. He's proven it before and I believe he'll do so again at Creighton. The others resumes speak for themselves.
IcSyU writes: You get to go to any sporting event but it doesn't include your favorite team (to try to even the field). Are you headed to the World Cup, Olympics, Wimbledon, Masters, World Series, NBA Finals, NCAA Finals, or BCS Title Game, etc?
CW: I went to the U.S. Open last year in New York and will never do anything like that again. Too many people and you can't see anything. I'd love to see Augusta but honestly, I find it hard to believe that anything beats watching it on TV. So take the Masters off of the list. It is usually freezing at the World Series, so scratch that. I could give two craps about the NBA Finals if the Bulls aren't in them. Wimbledon makes me want to go take a nap…A long one at that. The Olympics really don't do much for me. Why they still refer to those athletes as amateur makes me scratch my head. Of the events you listed, it'd come down to the World Cup and the BCS Title Game. Don't give me wrong. I care about soccer as much as I care what Kirk Ferentz got his wife for their anniversary last year okay. I cannot stand soccer. But that is the event of all events you know? The World Cup would be incredible. I'm sure it is just a huge party too. College football is my favorite sport. So the BCS Title Game would be my pick. Mainly because no matter who is playing, I am passionate about that contest and I care…A lot. If Argentina and Italy are duking it out for the World Cup title, I won't watch.
A-town Cy writes: Do you think Hoiberg will become a Twitter guy at some point?
CW: He'd be foolish not to. Everybody is on Twitter. I actually can't believe that Iowa State's marketing department hasn't created an account for him yet.
Rworkman83 writes: Both the men's and women's basketball teams have played teams from Iowa colleges of lower levels for both their exhibition and even non-conference games. The women have been doing it more recently than the men.
Do you think this is something that Coach Hoiberg will try to do more of, since he is an Iowa guy? Do you like playing D2 and D3 teams from Iowa, as compared to bringing in a very low D1 or even D2 and D3 schools from outside of Iowa.
CW: I love doing this for Iowa State's exhibition season. It gives fans a reason to care about those "games." I'd much rather watch Iowa State play a Coe or Morningside as opposed to Marathon freaking Oil. But the whole point of an exhibition season is to get your team ready for the regular season. Does playing those Iowa colleges get your team ready for the regular season? That's a question that I am not qualified to answer. But yes, the fan in me is all for it.
Swanson 10 writes: Playstation or X-box?
CW: Playstation. I've never owned and X-Box in my life and I will ground my future children if I ever see them playing one.
Any chance of changing the 3rd quarter song at the Jack to "Enter Sandman?"
CW: We don't want that do we? Didn't Iowa used to walk out to that back in the day?
TheCaptain writes: How much does Carper weigh now and does he post on this site?
CW: I have no idea how much Carper weighs. He's been getting a little bit chubby over the past few months so don't be surprised if he's well over 250. That's a joke. He has a username on the site but I don't believe he's a very active poster. That's a positive thing for all involved. Although, he could have offered some keen analysis to that giant "Spartacus Blood and Sand" thread a few months back.
Vmbplayer writes: Heard any rumblings of more to come as far as commits for next year's men's basketball team? Europeans, JUCO's, other or are we probably going to be going with what we have at this point?
CW: My guess is that Iowa State's roster will not change much from now to November. I don't know how many times I have read quotes from Hoiberg and Otzelberger along the lines of "we're not going to offer someone just to offer someone."
There just aren't many quality guys out there right now. I think there's a better chance to sign a transfer or two than a new recruit. But anything could happen.
Cyclones500 writes: On a scale from 1 to 10, how much did Dendy's decision to transfer surprise you?
CW: Okay…Let's say that the scale is 10, I knew he would transfer. The number one means I was totally shocked. I'd put this at a five. Let's face it. LaRon Dendy hasn't been the most consistent individual since joining the Cyclone program. I wasn't shocked when I heard he was leaving. I wouldn't have been surprised had he stayed. LaRon kind of does his own thing. He always has and he always will.
Captain7cf writes: Do you think the Dendy transfer was Fred giving a little push out the door??
CW: No I don't believe that. I truly think that this was LaRon Dendy's decision. Like I wrote above, during his entire year in Ames, Dendy has been unpredictable.
MLawrence writes: If, and I know this is a big if, but how would the landscape of college football change if there were four super conference of 16 teams? What would it mean for the other college athletics? And which do you think is better for college football the round-robin approach of the Pac-10 or having a championship game to determine a conference champion? Note: I am not asking which one makes more money because I already know the answer to that question.
CW: MLawrence, how about I give you the award for "Most Loaded Question of the Day?" I could write a book about that question. I'm not entirely convinced that anybody should or would read it, but it is an immense topic.
I'll try to tackle it one question at a time. Keep in mind too that these answers are strictly my opinion. I have absolutely no inside information on anything concerning expansion. I cannot put into words how tired I am of the expansion conversation. Not many people have any clue what is going on in this country and that includes athletic directors, coaches, players, etc.
If there were four super conferences, you'd see a major change in the way non-conference schedules are put together and I have to assume that Notre Dame would have to join a league. My theory is that if there are 16 team leagues, the non-conference schedules around America will have to be trimmed down right? Probably to two games instead of four? That's just a guess. If that is the case, if I am Michigan State or USC, I'm not going to want to play Notre Dame in one of my two tune-up games before running the gauntlet that will be anybody's conference season right? I'm going to play San Jose State and an FCS team. Not Notre Dame or another quality opponent who might knock me off. The margin for error in the non-conference would be significantly smaller.
Another thing I've been pondering lately is how this would affect the Iowa's and Wisconsin's of the world. I just amazes me that so many Hawk fans in this state are rooting for the Big Ten to expand. If you're Iowa, do you really want Nebraska or Texas joining your conference? Sure, right now, Iowa is a better program than Nebraska. There's really no question about that. But I have a feeling that Bo Pelini has the corner turned in Lincoln. Do you really want to add them to your schedule every season? If I'm Iowa, I look at it this way. Right now, I make a ton of money with the way the league is currently shaped. I like my spot. I go to a BCS game every now and then and also have a chance to win championships. If you add five more horses to the already full pasture, where is that going to put me in the Big Ten pecking order? And for what? Some more money? You already have enough money! If I am Iowa, I want to add one more team like Rutgers. That puts you at 12 teams, you get a championship game, (which means more money) and you can stay right where you are at financially and competitively.
What would this mean for other sports?
I have no clue. I don't think that many people do. Everything would be different though. You'd have tennis teams flying halfway around the country on a bi-weekly basis. College basketball wouldn't look a thing like it does now. I don't have the knowledge or energy to attack that portion of your question.
Round robin or conference title game?
I like the championship game. It kind of blows that the Big Ten and PAC 10 don't do it but everybody else does. I mean, that's not really fair if you think about it. But it hurts them too. Their Heisman front-runners are often times forgotten about by not playing on that final weekend. As a fan, I like the title games. It is more football and how can anyone complain about more football?
That's what drives me insane about people who say there are too many bowl games. Why are there too many bowl games? Do you not love college football? I love watching Middle Tennessee State and Troy duke it out in the New Orleans Bowl. Why not? What else are you going to be watching? Mad About You went off the air years ago.
More football is a very good thing.
Brentblum writes: Since I know you're a big fan of the show, how crushed were you that Erin Andrews didn't win Dancing with the Stars?
CW: Let's clear something up first wise guy. I am not a "big fan" of Dancing with the Stars. Do I have a tendency to flip it on to check out how Erin is performing? Sure. But "big fan" is a stretch. Erin not winning didn't really bother me. She made it to the end. That was all that matters. I got to watch her perform every single night that the show was on. I'll take it. A few other notes: Kate Goslin is the worst dancer in the history of the universe. She's as bad at dancing as she is good at exploiting her children on television. I really dislike that figure skater who got second. Something about the guy bugs me. That is all.
BlondeCy writes: Since you know I have relatives in Clarinda and you know some of them, (1) what are the top 10 things to do in Clarinda/greater southwest Iowa (hope going to an A's game is one of them) – if we were planning a vacation in Southwest Iowa on the cheap?
CW: There are so many great things to do in SWI it's not even funny. That last sentence might have been a bit of an exaggeration but you know what I mean. A Clarinda A's game is always a great time. I am partial to fishing in local farm ponds. The annual Sidney Rodeo is a hell of a time. That was one of my favorite things to do back in the day. Let's see…What else did I used to do? Slow-pitch softball was fun. As was pickup basketball. Golf is an oldie but a goodie. You want to go on a vacation? The best thing you can do back home is relax. Have BBQ's with the family. Sip on your favorite brew. Maybe take in a day at a local lake. My family does that a lot. Are there a ton of wild and exciting things to do back home? No. But it is home. I refer to Clarinda as "God's Country."
And 2) Are there any famous people (beside yourself) from Clarinda?
CW: You're joking right? I am not famous; let's nail that down right now. Have you ever heard or Glenn Miller? He's a famous big band leader from back during the World War II days. He was killed during the war. But I guess he was a pretty big deal. He was born in Clarinda and a big festival honors him every June, where people attend from all over the world, specifically Asia where he must have been huge.
I'm sure that you've heard of Ozzie Smith. He played for the Clarinda A's for two years back during his college days. He comes back to town every single year for the Clarinda A's banquet. I have more Ozzie Smith autographs than I can even keep track of. Other big leaguers that played in Clarinda include: Von Hayes, Chuck Knoblauch, Andy Benes, Cal Eldred and some others. Not a bad resume for a tiny town just north of the Missouri border. We're a proud fraternity down in C-Town.
CykoAGR writes: I hate to make you work for mailbag questions but here it is.
Can you give me a monthly count of the "Off Topic" threads from Jan through Dec? I just find it interesting to see how this number explodes in the summer when there is nothing much to talk about sports wise that pertains directly to ISU.
CW: Honestly, I don't know how to track that. I did look it up though and found it interesting that the "Off Topic" forum is the most popular one on our website. That's above football, men's basketball etc. More off topic posts are made per year than any other.