By Chris Williams, CycloneFanatic.com Publisher
College football preview magazines are already hitting the newsstands. Yes, your calendar is correct. It is only May 27. But hey, people are nuts about college football. This is a good thing.
Is it a little early? You decide. Nonetheless, it is nice to be thinking about football once again. So what I'll do over the next few weeks is give you a complete, all-ISU report on what these magazines have to say about your Cyclones and their 2010 opponents.
Today, we will start with Athlon's annual national preview issue.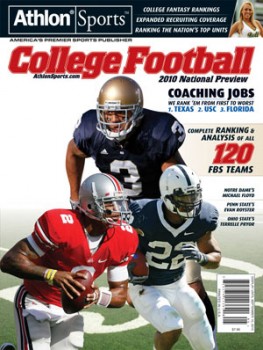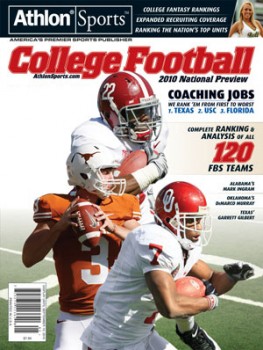 I'm not going to sugarcoat this for you Fanatics.
According to our friends at Athlon, Iowa State is really going to stink in 2010. The publication has the Cyclones finishing with a 3-9 overall record, while going 1-7 in the Big 12. According to Athlon's predictions, Iowa State will be the worst team in the Big 12, really without much question. Athlon has Kansas State at 5-7 overall, along with Baylor.
We've all discussed Iowa State's concerns on defense heading into 2010 and this publication must have been watching. According to Athlon, Cyclone fans need to be an in all out panic mode.
Here are Iowa State's defensive unit ratings according to Athlon, stacking up against the rest of the Big 12.
Defensive line: 12
Linebackers: 12
Secondary: 12
Why don't you tell us what you really think Athlon? Ouch.
Iowa State's offensive unit rankings look a  little better.
Quarterbacks: 7
Running backs: 9
WR/TE: 11
Offensive line: 6 (This is including Scott Haugton, who recently got kicked off the team)
It is also noteworthy that Athlon has Iowa State ranked 76th nationally.
Only one Cyclone is in the conversation as far as individual, end of the season honors. That man is Kelechi Osemele, who Athlon has as a second-team offensive tackle.
Chris' Take:
I probably agree with slating the defensive line and linebacker groups at 12th. Both units are unproven and we have no idea what to expect.
But let's look at Iowa State's secondary for a moment. The Cyclones return the Big 12's Defensive Newcomer of the Year in David Sims. Leonard Johnson, who I think will look like a totally different player, is coming back for his junior campaign. I realize that not many Big 12 writers know whom Ter'ran Benton or Mike O'Connell are, but come on. 12th? I believe that is a little bit low.
Just taking a look at the rest of the Big 12, I see that Baylor literally has no clue who their cornerbacks are going to be. Kansas is kind of in the same boat with their secondary. Chris Harris will more than likely start at corner but after that, the secondary positions are completely up in the air.
This ranking of 12th is more than likely a result of Iowa State being ranked 102nd nationally against the pass a season ago, giving up an average of 250.2 yards per game. That is going to happen when your defensive line is as bad as the one we saw in Ames a year ago. That doesn't necessarily mean that the entire defensive back unit is that terrible though. This isn't anything that we have hashed out time and time again. If you get pressure on the quarterback, your secondary is going to look a lot better. That is a basic football fact. It was the case last year. It will be the case again in September.
No pressure Rashawn Parker or Patrick Neal. No pressure at all.
On offense, it is fairly obvious that Athlon is not impressed with Iowa State's deep group of receivers. Running backs at ninth? Actually, that is probably fairly accurate. Sure, Alexander Robinson is much better than that, but there is literally no experience behind him, which will decrease the ranking.
I think that the quarterbacks being put at number seven is fair.
Athlon on the Big 12
The publication has Oklahoma defeating Nebraska in this year's Big 12 Championship Game.
Here is Athlon's predicted order of finish for the North.
1 – Nebraska, 11-2, 7-1
2 – Missouri, 9-3, 5-3
3 – Kansas, 6-6, 4-4
4 – Colorado, 4-8, 2-6
5 – Kansas State, 5-7, 2-6
6 – Iowa State, 3-9, 1-7
I can't figure out why the magazine is so high on Kansas. The Jayhawks have two tough non-conference games in Georgia Tech and a road trip to Southern Miss. Sure, the Jayhawks miss out on Texas and Oklahoma during league play but still, it's not like Todd Reesing is coming back. Ever heard or Kale Pick? The sophomore will more than likely be running the show for Turner Gill this fall. He's known as a running quarterback so that might fit well. There's still a chance that freshman Jordan Webb could sneak ahead of him. Let's say it is Pick though. Do you really want to put a ton of faith in an unproven guy named Kale Pick? I don't. I could see Kansas finishing last in the North.
I think that putting Colorado at 4-8 will turn out to be accurate. The Buffs will start off with a brutal non-conference schedule that consists of: Colorado State, @ Cal, Hawaii and Georgia. They'll win one of those games, with two being the absolute best-case scenario. Then, you'd think that Colorado could take two of three against Baylor, Iowa State and Kansas State at home.
Nebraska is legit and I think the publication has Missouri at the right spot. Really, spots three through six are a mess and it will be a very intriguing Big 12 North season.
A few individual Big 12 notes
–       Athlon ranks Texas A&M quarterback Jerrod Johnson as the best in the league and I couldn't agree more. I love Jerrod Johnson. At 6-foot-5, 243-pounds, this Daunte Culpepper look alike can beat you with his arm or legs. He ran for eight touchdowns as a junior while passing for 30. He'll only be better as a senior. Along with Oklahoma, I really feel like the Aggies might have the best offense in the entire league. Athlon ranks A&M's offensive line at eighth in the league though so that could be a factor in how successful Johnson ultimately is.
–       Why does everybody seem to be so fascinated with Nebraska running back Roy Helu? Athlon has him as a second-team all-conference running back. That I do not get. For the record, Oklahoma's DeMarco Murray and Kansas State's Daniel Thomas are first-team selections. Oklahoma State's Kendall Hunter joins Helu on the second-team. Without question, I'd put Alexander Robinson and Missouri's Derrick Washington above Helu in a heartbeat. If Helu is healthy, he could end up making me eat some crow. He played well last year early on, but still, I want to see him do it consistently in order to convince me. If you consider Helu a top five back in the league, then Rex Burkhead, another Husker who fought injuries last year has to be in the mix too right?
Athlon on Iowa State's schedule
Here's a look at where Athlon ranks Iowa State's 2010 opponents.
Northern Illinois – 72
@ Iowa – 12
Kansas State (@Arrowhead in KC) – 66
Northern Iowa (FCS no ranking)
Texas Tech – 37
Utah – 39
@ Oklahoma – 5
@ Texas – 8
Kansas – 50
Nebraska – 7
@ Colorado – 65
Missouri – 21
Schedule notes
–       You'll see this a lot in the coming months. Athlon has Iowa State's first opponent, Northern Illinois going 9-4 overall and 8-0 in the MAC this year. The publication has the Huskies losing to Temple in the MAC Championship Game. Athlon put Northern Illinois running back Chad Spann first-team All-MAC. Iowa State better show up on Sept. 2.
–       I was surprised to see Utah ranked 39th. I thought they'd be a little bit higher. Still, Athlon has the Utes going 9-3 overall and 7-1 in the MWC. Athlon included five Utes in their MWC first-team all-conference selections, including running back Eddie Wide and Wide receiver James Brooks. Meanwhile, quarterback Jordan Wynn is listed as a second-team member. Add to that, two Utah offensive linemen are ranked in the first or second teams. The Utes are loaded, especially on offense. Can you say shootout when the Utes come to Ames on Oct. 9.
–       According to Athlon, Iowa State will play three top 10 teams in 2010 and five in the top 25. Athlon says that Northern Illinois (non including UNI) is Iowa State's weakest 2010 opponent and they'll be in their conference championship game.
One more thing
Athlon came up with a cool feature that I really enjoyed in this year's magazine. They ranked all 120 division one football jobs in order from best to worst.
Iowa State landed at number 70 with the quote, "Tough job but school has good fan support," beside it.
Texas, USC, Florida, Alabama and Ohio State were the top five. Eastern Michigan was the worst.