Deshaunte Jones takes off on a route against Virdel Edwards during Iowa State's open practice session on Friday morning. (Photo by Connor Ferguson for Cyclone Fanatic)
Iowa State has officially opened its 2019 fall camp and the media was allowed to view the first hour of drills at Johnny Majors Practice Field on Friday. Here are a few observations from the first of two practices scheduled for Aug. 2.
*** One of my biggest takeaways from Friday morning was that Deshaunte Jones looks really good. The Cyclones' senior pass catcher will be looked upon to fill some of the void left by Hakeem Butler's move to the professional ranks and Jones seems prepared to make the jump.
Deshaunte Jones has looked really good this morning. Made one guy look ridiculous on a route then made a tough catch against good coverage. pic.twitter.com/Sbpoa5o4Pq

— Jared Stansbury (@JaredStansbury) August 2, 2019
He ran a couple of really nice routes, including one that left a defender stuck in cement for a wide-open catch. His highlight of the day was a jumping catch over the top of a defender in one-on-one drills.
*** Jones was on the receiving end of a few really nice throws by Brock Purdy. The sophomore signal-caller continues to impress in practice and dropped a couple of dimes into tight coverage.
Brock Purdy to Chase Allen pic.twitter.com/NWATWIeXsF

— Jared Stansbury (@JaredStansbury) August 2, 2019
His best throw of the day that we saw had to have been a deep fade on the sideline to Tarique Milton against tight coverage. It probably would have amounted to a 30-plus yard gain.
*** As far as defenders go, Anthony Johnson is as physical of a defensive back as I have seen in an Iowa State practice over the past several seasons. The sophomore cornerback has to fill some big shoes left by Brian Peavy and D'Andre Payne, but he appears to be up for the challenge.
I'm excited to see how he progresses over the next couple years as with his length, athleticism and strength, he could be a guy who plays on Sundays for a long time.
*** Just in general, this appears to be the most physically impressive team Iowa State has put on the field since I have been here. Every player out there this morning looks like a college football player and that was not always the case in past seasons.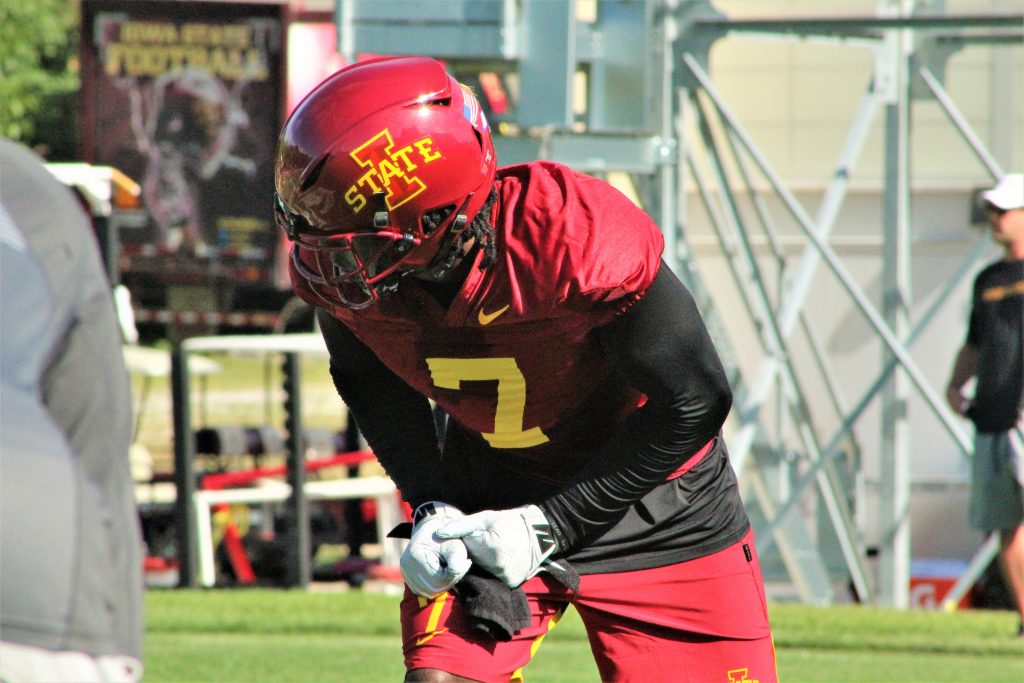 *** In that same vein, La'Michael Pettway is a physical specimen. He does not have quite the same length as Butler, but my goodness that is a huge human being. He's exactly the kind of guy the program needed to help fill a void while some of the younger receivers come into their own.
*** The same can be said about Will McDonald, but that was no secret. He looks the part of a college linebacker. I can't wait to see what he can do on the field this fall in a new role, as our Chris Williams and Jay Jordan pointed out a few weeks ago.
*** It was hard to gather much about the offensive or defensive lines on Friday just because of the format of practice. The competitive stuff we saw was almost all between skill position players.
*** We will have more coverage this afternoon when a lot of the younger guys will be on the field, including freshman tailbacks Breece Hall and Jirehl Brock plus redshirt freshman quarterback Re-al Mitchell. Stay tuned for thoughts from that session early this evening.