Shawn Moorehead, a former walk-on linebacker who became ISU's all-time sacks leader, makes a tackle in a game against Iowa. (Photo courtesy Iowa State Athletics Communications)
****
 "The only certainty is that nothing is certain." — Pliny the Elder
****
It's late in Shawn Moorehead's senior season at Mason City Newman Catholic High School and he's weighing his options.
His father, Dan, and mother, Kathy, are helping him choose his best future path — and the two best options have fully materialized.
One  would potentially lead the three-sport star to Division II Winona State (Minn.) to play football — and came with a full scholarship attached.
The other tracked perfectly with Shawn's academic goals. It entailed enrolling at Iowa State to major in mechanical engineering — and came with a walk-on opportunity to play for Dan McCarney's Cyclones attached.
On one hand …
"I was very happy with Winona State," said Moorehead, who, as we know, chose the less certain football route to Ames and beat the odds by eventually becoming ISU's all-time sacks leader. "I went and visited there. The coaching staff seemed great. The school seemed great."
On the other hand …
"The only thing that was kind missing was I had in my mind that I wanted to go into mechanical engineering and they didn't really have a large engineering program," Moorehead said. "They had one engineering degree and it was in, I want to say materials engineering, which I didn't know much about. So now I basically came to the point where it was I can either go to Winona State, which would be kind of the ideal place for me, football-wise, or pick a school that had the degree I wanted."
Moorehead, then 6-4 and a slender 200 pounds, had reached a crossroads that offered these vexing choices: Guaranteed football and mismatched academics, or the preferred academic track coupled with a long-shot crack at playing the sport he loved at a higher level.
Finally, Dan spoke what would become the decisive, clarifying and challenging words.
"He thought I might regret not at least trying to go to Iowa State," said Moorehead, whose 18.5 career sacks have stood as the Cyclones' all-time standard since he graduated in 2006. "He thought that I would be successful at Winona State and have a lot of fun, but was kind of saying, 'You might find yourself kind of wondering later on in life, could I have done that?' I ended up making the decision to go to Iowa State. It had the degree I wanted. Give football a chance. If it doesn't work out, I'm still at a good engineering school."
****
Then-ISU assistant Mike Woodley, who's now a national championship-winning head coach at Grand View, identified Moorehead as a prime walk-on candidate.
He showed tape supplied by Moorehead's high school coach to McCarney, who immediately took note of the young Knight's tenacity and athleticism, but knew he'd be a project in terms of putting on the necessary weight to play Big 12 football.
"Woody did a great job of working with many of our walk-ons," McCarney said. "He knew how much it meant to me. We watched tape and Shawn was an athletic guy. Now, some people say, small school, they don't play the competition and it's not big-time high school and all that. None of that stuff mattered to us. We couldn't care less about the level of high school football. We watched our own tape, trusted our own eyes and could see a guy that was really athletic, but he was a skinny little, bird-neck, little thin-waisted — you know, really undersized.
"But the thing that stood out to me, I remember this and Woody would tell you the same thing: Athleticism and toughness when you watched him on tape. He was an athletic guy and he was just a tough, hard-nosed kid. Then you see him in person and it's like, 'Oh, this is not looking like a Big 12 football player right now.' But grades off the charts, character off the charts, athleticism … He had good foot speed, good athleticism and he could run — and he'd whack you, now. Shawn would whack you. He was a tough guy, so what are you kidding me? If this kid could just someday grow and fill out, mature physically, we might have a gem here someday. We might just have a player someday and boy did that all turn out that way."
Moorehead never looked back and received his first bit of good fortune before joining the team. A few defensive players couldn't make it to camp, so instead of joining the program as a regular walk-on after school started, he fully became a Cyclone during preseason practice as a prefered walk-on.
Woodley sketched out a path toward eventual, long-term playing time — and even Moorehead was skeptical it could be achieved. But he listened, nodded, and went about adhering to it, step by step, day by day; behind the scenes, on and off the field.
"He told me when we were visiting with him that his thought for me was that I'd get up to 250 or 260 and play tight end or defensive end and I thought he was nuts," Moorehead recalled. "I was like, 'There's no way. There's no way I could put on 60 pounds like that. I play high school football now and I can't put on five pounds.' But the strength and conditioning staff at Iowa State, coach (Matt) McGettigan, he really kind of took me under his wing and gave me the tools I needed to have that kind of Big 12 body and have some success on the field."
It took time. Moorehead spent his redshirt season working hard in the wight room and the classroom while watching his teammates endure a controverisal season-opening loss to Florida State before reeling off six straight wins to rise to an unprecedented No. 9 in the Associated Press rankings. He then saw the wheels fall off — despite the heroics of star quarterback Seneca Wallace and others — as a 7-7 season ended in a bowl loss on a blue field in Boise, Idaho.
Still, the experience was valuable. It opened Moorehead's eyes to what was possible, good and bad — and also proved how small the margin for error was in any given game, let alone season.
"It was crazy to come in and watch Seneca play, because he was just so amazing at quarterback," Moorehead said. "Kind of coming in from high school and being exposed to him as the first college quarterback you see, you start to wonder, 'Is everybody this good? Am I way outclassed being here?'"
He wasn't. But it would take one more season of sitting out (though dressing) before that became bracingly clear.
"The old saying, I heard this years ago, but I've always stood by it, believed it: Your talent is a result of natural ability and is really kind of a gift from God," McCarney said. "There's so much of that, from your genes and from God. But your skills are a result of those long, hard hours of preparation and being coachable and Shawn Moorehead was just one of those great examples. (He) put so much into it. And he found a balance. He was one of the best students on campus — not only on our football team, but among students on the Iowa State campus, and he just turned into a major contributor.
"And what you saw was just this confidence blossom and eventually just explode. He was a guy that had enough talent, was smart and was coachable and then when he started playing with that confidence, (he) literally could turn it loose and be effective and that's what he was."
****
Everything changed in 2004. The Cyclones were coming off a 2-10 season, but featured talented returning D-linemen such as Brent Curvey, Nick Leaders and the late Jason Berryman. Moorehead had put on a significant amount of good weight, so shifted from third-string linebacker to back-up defensive end behind the gifted, but troubled Berryman.
Then adversity rocked the line. Berryman was arrested (and served time) on assault and theft charges. It meant opportunity for Moorehead, but tumult for the team.
"I went from not playing at all as a redshirt freshman to starting as a redshirt sophomore," Moorehead said.
Not only starting, but starring — with considerable help from Curvey, Leaders and fellow end Tyson Smith, among others, on a stout ISU team that capped off a mercurial 7-5 campaign with a 17-13 win over Miami of Ohio in the Independence Bowl.
"Leaders and Curvey were probably some of the most freak athletes I have every seen," Moorehead said. "Those two were just automatic on the inside. They were big and strong enough that they were run stoppers, but they were also very quick. They demanded double teams, basiclaly, on the inside, because if you tried to single block either of them, they were just wreaking havoc up the middle, which was great to be defensive end with those two in the middle.
"We were frequently just getting a tackle coming out to us, so Tyson and I — it was a fun time to play. Plus, having that first year with Tyson Smith at the other defensive end spot, he was also extremely good. So if they were going to pull in a tight end or take a back to block somebody, they would always go to Tyson's side, because he was a great pass rusher. (That) also helped me out. So it was a good situation to come into, plus the fact that all of those guys had a ton of playing expeirence, so they were great mentors for me as far as what to expect. They knew the veteran tricks, like, 'Let's run this scheme,' or, 'Move out a little bit here on this team,' so it was a really good situation for me to kind of fall into."
Moorehead struck for 1.5 of his 4.5 sacks that season in the bowl win in Shreveport, La. That's also when it was finally announced he'd be placed on scholarship — one of his several once long-shot goals that came to fruition in one whirlwind season..
"One of the practices, coach Mac held a team meeting and called up a few players," Moorehead said. "I think it was myself, Jamar Buchanan and Ryan Baum, who had all been playing significantly that season. He kind of announced to the team that we were all going to be put on scholarship the following semesertt, so that was awesome. That was a huge reward for the season for me personally. As soon as practice got out, I went back to the locker room and called my parents, shared the good news. That was kind of the icing on the cake for that season."
Moorehead thought back to that supportive family talk he and his parents had shared less than three years earlier — the one in which he could have chosen certainty in sports, but uncertainty in terms of his preferred academic degree. He chose the latter and clearly, it was paying off.
"At some point I did thank them for kind of pushing me to not be afraid of failure in the sense that I think I would have had a great experience going to the Division II school, but I think there would have always been — like my dad had mentioned — that 'what-if,'" Moorehead said. "And obviously things worked out really well for me at Iowa State, but if they hadn't, at least I would have known that I tried and I could say, 'There's nothing more I can do.' So at some point down the road I did thank them for kind of not only pushing me to be my best, but also to not be afraid of failure."
****
As well as 2004 went, the 2005 season began with even more hype and promise. But amid the soaring highs lurked jarring lows in both seasons. An overtime loss to Missouri in 2004 cost the Cyclones a Big 12 North title. And in 2005, three straight early-season losses — two in overtime or double-overtime and one to then-perennial doormat Baylor — illustrated yet again how razor-thin the margin between success and struggle could be.
The 2005 team rebounded to a 7-5 finish, but the spate of close losses — along with a four-win senior season during which Moorehead surged for 8.5 sacks — took on a new what-if toll.
"Being a part of that team was just a huge honor," Moorehead said. "Being able to get snaps on that defense, that was just so good, and then also getting to play for coach McCarney. I think he is one of the iconic coaches at Iowa State and I think Iowa State fans appreciate what he did for the program. Just being able to say I was there and got to play under him is just a huge honor."
****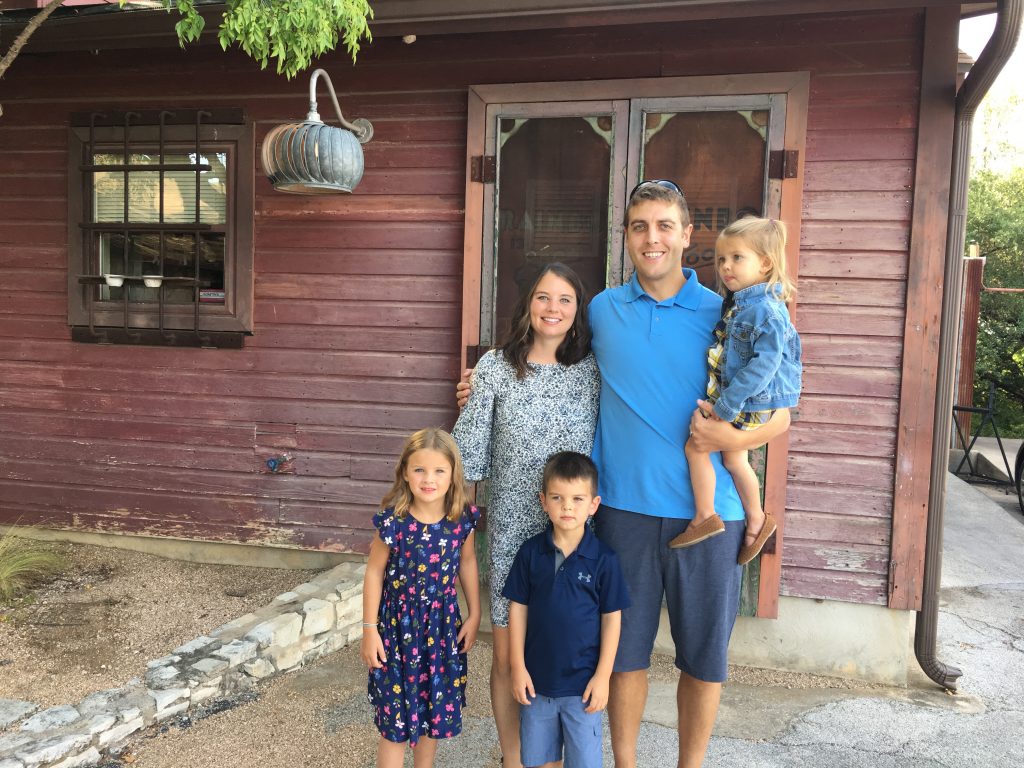 As Moorehead prepared to chase post-grad opportunties, his dad, again, would find the key to one. While attending a Newman High School baseball game, he'd strike up a conversation with the director of the cancer center at the local hospital. Before long, an offer had been passsed to Shawn that promised paid graduate school for a time committment of service back home.
"Just kind of catching up," Moorehead said. "He wanted to know what I was up to. (Dad) was telling him I was getting ready to graduate with a mechanical engineering degree and the director of the cancer center knew that that degree was a qualifier to go to grad school for medical physics, and they were looking ahead to recruit a medical physicist. So he said, 'If Shawn's interested, have him reach out to me and I can kind of give him some information.' I ended up, then, kind of taking (them) up on their offer for me to go to grad school. In return, working for them for a set number of years to kind of pay that off. So I went to the University of Wisconsin and got a Master's Degree in medical physics after Iowa State and I came back to Mason City and worked there for about five years. Then we moved down to Kansas City probably three years ago and I've been working at St. Luke's Hospital since then."
It's a science and technology-based job. All the jukes, stand-up maneuvers and swim moves helped set the stage for Moorehead's current job as a medical physicist.
He's deeply involved in ascertaining how — and why — the systems work.
The ultimate goal: a cure. The everyday goal: helping those afflicted to find the best possible treatments and outcomes.
"It's very rewarding for that reason," Moorehead said. "Everybody's been touched by cancer in some way, either themselves or with a family member. It's good motivation when you come to work to know that you're helping people. Unfortunately, there's no cure and it doesn't always have the outcome that we'd like, but the fact that both the patients and the staff are fighting for a better outcome, it makes it easy to come to work every day."
So the man who, as a walk-on, simply sought a letter, now occasionally wears a lab coat. Or scrubs. He mostly dresses in business-casual attire, working behind the scenes to help ensure patients receive the best possible care.
It's *kind of* an unusual position for a man who once chased down and caught quarterbacks along with improbable dreams. But it's where Shawn Moorehead and his wife, Kate — who played soccer at ISU —  and their three children reside. Those kids — Molly, 6, Graham, 4, and Quinn, 2, face a world rippling with uncertainty. But also one that's ripe with potential.
 "I'm actually surprised at how quickly sports are available," Moorehead said. "When I was younger, I feel like we didn't really start playing any sports until maybe first grade, and even that was just rec league. But my oldest, Molly, she was in kindergarten last year, and she did gymnastics, basketball, softball — there's a lot to do and it's available. She started playing and my son, the middle child, he played T-ball this summer. It's fun for them and it's fun for us to watch."
Also fun: the thought of no longer being the Cyclones' all-time sacks leader. There's a guy named JaQuan Bailey who could be on track to surpass his record.
Good, Moorehead said. Great, even. Whether long or short odds, what's good for his alma mater, is precious to him.
"For me, to see the Iowa State D-line do well, is so much fun for me," Moorehead said. "To watch somebody break that record would also be great, because that would probably mean that the team is having a really good season. That's fun, too. When I watch games, as a defensive lineman, I kind of zero in on the defensive line a bit more and I think that they are looking good. I'm excited for this season, I think Bailey, he's one of those guys that has a motor that's always going, which is fun to watch. I hope he gets a lot and I hope the rest of the D-line gets a lot because that usually means that the defense is doing good and when the defense does well, the team hopefully gets some wins."