Former ISU walk-on and favorite Tyler Ellerman posts up a defender. (Photo courtesy Iowa State Athletics Communications) 
Every day, the fourth-generation farmer pulls on his work gloves, collects the appropriate tools and heads out into his vast fields of corn and soybeans.
 He takes pride in his work — whether planting or harvesting, excavating or spraying, doing what it takes to raise Iowa's customary crops.
 It's hard work. The very tall Iowa State graduate who dutifully tackles it is personally responsible for 500 acres. But rain, sleet or sunshine, abundant rewards burst from the soil year after year.
 "You get to work outside, you get to work with heavy machinery, it's different every year," said that fourth generation farmer and former Iowa State hoops fan favorite, Tyler Ellerman. "You're doing something good — you're feeding livestock, you're feeding people. It feels like you're making a difference, I guess."
 No one's chanting at Ellerman — a celebrated walk-on for the Cyclones as Coach Fred Hoiberg began gaining steam with his "Transfer U" approach to rebuilding the program — these days.
 But his name is synonymous with a two-year chunk of the Hoiberg-sparked ISU renaissance that culminated in a school-record six straight NCAA Tournament bids, including two of its five Sweet Sixteen appearances.
 Ellerman, an all-state forward from Dallas Center-Grimes, watched Hoiberg's revolution take shape from the ground up — then ended up joining it.
 "I was in Cyclone Alley, but I wasn't down in the front," Ellerman said of his first two years at ISU. "I would show up at a reasonable time, but back them, it wasn't how it is now. Nobody lined up outside the building. There was no fighting to get down to the front. You could sit down in the bottom section. Not everybody stood. Just the very bottom bleachers is where people would stand. It wasn't hyped up like it is now."
 They hype heightened after Royce White led the Cyclones back into the tourney after a six-season banishment. ISU reached the round of 32 before falling to the eventual national champ, Kentucky. 
 Ellerman was a sophomore at the time and itching to get back in the game. At 6-8, 240, he had the body for it. So he dispatched an e-mail to then-ISU director of operations, Jeff Rutter. 
 His ask: "Can you use a walk-on big man?"
 The response? Underwhelming.
 "They said, 'No. Not at this time,' because I think this was in December; this was during the season," Ellerman said. "So he said, 'No, not at this time, but we'll let you know if anything comes up.' So I kind of brushed that off — 'Oh, I'm never going to hear from them again. They're not interested.'"
 Months passed. A couple key non-transfer signees, Georges Niang and Naz Mitrou-Long, committed to becoming Cyclones and eventually arrived on campus. Ellerman kept plowing through his Ag-based schoolwork — and then an e-mail popped into his ISU inbox (an account he didn't check much).
 It was from then-graduate assistant coach, Tyler Hansen. Ellerman opened it and couldn't believe his eyes.
 "When I read it my heart was racing and, seriously, the first thing that crossed my mind was, 'I haven't been working out," said Ellerman, who scored nine points and grabbed 12 rebounds in 15 games over those fateful two seasons. "'I need to go to the gym right now and start working.' But I didn't really have time. It was basically just go up and do it."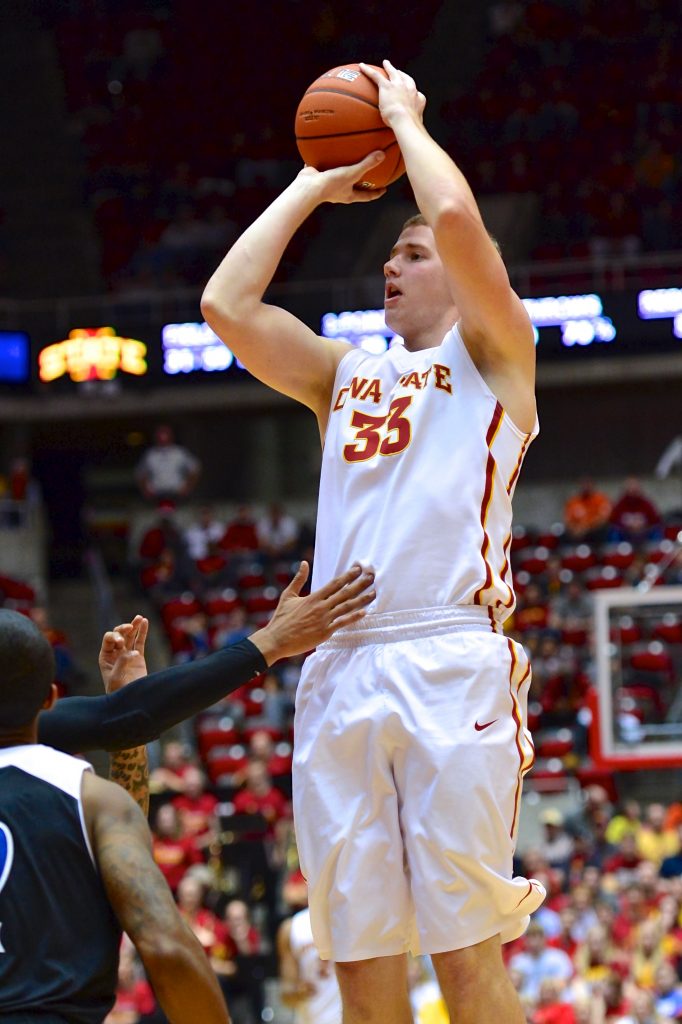 Yes, the farm kid got his shot. But how much feel for the game had he retained? He'd find out quickly, going up against one of ISU's few big men, Anthony Booker, a transfer from Northern Illinois.
 "So they just brought him in and had me play against him — he's a big man, 6-8 or so, and they just had me play against him and see how I did and evaluated me that way," Ellerman said. "Jeff Rutter talked to him afterwards and I think Booker put in a pretty good word and said I was all right, so they decided to bring me back for a few team practices, 3-on-3s and full court — and carry on that way."
 Boom. Ellerman earned his spot on the roster. And so began the soft, then loud strains of ELL-ER-MAN, ELL-ER-MAN, ELL-ER-MAN … as well as a long-lasting love affair with one of the program's all-time greats, who began practicing his freshman season alongside Ellerman on the scout team. 
"(Niang) was a freshman and he was on the scout team and I remember he started hitting some threes and driving past some guys and scoring in the post," Ellerman said. "He slowly worked over to the first team and I couldn't believe the progress that he made as a freshman. I came in and was playing with him and it's funny, I look back — when we first came in together, I was thinking, 'All right. Georges is a freshman. This is who I'm going to be competing (with) for my job. I have to play hard. I've got to beat Georges and hopefully I get the job.' He took off that freshman year and he was really good, so I was like, 'Ok. He's got it.'"
 Yes, he had it. Niang meshed perfectly with hungry transfers such as Will Clyburn, Chris Babb, Tyrus McGee and Korie Lucious, as well as fellow four-year man, Melvin Ejim and others.
 Niang scored 15 points and grabbed 12 rebounds in ISU's second game of the 2012-13 season — a rout of outmanned Southern. By the time he sat down, the chants rose up: ELL-ER-MAN, ELL-ER-MAN, ELL-ER-MAN …
 "I'm not embarrassed," Ellerman said of being the Cyclones' most popular player late in games. "No, that was cool. I don't know for sure how it got started, but I know I had a lot of high school buddies that were up there, that I played with and whatnot. I don't know if they started it, (or) it just kind of built up, or how that happened, but it was cool. I remember the first time they did it, the first game, the coaches heard it, I think, and they felt obligated or whatever, 'OK, we're going to put him in. Get him down here.' This was my first year and I hadn't talked to them about whether I was going to redshirt or play, or what I was going to do. So they bring me down to the end of the bench and it was like, 'Hey, hey. Come back. Do you want to redshirt this year, or do you wanna play?' I was like, 'No, no. Just put me in. I'll go play.' But we hadn't even talked about it, so I just went in, 'Yeah, I'll just play.'"
 Two minutes, that night. But Ellerman's value to the team transcended his minutes played.
 He'd serve as scout alongside highly-touted transfers such as Abdel Nader and Jameel McKay. He'd help make the 2012-13 team better — and do the same during the breakthrough 2013-14 Sweet Sixteen season.
 "So my senior year, our scout team was, Abdel Nader, Jameel McKay, and me, and I think Naz was even on the scout team most of the time, because he was only a sophomore," Ellerman said. "Those three guys and then I would get in — I can't remember who else was on our scout team, really, but these were starters the next year… So they're on scout team and there were days when we would give the red team, the first team, we'd give them a lot of trouble and they'd be running because we're be beating up on them, or we'd be outscoring them. So those guys, even when they're not playing, they really helped in practice, to make the starters a lot better in that year they sit out."
 The Cyclones fell to Ohio State in the Round of 32 (the infamous Aaron Craft game) in 2012-13, but the table was set for a feast.
 Tough-minded grad transfer DeAndre Kane arrived from Marshall, along with a nice little freshman point guard from Flint, Mich., who, as we know, also turned into one of the program's all-time greats.
 What a time to be a Cyclone. And Ellerman got to be a part of it. He felt fortunate, but fully deserved his spot.
 "I did feel a little lucky for the opportunity," Ellerman said. "It came down to they needed some size for the team and if they'd had a bunch of big guys, I may not have had the opportunity to walk on. But I knew at the same time, I'd been playing three days a week before I tried out for the team. I'd been playing. I'd kept lifting, staying in shape. I worked for that position and during practice every day I was working. I felt like I deserved to be on the team, for sure."
 That he did — and only a Niang broken foot stopped him from possibly being on ISU's most successful team ever.
 Looking back, Ellerman sees the significance.
Of the transfers. Of his almost-unopened e-mail. Of the resurgence of Hilton Magic, that coincided with the win-closing chants of his last name.
 It was a stirring ride. Thrilling wins over Kansas. A Big 12 Tournament title and Sweet 16 appearance at Madison Square Garden. 
 Ellerman, along with all of those Cyclones — transfer or high school recruit — definitely reaped what he sowed.
 "I like to joke with people," Ellerman said. "I say, 'Well, we didn't lose a single game I played in.'"
 And?
 "Just all those students that were there, I appreciate the name getting chanted at the end of the games," said Ellerman, who once again is a season ticket holder once the harvest is complete and plans for the next growing season begin to take shape. "I never would have imagined that would happen when I joined the team. That was a pretty amazing experience. I thank them for cheering me on and being a fan favorite, I guess. That was pretty amazing."