Oct 7, 2017; Norman, OK, USA; The Iowa State Cyclones celebrate after defeating the Oklahoma Sooners at Gaylord Family – Oklahoma Memorial Stadium. Mandatory Credit: Mark D. Smith-USA TODAY Sports
AMES — While hundreds of Cyclones fans celebrated outside the Bergstrom Football Complex Saturday night, the team arrived in busses, unloaded, and circulated throough the crowd with high-fives.
ISU's earlier monumental 38-31 win at third-ranked Oklahoma — the program's first against the Sooners since 1990 — set the stage for the grand return, and renewed hope that the 2017 season can indeed be special for the Cyclones (3-2, 1-1), who face Kansas at 11 a.m. Saturday at Jack Trice Stadium.
I caught up with ISU associate head coach/running backs coach Lou Ayeni (pictured below, on left) after the team de-bussed in Ames and he was kind enough to share his always insightful thoughts.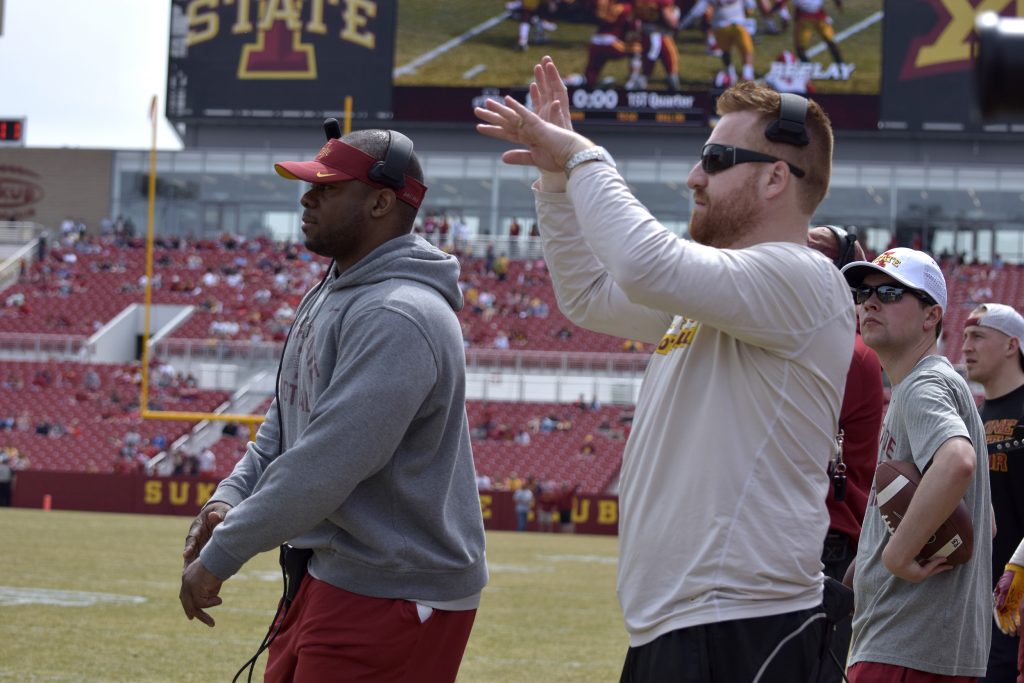 Q: How big of a win was this for the program — and the culture change Campbell and the rest of you guys are working to usher in?
A: "It's nice to get a win on a team this highly ranked, with a lot of talent and supposed to do great things — just continue that belief that we're headed in the right direction. When you go to Norman, Oklahoma, you play a team that looks like them, and is highly ranked like them and you fight and you fight and you fight for sixty minutes, that's what the process is all about and this is a process win. Our guys went in there, they believed from the start. They never gave up. We're down 14-0, we kept fighting, kept fighting, kept fighting, kept pushing, and in the end, it ended up working out for us this time, unlike last year when we lost to Oklahoma State, lost to Baylor. We had those same moments in those games last year and now we are learning to win. We learned our lessons from those games and found a way to run the ball late; found a way to get a stop on defense late and that was really big."
 Q: You mentioned learning to win. Is this team now entering that realm and building toward consistency?
A: "Yeah. We had the Iowa game, we couldn't finish. Even the Texas game — we had our chances late, still couldn't finish. This is a big steppingstone for us; a big milestone to get us to the next step, which is next week (against) Kansas. You know, learning to win, learning to do the right things. We didn't have a turnover today. We didn't have a lot of penalties. We made the plays when we needed to late in the game to give us a chance. We played good on special teams — our kicker and punter did well. It's those little things that we need to do consistently to win and that's part of the process of learning to win."
 Q: How good was the team in terms of attending to details today — and also these seniors, Joel Lanning, Allen Lazard, etc — how big was this for them?
A: "Those seniors played out of their minds. You can talk about Lanning, Lazard, Kyle Kempt, Trever Ryen, Jake Campos — those guys led us today. They played with poise and they always believed we could win it and that trickled down to the juniors, sophomores and the freshman. Those guys were the heartbeat of what we had going on today and when you see Joel Lanning making a tackle on special teams, recovering a fumble on defense, running the ball on offense and throwing passes out there, and then you get a guy like Kyle Kempt who's just been waiting, waiting, waiting, and then throws for over 300 yards in Norman, Oklahoma, it's a really special moment.
Q: Could you describe the locker room scene after this win?
A: "It was awesome. It was euphoric. Yeah, Kyle was on their shoulders — they were lifting him up, celebrating, dancing. It was really awesome. Really special for these guys to have this moment and it's fun for me, because now I want them to have this moment every week. I don't want them to forget what it feels like. I want them to go grab that thing every week. It's awesome that we did this. It's awesome to have the fans here, but we'll go to work again (Sunday) and get ready for Kansas. We're ready to take the next step and the next milestone as we go forward."