Dec 8, 2016; Iowa City, IA, USA; Iowa State Cyclones head coach Steve Prohm talks with an official during the first half against the Iowa Hawkeyes at Carver-Hawkeye Arena. Mandatory Credit: Jeffrey Becker-USA TODAY Sports
IOWA CITY — Previously 25th ranked Iowa State entered Carver-Hawkeye Arena on Thursday set to go up against an Iowa program ranked 179th in adjusted defense (according to KenPom.com) with an appalling RPI of 267.
The final, a 78-64 throttling by the more energetic Hawkeyes, was probably worse than the final score indicated. Fran McCaffrey's team, who recently gave up 98 points in a loss on its home court to Omaha (the same team Iowa State beat 91-47 on Monday), led for over 36 minutes.
"We were bad," an agitated Steve Prohm said in his postgame press conference. "Credit Iowa. Congrats to them on the win. But we were bad tonight."
Like, 12 missed layups and 35.7 percent shooting, bad.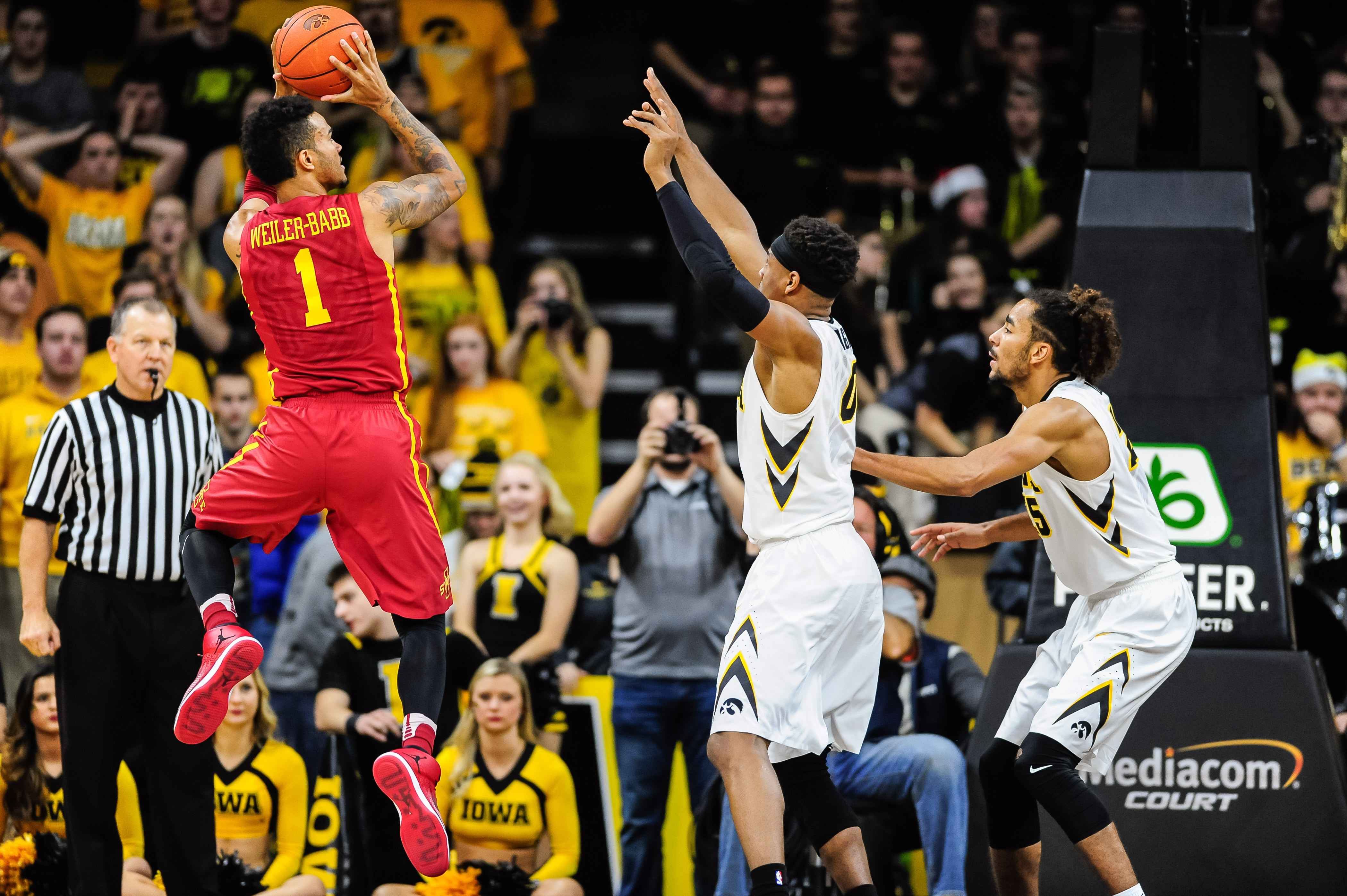 Losing to your archrival is never uplifting, but this loss symbolized more than just one game. The calendar is about to turn to 2017 and Iowa State has yet to play a quality offensive game against an opponent with a pulse.
In games vs. teams that I consider to be "quality" (Indiana State, Miami, Gonzaga, Cincinnati and Iowa), Iowa State is shooting just 26 percent from 3-point range.
This isn't just an, "Oh they are missing shots type of thing."
It's more of a, "This team seems incapable of spreading the floor, sharing the ball and creating a quality shot" type of thing.
Deonte Burton, who went 5-for-13 with 10 points on the night, summed it up best.
"We didn't run any offense like we usually do," he bluntly said. "It was really non-existent."
That's the brutal truth. The obvious follow up: Why was that?
"I can't tell you. I wish I knew."
That's a problem.
What's startling – and the major cause for concern going forward – is Iowa State has five seniors including an All-American point guard in its starting lineup.
The lack of Georges Niang is going to be a big talking point from now until Iowa State meets Drake in the Big 4 Classic a week from Saturday. And hey, learning to win without one of the top players in program history was never going to be easy.
It has been a challenge early on and will be for a while. Niang's offensive brilliance all started because he was a pass-first guy. When he wasn't scoring, he'd dig into the lane, defenses would collapse and guys like Matt Thomas and Naz Mitrou-Long would be rewarded with wide-open shots.
That isn't happening against good teams anymore.
"We don't have a guy who you're just going to throw the ball to," Prohm said. "We gotta score a little bit differently, off of drives and kick outs. Those plays we have to finish."
Iowa State did not do much of anything well in the 2016 Cy-Hawk game.
Big 12 play begins on Dec. 30 this year when Texas Tech will come to town. That means the Cyclones have approximately 23 days to figure this all out.