AMES — Solomon Young isn't your typical true freshman.
For one, the Sacramento, Calif. native brings a unique skill set to the table that has his coaches and teammates raving about his potential. Secondly, and perhaps most importantly, he's already 6-foot-8-inches and 240-pounds — at only 18. 
"Solomon is a guy that, as he gets better and understands ball-screen coverage, how to sprint to screens, post defense, angles, that he's going to be a guy I think can play as a freshman," Iowa State head coach Steve Prohm said during his media day press conference on Wednesday. "His body is ready, you'll see if you haven't met him. He's got a college body."
Prohm isn't lying about Young's body. He's long and thick. He looks as physically impressive as anybody on Iowa State's roster — outside of Deonte Burton.
This physique was a big part of the thing that made him such an appealing three-star recruit out of Sacramento High School. Coupled with an ability to rebound, stretch the floor as a shooter, defend, plus a desire to make plays, and you get a guy that's ready to make an immediate impact at the college level.
"I'm a physical player so physicality isn't much of a difference," Young said of his adjustment to the next-level. "Guys are more athletic, smarter, so it's just been like playing against the athleticism of everybody."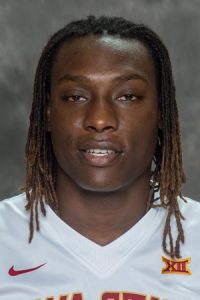 Iowa State isn't looking to their frontcourt players to light up the scoreboard or be the feature piece of the offense. Young proved he is capable of playing that kind of role during his high school senior season when he averaged 17.4 points and 7.6 rebounds while earning Sacramento Bee Player of the Year honors — but Iowa State doesn't need that.
They've got the guys that can fill up the bucket. They need to find the players that will be hard-nosed. The ones that will defend, rebound and block shots. They need to identify the guys that are just going to go out there and give it everything they have.
It didn't take long for Young's teammates to see he's capable of bringing that to the table.
"Last week in practice, we were doing a post drill not letting the offensive player cut across our face and get in the post," senior forward Darrell Bowie said. "I tried to cut across his face and he hit me and I said, 'I felt that one,' after practice. He's a big physical dude. I was like, 'I gotta get back in the weight room messing with him.'"
There are obviously still areas in which Young's game needs to grow. He can continue to expand his offensive abilities. He's still adjusting to everything it takes to be a good defender at the college level.
That said, Young has proven to his coaches and teammates that he isn't your typical college freshman. The next step is showing that to the rest of the world when Iowa State's season tips off next month.
"With him coming in and he's starting to develop and understand the game a lot through open gyms and practice," Bowie said. "I think he's going to have a helluva career here and a lot of years to come when it comes to the game of basketball."