He's a doer.
A no-nonsense man of the land.
The kind of guy who encounters a back-bending task, attacks it, then readily moves on to the next one.
That's Jordan Carstens, one of Iowa State's most decorated defensive linemen — both athletically and academically — ever.
So when severe back and side pain funneled the former Cyclones' three-time all-Big 12 and three-time Academic All-American to the Carolina Panthers' medical staff 10 years ago, he expected another ordinary and onerous challenge to materialize; a momentary road block that necessarily dots the ditches situated alongside the fast track of one's journey through life.
But this was different.
Carstens, who sprang for four sacks in just his second season as an undrafted free agent, found himself short of breath.
"I think I maybe passed out for a while," said Carstens, who's fine now, and back to farming a sweeping swath of land within ear shot of his parents' spread in western Iowa. "So it was a pretty scary deal."
Carstens had summited football's equivalent of Everest, shoved external doubt to base camp, and emerged as a top performer in the NFL after being unable to immediately snag a college scholarship out of Panorama High School.
Yet suddenly, he was powerless, sidelined by a blot clot and the disease that caused it.
Carstens suffers from a severe and debilitating kidney disease. He was put on blood thinners immediately and spent about a week in the hospital.
He played in just one game in 2006. He'd overachieved as a college player and as a pro. Soon he faced a life without football, as he couldn't play while on blood thinners, so was released in 2007.
So Carstens moved in with his wife (and eventually, two children) to a house they were building in the farm. Life remained good, if uncertain. An existence predicated on that time-honored heartland work ethic persisted.
"Been farming ever since," Carstens said.
Physical challenges remained. Carstens would face a crossroads seven years later: He needed a kidney transplant.
Enter his brother, Ben.
In 2014, Ben did what brothers do — he sacrificed. One of his healthy kidneys found a new home inside Jordan and the procedure proved to be a success. A perfect match, as anticipated.
"I think for him, he made the decision in about a split second," said Jordan, who Carolina hoped to bring back for the 2007 season until it was clear his health wouldn't allow that to happen. "There was actually a time where something happened where they thought he may not be able to do it. I don't remember what the situation was, but he was really upset that he wasn't going to be able to do it. But it ended up working out that he did. But yeah, he was definitely a willing donor and I really struggled after the surgery and even now — how do you make it up to somebody who's done that for you? It was really a blessing, definitely."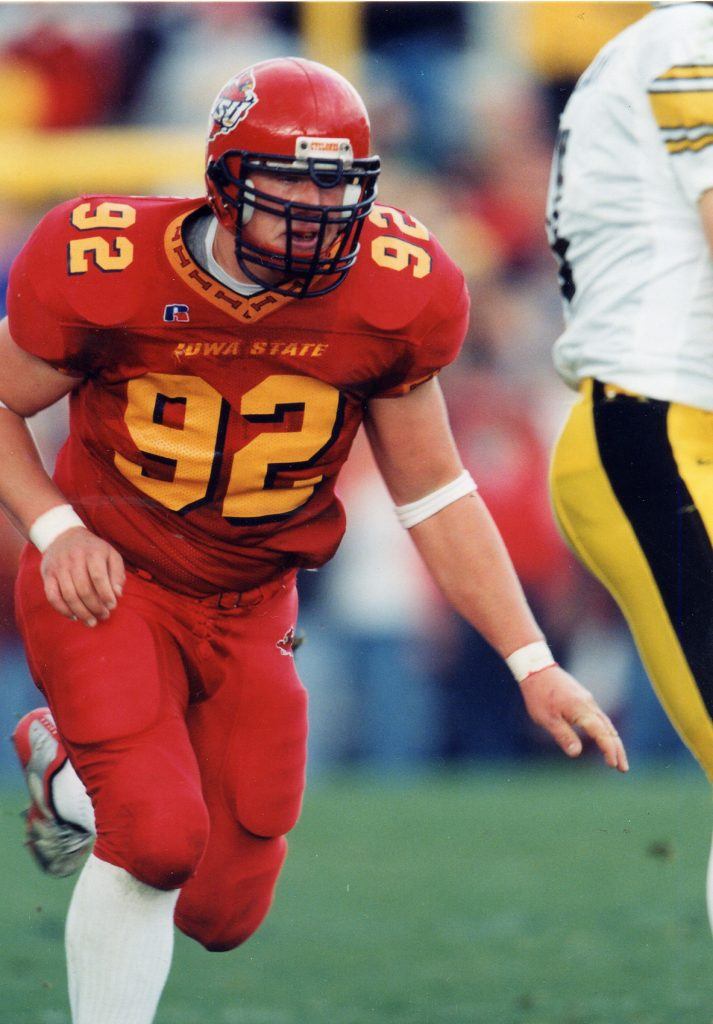 A blessing? With all that Carstens has been through, it may have been easy to be down, to be bitter, to wonder what if?
Not part of his make-up. Before he could remember, hard work defined his daily life.
"There was always something to do," Carstens said "Then  three or four days a week we worked before school, too. We had to load hogs before school."
No grumbling. No complaints. This way of life suited Carstens, whose tough-as-nails reputation followed him from high school, to ISU and beyond.
Case in point: His senior season as a Cyclone. Carstens got hurt early, but played through the pain.
"He loved the team," said teammate, fellow walk-on and senior captain, Lane Danielson. "That's the farm kid in him. I literally think he played that entire season on one leg — and he was still effective."
Carstens eschews the spotlight, though it has always found him. Accolades bring a shrug and excellence is a given. Before I interviewed him, he laughed and said he'd probably be "boring."
Uh, no.
"He's a class act all the way," Danielson said. "He's quiet He's humble. He will go out of his way to avoid extra attention."
And to think he almost didn't end up at ISU.
Carstens's lead recruiter was Paul Rhoads, then a Cyclone assistant. He said ISU would "keep an eye on him" his senior season at Panorama, but Carstens wasn't sure.
So he visited Division III Waldorf and Division II Northwest Missouri State. He expected to be offered a scholarship by the Bearcats, which inexplicably didn't come.
"I can remember the ride back (from Maryville, Mo.), talking to my dad and saying, 'What am I going to do? I don't know," Carstens recalled. "And he said, 'Well, why don't you just go to Iowa State?' That's all he said and I remember that and I remember thinking, 'Yeah, I will.' So I decided to go there and walk-on."
Playing in the Shrine Bowl with future teammate Joe Woodley helped tighten that bond — as did the chance meetings with then-ISU assistant and current Grand View head coach Mike Woodley. Carstens knew he wanted to be an Ag major, so Ames became a proper destination, but the Cyclones didn't bequeath him a scholarship until his redshirt freshman season.
"It was a pretty surreal moment," Carstens said of the scene in which Dan McCarney announced the news to the team. "I can still remember calling my parents and they were just as happy as I was, I think."
He made good on that investment. Carstens totaled 306 tackles, 10 sacks and 21.5 tackles for loss in his career. He fought through pain and churned up winning plays.
"Very hard worker and totally changed his body," Danielson said. "He had this big frame. Huge hands — NFL hands. Big feet, big body and just started eating and got on a Division I weight gain and weight lifting program."
Carstens went from 6-5, 230 to 6-5, 300 as a pro.
He went 2-0 at Iowa — this Saturday's opponent at Kinnick Stadium.
His most memorable Cyclones win? The 36-31 comeback triumph in 2002 at Kinnick.
"Going in at halftime and coach Mac kind of reading us the riot act and telling us that's not going to do if we want to beat those guys and coming back out after halftime and kind of putting it to them and coming away with a win, that was kind of my best memory," Carstens said. "I don't know what hit hapened, us showing up so flat and they were just hitting on all cylinders in the first half. …
"I can remember coach Mac screaming in there. He might have tipped over a table or two and really got us going — and kind of shook our face masks, and said, 'It's time to go.' I guess after that we were ready. And it ended up working out."
So much for pink locker rooms.
"I never really understood that kind of psychology, but I never lost there, so it just never made any sense to me," Carstens said. "It must work for some people, I guess."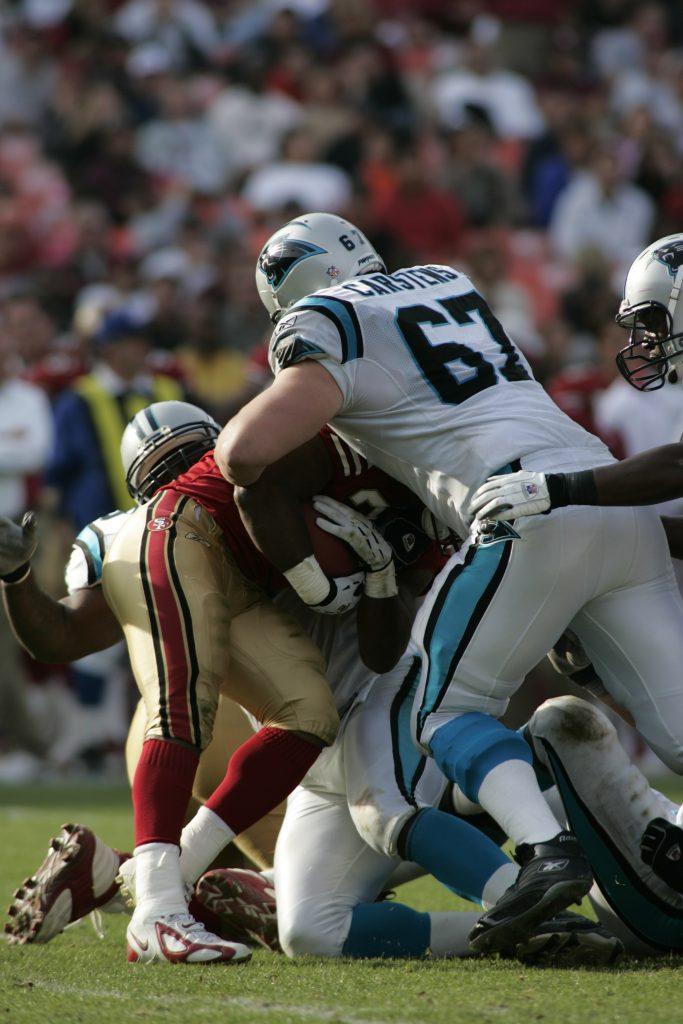 Carstens lost at home to Iowa his senior season, a tough departure from past successes.
But he still carved out a spot for himself at the highest level and became a starter in his second season when star Kris Jenkins went down with an ACL tear.
Was he ready? Didn't matter. So the answer is, yes.
"Some of the guys will come in and try to intimidate you," Carstens said of his NFL baptism by fire. "But if you get in there and do the work and hit them in the face the first play and come out and play like that every snap, they're going to respect you. So that's what I tried to do. I tried to play as hard as I could every play and never backed down from anything. I guess it was kind of a prerequisite  so you had to be tough. Everbody was tough. I'd been playing football for quite a long time and you had to be tough to play football period when you were in high school and then at Iowa State, so it was just something I was kind of used to."
The Panthers reached the NFC Championship game that year, but fell to the Seattle Seahawks.
Along the way, Carolina shut out the New York Giants, 23-0, and took down the Chicago Bears, 29-21, at Soldier Field.
"I had walking pneumonia, I figured out like two days before the game," Carstens said matter-of-factly. "I was not real healthy, but they gave me a bunch of different breathing medicines and I had an asthma inhaler for awhile, right before the game, and ended up being able to play. I had a sack in that game and just beating the Bears in the playoffs, that was a pretty neat experience."
One of his last and best ones on the field. The kidney disease came to light shortly thereafter — and sheer toughness could not overcome it. So Carstens shifted gears back to farm life, with a big assist from brother Ben. There's a yearly celebration to commemorate his sacrifice and what it means for Jordan. Words are used sparingly. Warmth serves as a backdrop.
"We're not real big on sharing our emotions and that kind of thing," Carstens said. "More of a hand shake and a thank you and that was really enough for him."
Still …
"He was happy to do it," Carstens said. "It was an amazing thing."
His ongoing prognosis is good. Carstens said an average lifespan for a transplanted kidney is 17-18 years, but that factors in both long-living ones and those that are immediately rejected. Some go for 40-50 years. Some don't work at all. It skews the average — just as Carstens always rose high above it.
"It's a pretty wide range," he said. "They give you an average, but the range is so wide you don't really know what to expect. It's working very well right now. I know that."
That's good enough for a man of the land. He's grateful to be alive and he's blessed to be a husband and father. The work continues — and brings smiles along with solace as the combine sorts the fruits of his labor as summer fades into fall.
"It's a lot of hours, but I enjoy it," Carstens said of harvest time. "I may have a different answer a month into it, but once you get started and kind of get the excitement of everything going, it's not too bad."