AMES — As Monté Morris fielded future-related questions, Naz Mitrou–Long got his two cents in.
 This was a couple months ago after a Big 12 home win, but the moment stood out to me. Morris was assessing his stay-or-go thoughts with respect to the 2016-17 season — his senior season.
 Mitrou-Long leaned in and smiled:
"He's coming back."
 Good call as usual, Naz.
 Friday morning, Morris — a Bob Cousy Award finalist and elite college point guard — announced he would indeed be returning for his senior season. 
 Why?
 "Just want to be able to get my degree and play another year in front of some good fans and develop myself as a man and on the court also," said Morris, a second-team All-Big 12 selection whom most NBA Draft gurus pegged as a possible second-round pick. "I feel like it's a good opportunity for me and I'm just ready to seize the moment."
 A diploma. Adding at least 10 pounds of muscle. More consistency in knocking down long-range shots. All this, along with being part of a loaded backcourt, created the foundation for his decision, which Morris said crystallized on Wednesday. 
 "Just why go test the waters when you know you're coming back to school?" he said. "I feel like it would have kind of been a waste of time. It's good to have the experience but I would rather have the experience when I'm going at it full throttle."
 Morris said he consulted often with his mom, Latonia — as well as ISU coach Steve Prohm. Prohm again showed he cared and Latonia didn't force-feed her son any advice, either. Monté made this decision.
 "My mom was just with me the whole way," Morris said. "She never told me what she wanted me to do until after I told her I was coming back to school. Then she said, 'Yeah, I wanted you to do that anyway,' so she was just going to go with me regardless."
 As for Naz's softly-spoken, but spot-on prediction, being asked about it made Morris smile.
 "Me and Naz have got a great relationship," Morris said. "I just told him if he's sticking around here and the opportunity approaches, I'd love to go out with him senior year, with him having his setback. So I through some shots at him during the year just to keep him going, like, 'Man, we can be something nice in the backcourt one day.' I told him, I think after the Kansas game, and he said he was going to hold me to it. But I told him and when he found it I knew he was happy."
 As is the rest of Cyclone Nation.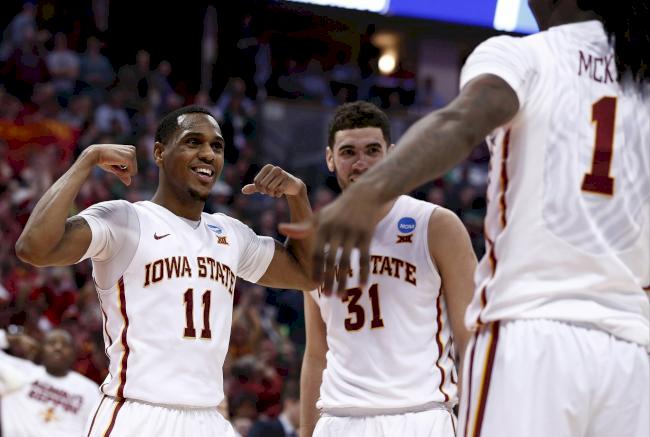 Below, read a selective transcript, in Q and A format, of today's interview: 
 WHAT WAS THE DECISION-MAKING PROCESS LIKE?
 "It was a tough process. Just knowing I have a chance to go make some money and to turn that down to come back here, I feel like it was even. I'm willing to do whatever at this university and leave my legacy here. I'm ready to do that."
 WHAT CHANGED SINCE THE NCAA TOURNAMENT SWEET 16 LOSS TO VIRGINIA? 
 "Just my heart and what I think is best for me. I think it's best for me to just heal my shoulder all the way. My shoulder isn't back 100 percent yet and I think it would be me rushing into it and me trying to play when I'm not ready to, so I just feel like just me resting and kind of hiding behind the scenes for a little bit and trying to come back a new person with my body changing and things like that."
 WAS ANYBODY MOST IMPORTANT IN TERMS OF THE DECISION?
 "I never really talked to nobody really during the process besides coach (Steve Prohm) and my mom. I heard the same thing I was hearing — early second round or mid second round, whether I come out or not. So I think my decision was just (determined) on how I was feeling in my heart and my heart is just stay here one more year and try to get things done."
 WHAT DID PROHM AND MOM SAY?
 "Coach Prohm wanted, at first, wanted me to go and maybe test the waters without and agent just to see how I feel, but talking with my mom, I didn't really want to do that if I wasn't all the way going to put my foot in the water to go to the NBA. 
 HOW IMPORTANT TO MOM WAS/IS THE EDUCATION PART OF THIS?
 "It was big time. I think any student-athlete should definitely look at a chance to get your degree. After a while, you play basketball, you can only play basketball after college for probably 10, 11 years if you're truly blessed, so I feel like the degree is a big step for me."
 NOT ONLY NAZ COMING BACK, BUT MATT THOMAS, DONOVAN JACKSON, ETC. — HOW MUCH DID WANTING TO PLAY WITH THEM FACTOR IN?
 "I definitely want to play with them, especially the young guy that we've got, Donovan Jackson. I hear he's going to be pretty good and I feel like we can coexist with each other and play together in the backcourt. I definitely want to play more off the ball this season and run off more screens and shoot the ball a little bit more [Morris averaged 13.9 points in 11.1 shots per game as a junior]. With Donovan coming in, he definitely can spice up some things and give other teams a different look."
 WHEN DID THE DECISION BECOME FINAL IN YOUR MIND?
 "I think Wednesday. I met with coach Prohm Monday. We talked about it. He just said he was leaving town soon and he wouldn't be here for Friday, because I think his in L.A. or something like that, so I think Wednesday I really said, 'All right. If we're going to do it we're going to do it so I can get it out of the way.' I didn't want to wait too late to where I have people wondering so i just wanted to come out so they knew what was the next step for Monté."
 JACKSON SAID PROHM HAS TALKED TO HIM SOME THIS WEEK ABOUT LIKING TO USE TWO POINT GUARDS. SAME DEAL WITH YOU?
 "He did. He talked to me, but at the same time, I went to coach Prohm as a man and just told him, 'I'm going to talk to Donovan.' I talked to Donovan early this morning; FaceTimed him and just told him about how I was in the same situation being a Mr. Basketball in high school and me coming in with Bubu (Palo) here and DeAndre (Kane). A late signee as a senior, just don't hold your head down and think you're not going to play because there's going to be minute out there and opportunities. I just told him we're going to get this thing rolling and you're going to have a chance to play with me and I'm going to have a chance to play with you. … I just want the kid to come in and just work and just know that it's not really competition between me and him. I'm just trying to win games and hopefully me and him can play in the backcourt and dominate."
 WHAT DO YOU HAVE TO BE TO BE NBA READY AFTER NEXT SEASON?
 "I think really, from the feedback I'm getting, they just say my IQ is at an all-time high and they know I can play with those NBA point guards. They just want to know if I can bang with them because of my physical size [Morris played at 175 pounds last season]. So they just want me to gain, probably, about 10 pounds and just see a transformation in my body. I think that's the biggest thing for me. As you see, I've got a big pasta dish now as opposed to some McDonald's, so I'm trying to change my ways a little bit."
 WORKING ON YOUR SHOT, AS WELL?
 "They tell me they want me to knock down my 3-point shot consistently and coach has been on me big about that. They want it to be at a point where when I catch it out there, nine times out of 10, it's going in. So I've just got to put in a tremendous amount of work, which I'm going to be capable of doing. … Just working and working and putting it on display in November. So I think with me running off the ball and getting out in transition with my speed, it just shows a different approach and dimension this team can go."
 A LOT OF GUYS IN YOUR SITUATION GET INSURANCE? HAVE YOU DONE THAT/THOUGHT ABOUT THAT?
 "Yeah, like that $2 million thing or so? Yeah, definitely. I'd definitely do it. I did it this year, too, just for the injury thing. I'm going to do it next year also just to be on the safe side, because you never know with this game."
 AS A NATURALLY LEAN GUY, HOW DO YOU GO ABOUT PUTTING 10 GOOD POUNDS ON a 175-POUND FRAME?
 "I think it will be good. Hopefully I can just get it in my legs, the 120 pounds, and not so much in my upper body. But I think it will be cool. I'm in good shape. I'm still in shape from the season and I feel great. We've got (Andrew) Moser, and a great strength and conditioning group, so hopefully we can pack these pounds on the right way and not have me walking around crazy looking."
WHAT DO YOU THINK ABOUT THE NEW NCAA RULE THAT ALLOWS MUCH GREATER FLEXIBILITY IN "TESTING THE WATERS" FOR DECLARING FOR THE NBA?
 "Different players have different ways of going about things. I feel like it's a good opportunity for guys that want to be out there that haven't been to Nike camps and adidas camps that get the full experience. I was fortunate enough to go to adidas Nations with Georges (Niang) this summer and we did every drill that you'd do at the combine. So when people say, 'get the experience,' I kind of know already what it is. We did lateral, the 75-feet sprint, vertical jumps, line drills, shooting drills, all of that, so I got the experience and kind of know what it takes. So I feel like the opportunity just sets for different people, different backgrounds for guys — how their families are and if their family needs it. My situation is different. I can't speak on everybody's situation. I'm just not going to entertain testing the waters. I'm just going to be ready for this upcoming season."