Karl Chevrolet gives you peace of mind when you purchase a GM Certified Pre-owned vehicle. We have been the #1 GM Certified dealer in the nation for 10 consecutive years. Before you make your next purchase, come see why more people nationwide drive a Karl Chevrolet Pre-owned vehicle than any other dealer-There is a difference, Come see why TODAY!!
 AMES — Jameel McKay fully absorbed the lesson.
 Losing basketball — albeit briefly — hurt the 6-9 Iowa State senior a great deal.
 "It was miserable," McKay said. 
 But being suspended for two games for violating team rules accomplished more than merely reminding the long, lean rim runner how much the sport means to him. It helped him grow, both on and off the court, and that as much as anything points to better days ahead for the No. 14 Cyclones.
 "I think the biggest thing (from) being suspended I learned is you can't take anything for granted," said McKay, who fashioned a line of eight points, seven rebounds and four blocks in Saturday's 85-75 win over Texas. "That was my first time, other than sitting out a year (after transferring), that was my first time ever dealing with something like that. Watching the games — I honestly couldn't even watch the second half of either game I sat because I knew I was supposed to be out there and I was letting my teammates down."
 Saturday, he was lifting them up. When he came off the bench for his first action since the home loss to West Virginia, a sellout crowd at Hilton Coliseum rose to its feet for a standing ovation.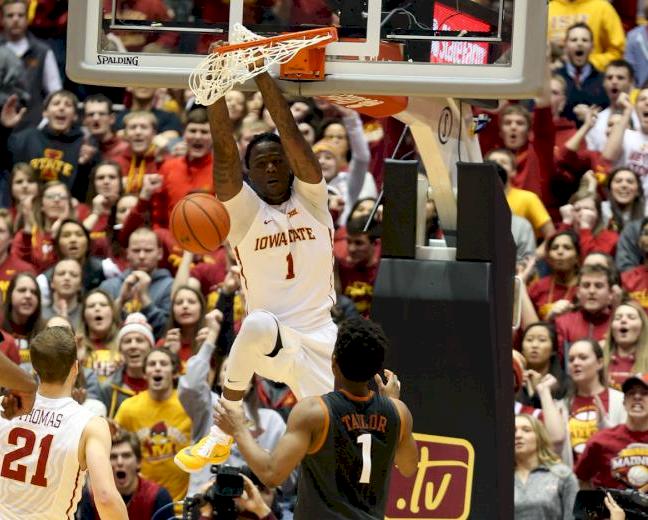 (Above photo: Feb 13, 2016; Ames, IA, USA; Iowa State Cyclones forward Jameel McKay (1) finishes a dunk against the Texas Longhorns at James H. Hilton Coliseum. The Cyclones beat the Longhorns 85-75. Mandatory Credit: Reese Strickland-USA TODAY Sports)
 "He's focused and when you've got a focused Jameel McKay, he's big time," point guard and roommate Monté Morris said.
 McKay said his teammates remained positive toward him despite the suspension, which meant a lot.
 "They never looked down on me," said McKay, who's averaging 12.2 points and nine rebounds. "They always just told me to keep my head up and they supported me every step of the way."
 McKay declined to say what exactly led to his suspension, but it's known to have been a practice-related incident. He said his bond with first-year coach Steve Prohm actually strengthened because of the situation.
 "It's probably as good as it's been," McKay said. "We've been texting every day. I just text him to see what's up, see how he's feeling and stuff like that. He does the same. He's a good dude and I'm happy he's my coach."
 Prohm shared similar sentiments.
 "We can't be special without him," Prohm said. "That's what I told him in the locker room after the game: That's what we need. That's the Jameel McKay we need going forward as we go into the last three weeks of the regular season."
 And beyond. McKay doesn't even want to entertain the thought of missing anymore games. Sitting out two was stressful enough — especially in the second halves.
 "First off, I turned off my ESPN app," McKay said. "I wanted to know if we won — so I'd turn it, flip back and forth, but in the second halves it was just so hard to watch it because I'm supposed to be out there. And I think if I was out there that Texas Tech game could have possibly been a different result. But I think me being suspended those games helps us in the long run. I can tell you that. I think it was more of a positive than a negative. I got my knee back healthy. Today was as good as I've felt on the court other than getting a little fatigued."
 Just as Prohm and his teammates expected. McKay's back. And they had his back as he sorted through his emotions in search of clarity and purpose.
 "He was flying around like his hair was on fire," said forward Georges Niang, who matched Morris with 24 points against the Longhorns. "I couldn't be more proud of him. For him to step in and just embrace his role and really just play amazing — just his presence out there is just awesome. I'm happy to have him back for sure."
 SHOOTING STARS
  Just one team has shot better than 50 percent against Texas in conference games. Guess Who? ISU, of course. The Cyclones made 54.3 percent of their shots in an overtime loss last month in Austin and sank 55.4 percent in Saturday's win. The Longhorns entered Saturday with the Big 12's best field goal percentage defense.
 "Proud of our guys," Prohm said.
 RESPECTED RIVALS
 Morris spoke of his love and respect for Texas counterpart Isaiah Taylor leading up the the game. Late in Saturday's win, he and Taylor shared a half-hug that showed that mutual admiration as the clock ran out — this time with Morris as standout performer in a victory. Taylor scored 28 points in the meeting in Austin. Morris tied a career high with 24 points Saturday at Hilton.
 "Me and Isaiah, we're real cool," said Morris, who hit 9 of 13 field goals and all four of his free throws. "We talk on and off the court. He's a great player, man, and it was tough trying to keep him out of the paint today. it is what it is. I had a good night. He got me down in Austin. He had a good night down there. So it's all love, man. Sometimes it's just the roll of the ball. Down in Austin it was his night and we still show love. It's all respect."
 PUTBACKS
 Niang is now tied for eighth all-time on the Big 12 scoring chart with Texas A&M's Bernard King (1,990 points). … Niang is three points from tying former Cyclones star/coach Fred Hoiberg for third on the program's scoring list. Hoiberg scored 1,993 points in his ISU career. … McKay became the seventh Cyclone on program history to record 100 or more career blocks. … Deonte Burton reached double figures in scoring for the ninth time this season. … Morris notched his eighth career 20-plus points game. Six have come this season.