Two important 2016 point guard prospects visited Iowa State this weekend. 
Weeks ago, we knew about top-100 prep prospect Xavier Simpson's looming trip to Ames.
Iowa Western Community College floor general Donovan Jackson however was a bit of a surprise. The 6-foot-1 point guard unofficially visited Iowa State and told CycloneFanatic.com on Sunday evening that he liked what he saw.
"They have great facilities," Jackson said. "It's the kind of place that has everything that you need to succeed."
Prohm himself is leading the way as Jackson's lead recruiter. Iowa State's new leader has been using his past track record with point guards as a recruiting pitch toward Jackson, who also holds additional offers from Oklahoma, Illinois, Wichita State, Ole Miss, Iowa and Virginia Tech.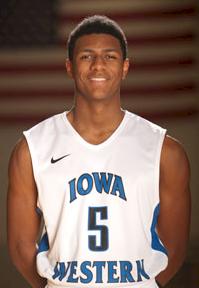 "I talk to Coach Prohm all of the time. He's a really good dude and a funny guy. He cracks jokes. He gives off a good vibe," Jackson said. "He mentioned to me quite a few times about how he helped develop Cameron Payne and Isaiah Canaan. They had skill when they got there but under the right system, that's what helped them get to where they are now." 
Jackson has a slight history with Iowa State prior to this round of recruiting. Back in 2006 under Greg McDermott, Iowa State assistant coach (who is currently on Prohm's staff as well) T.J. Otzelberger recruited his brother, D'Angelo Jackson. D'Angelo ended up in Creighton but ultimately finished his career at Mississippi Valley State.
Jackson currently has official visits set up for Wichita State and Ole Miss.
"I'll be committing at the end of September," Jackson said.
Two more visitors
— Again, there was top-100 prep prospect Xavier Simpson who hails from Lima, Ohio. 
When I reported the Jackson offer on Sunday afternoon, a question about timing was asked by many posters on our forum. Does the Jackson offer mean that Simpson is out?
Not at all. Jackson told me that he was offered by Iowa State in July. 
Iowa State has made both players priorities in its 2016 recruiting efforts. 
— One of the more interesting prospects in the country, Emmanuel Malou, made an unofficial visit to Iowa State this weekend as well. The 6-foot-9 post is thought by many to be the top 2016 junior college player in America. Where he will play ball at next season is still unknown at this time, which should have an impact on where he will end up for the 2016-17 season.
Visit scheduled
Scout.com's Alex Halsted is reporting that Solomon Young will officially visit Iowa State on Aug. 28.