AMES  — Clouds pocked the brilliant blue sky, but Jeremiah George did not see them.
 He was too busy violently thwarting Miami punt returner Jarvis Landry's useless spins and stutter steps.
 October 26, 2014. A day George won't forget.
 The former Iowa State Cyclone star and Jacksonville Jaguars rookie linebacker had just recorded his first NFL tackle. One lifelong dream set in motion, George smiles at the memory.
 "I sort of remember like it was yesterday," said ISU's most recent NFL Draft pick — a fifth-round selection last season by the New York Jets. "I got bumped up that week due to some injuries and some position changes and I got my full blast on special teams. I was on kickoff, kickoff return, punt and punt return. And man, it was some of the most fun I've had playing football."
 There's more to come.
 And while former Cyclone teammate E.J. Bibbs waits for his number to be called in this weekend's NFL Draft, George dons a backpack filled with books, criss-crossing campus, on a mission that winds through Hamilton Hall, not Heinz Field, where the Jaguars' 2015 preseason begins in August. 
 He'll follow in the tradition of several Cyclones in the NFL who returned for their degrees, including Tampa Bay's Leonard Johnson and Carolina's A.J. Klein. 
"How did he put it to me the day that he walked into my office?" ISU coach Paul Rhoads said. He just (said), 'I immediately relaxed stepping back to Ames and on this campus and being in this setting and this environment.'"
 Yes, George is finally simply a college student and loving every minute — ok, most every minute — of it.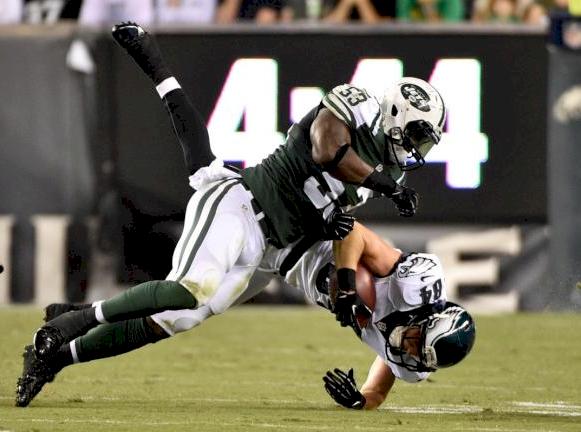 ABOVE: Jeremiah George hits Philadelphia Eagles wide receiver Will Murphy at Lincoln Financial Field. Derik Hamilton-USA TODAY Sports 
"There's some pros and cons," said George, who this semester tackled 16 of his needed 24 credit hours toward his degree in communication studies. "Definitely pros are being alert and not having to be exhausted going into class. I really feel like I'm getting more out of it. I feel like I'm learning a lot more and not just trying to remember things; just really enjoying the learning environment."
 Cons?
 "I don't care if you're in fifth grade, middle school, high school or college, schoolwork is schoolwork," said George, who made six special teams stops last season. "The homework, the late nights of studying, that's the con of it all."
 That's the price of the ticket, too.
 George finished a rollercoaster rookie NFL season drained and ready for rest.
 The Jets had cut him and signed him to the practice squad, where he sat before the Jaguars snatched him up in late September, adding him to their 53-man roster.
 The move immediately felt right, George said.
 "(New York) just wasn't the ideal fit for me — the 3-4 (defense) and some of the special teams assignments that were asked of me," he said. "But then I get into a place like Jacksonville and it's a completely different culture, a completely different atmosphere and I was able to come along a lot faster than I had been while I was in New York. I felt a lot like here, where I was ready to come a long a little bit faster."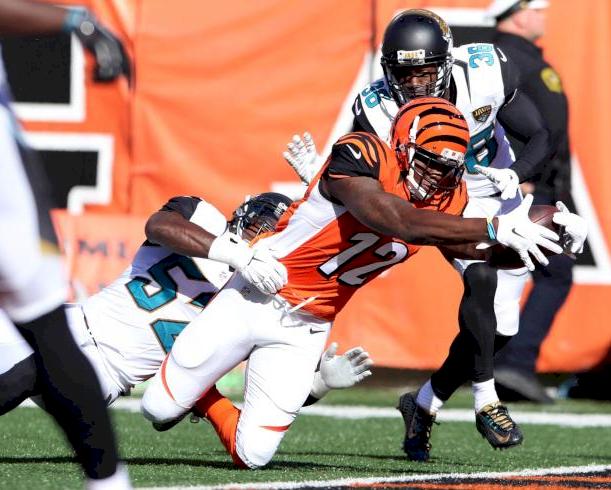 ABOVE: Cincinnati wide receiver Mohamed Sanu dives for a touchdown against Jacksonville Jaguars linebacker Jeremiah George. Mark Zerof-USA TODAY Sports 
George built personal momentum as the season wore on. 
 By Nov. 1, newspaper stories were touting his acquisition as essentially a retroactive draft pick. Jaguars coach Gus Bradley liked George's skills, work ethic and accelerated learning curve.
 "I think he's caught our eye," Bradley told Jacksonville.com at the time.
 But George — who remains under contract for this season — had already planned to refocus on finishing his degree once the season ended. Tired or not, he knew delaying a return might mean he wouldn't come back at all.
 More importantly, his mom, Shannon Sebek, knew, too.
"I was just exhausted," George said. "Mentally, physically, emotionally, I'm just like, 'I need to take some time off.'"
 Sebek listened, then spoke.
 "We debated," Sebek said. " I told him, 'If you take the time off, you're not going to go back.' He agreed. He knew it was the right decision."
 So now two dreams are fully set in motion.
 The one based in books and lectures and discussion groups is winding down. The other's just now taking flight — for George and his team.
 "Obviously, we would like to win more games, but you could see it coming along and we're very excited about the 2015 season," George said.
 The same could be said for what will happen after that season ends.
 Eight credit hours left. A diploma within reach. Then it will be George's turn to high step across a stage, poised for a hand shake, not a hit, as his mom and dad smile on a brightly-lit May day, forming a lasting memory.
 "I know that will probably be the happiest day of their lives," George said. "Even bigger than when I got drafted."