AMES — "Crazy." 
 That's how both Iowa State coach Fred Hoiberg and Texas coach Rick Barnes aptly described Monday's fast-paced, lung-taxing Big 12 slugfest that the No. 15 Cyclones held on to win 89-86 before 14,384 at Hilton Coliseum.
 Hoiberg, whose team improved to 15-4, 5-2: "Down the stretch, it was crazy. It was absolutely a crazy game."
 Barnes, whose 19th-ranked team fell to 14-6, 3-4: "It's a crazy game. We were down, it's just a crazy game."
 Up, down sideways — this game featured more twists and turns than the most outlandish and entertaining Hollywood thriller. 
 Slow starts?
 So much for those, as the Cyclones distanced themselves from Saturday's upset loss at Texas Tech by drilling deep into the the Longhorns' vaunted zone early to forge a 10-2 lead that ballooned to 36-25 by halftime. 
 "Things were going great," said ISU's Bryce Dejean-Jones, who scored a Big 12 season-high 18 points.
 Until the end. Texas, notISU, sizzled in the closing minutes by scoring 38 points in the final 7:53.
 ISU held a 69-48 lead with 8:06 left after Georges Niang — who scored a team-best 19 points — sank his third 3-pointer. Then the Longhorns revived, feverishly scoring inside and out while cutting the Cyclones' lead to 87-84 with 22 seconds left.
 Niang helped seal the win by hitting one of two free throws. Jameel McKay finally locked it down with a defensive rebound and free throw.
 "I think we knew what we had to do and we know what we're capable of doing," said Niang, who added three assists and two blocked shots. "So I think we were really locked in at the start of both halves and that really helped us out. I'm a little discouraged about the low finish, but after coming off a loss you take what you can get at this point."
 No doubt.
 Hoiberg didn't want to dwell on the craziness toward the end, which was sparked by reserve guard Javan Felix, who scored 16 of his game-high 20 points in the second half. 
 "They were hitting bombs," Hoiberg said of a Texas team that scored 61 second-half points and made 10 3-pointers. "They were hitting 30-footers out there. But again, that's a great basketball team that we beat. So, look, I've been miserable for 48 damn hours. I'm going to enjoy this one, OK?"
 What Hoiberg enjoyed most was the return of selfless and energized play for all 40 minutes.
 The Cyclones may have converted just one field goal after that Niang 3-pointer put them up by 21, but they knocked down just enough free throws in the second half (25 of 35) to pull into a tie with Kansas State for second-place in the league standings. 
 "I thought we played for each other tonight," said Hoiberg, whose team won its fourth straight against the Longhorns at Hilton. "In that first half, when Texas played zone for 20 minutes, we weren't settling. We were getting that ball moved side to side three or four times in a short amount of time and then getting into the middle and then getting a lo b or wide-open shot on the backside. So I really liked our attack."
 Point guard Monté Morris spearheaded it by scoring 13 points and dishing out six assists to zero turnovers.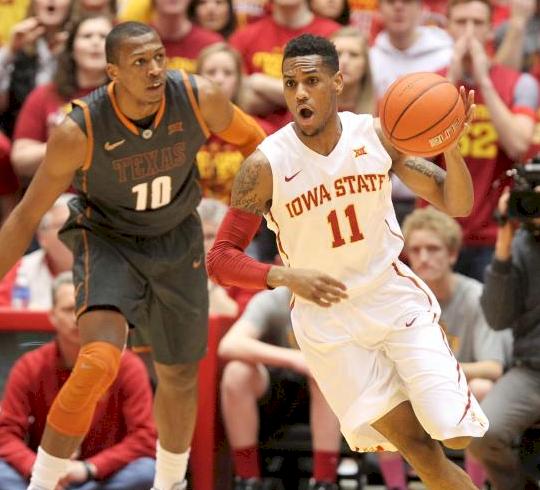 McKay added 14 points, Dustin Hogue chipped in 11 and Naz Long scored eight while grabbing a team-high seven boards. Dejean-Jones scored his 18 on just seven shots. He also went 7 of 11 from the line in his best conference season performance.
 "He was really engaged all the way through," Hoiberg said. "Had a couple casual turnovers late in the game, but loved his energy, loved his effort in getting deflections, getting his hands on balls. I thought it was a really good game for Bryce."
 And a really good game for all the Cyclones, who responded with vigor to Saturday's setback in Lubbock.
 ISU shot better (56.5 percent), had more assists (20), made and attempted more free throws (25 and 38), and scored more points (89) than the defense-driven Longhorns had given up in any game this season.
 That's progress — no matter the twists and turns, tension, and held breaths at the end.
 "Anytime you can win a game I think that's a good thing for us," Niang said. "I feel like just seeing the W on the board is something that helps us put Texas Tech behind our back, That being said, we have yet to put a 40-minute game together, but I'm definitely proud of the guys and how we battled."
 NOTES
 The Cyclones improved to 14-0 when holding a halftime lead this season. … Long's seven rebounds are a career high. … Niang moved into 20th place on ISU's all-time scoring list with 1,270 points. He passed Gary Thompson and Robert Estes.