It would be my preference to profile South Carolina after actually watching them play but we don't have that luxury and I wanted to at least put something together for this Brooklyn showdown because it is a pretty big game. South Carolina has come on rather strong and it will be a stiff test for the No. 9 Cyclones.
We're all pretty familiar with Frank Martin from his time at Kansas State. He scares a lot of people whether he's yelling at them or even if he's not and he's a tad intense. But, just a tad.
(All stats via kenpom.com)
His Gamecocks are finding most of their success at the defensive end of the court and sporting the 13th best adjusted scoring efficiency of .891 points per possession. I was a bit surprised that their adjusted tempo is up at 68.8 possessions per 40 minutes, the 56th fastest in the country. I don't know that his Kansas State teams were ever methodical but they were much closer to that than up-tempo.
When South Carolina has the ball…
The Gamecocks post a respectable 1.03 ppp on offense which is 105th in the country and as noted above, are playing fairly quickly by having their possessions last an average of 16.6 seconds (50th). They don't shoot the ball particularly well with the 123rd best effective field goal percentage of 49.9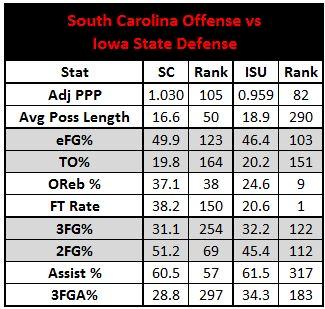 but they generate extra chances on the offensive glass. They rebound 37.1 percent of their misses. But, the Cyclones are a top ten team in defensive rebounding percentage to combat them on the glass.
It is also worth noting that they have only played three teams in the top 160 of defensive rebounding percentage to aid them in posting that number. But on the same token, the Cyclones have played just five teams in the top 170 of offensive rebounding percentage. Most notably Iowa and Arkansas and both did a little bit of damage on the offensive glass by posting offensive rebounding percentages of 23.3 and 27.3 respectively against the Cyclones.
South Carolina is middle of the pack in turnover percentage and about the same on trips to the free throw line. Looking at further components they have really struggled to hit the 3-pointers and are shooting just 31.1 percent as a team but they also rarely hoist them with just 28.8 percent of their shots being bombs from outside the arc (297th most in the country). They also have a respectable assist rate and shooting percentage inside the arc.
I suspect that the Cyclones will really, really clog the lane and let them shoot from deep. They'll play it very conservatively and always err to cover the middle and inside first with their rotations. That means very controlled closeouts on shooters at the perimeter.
When the Cyclones have the ball…
We're pretty familiar with what the Cyclones can do on offense. They play fast, they shoot the ball, and they score in bunches. ISU sports the ninth-best adjusted scoring efficiency in the land at 1.147 ppp and their average possession lasts just 14.6 seconds. It is all fueled by their eighth best effective field goal percentage of 58.0 and their third best shooting percentage inside the arc of 60.3.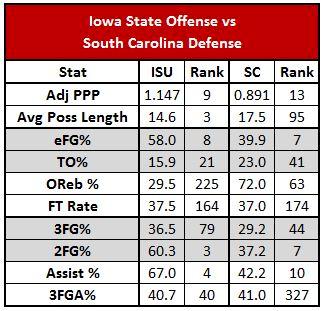 South Carolina has the seventh best effective field goal percentage defense but again, some of the schedule plays a role. There are 104 teams that shoot at least 50 percent or better from inside the arc and South Carolina has only played three of them. Oklahoma State who they held to 26 percent, Charlotte who hit on 47 percent, and North Florida who made 38 percent of their attempts. So, take that for what it is worth. On the flip side, Alabama, Arkansas, Georgia State, Maryland, and Iowa all hold opponents to less than 50 percent on defense and the Cyclones fared pretty well against each of those teams. The one lone poor outing was against Maryland where ISU shot 35 percent inside the arc (and they were just 6-27 from outside the arc).
Their defense cleans up pretty well on the glass and they force a good bit of turnovers but Iowa State almost always takes care of the ball well. A team being strong rebounding wise both offensively and defensively is actually a little atypical so we'll have to see how that plays out on Saturday and the rest of the season.
One interesting note with their defense is the opponent assist rate is in the top 10 allowing just 42.2 percent of buckets to be assisted. That tells me the force offenses out of their sets and what they like to do and make them to create individually or rely on junk baskets.
But the final telling piece for their defense is that they allow 3-point shots to be taken almost whenever offenses want them. Opponents are taking 41 percent of their shots from behind the arc. Without watching them play one could contend that their defense is just so stifling that it is the only shot teams can get. That is a possibility when you see that teams are only making 29.2 percent of their attempts.
South Carolina players to watch…
Without having seen any of these guys play, Sindarius Thornwell is their go to guy and used the most on possessions but he's made just 9-44 3-point attempts while shooting 32-67 for 48 percent inside the arc. He draws quite a few fouls but they don't seem to result in as many free throw attempts as would be expected. So who knows if it's happenstance or if he doesn't attack the rim all that often.
Duane Notice appears to be the real threat and is hitting on 44 percent of his 3-point attempts while sporting the team's best assist rate while being their leading scorer at 13.2 points per game.
Their last guy averaging double figures at 10.7 is the 6'11" Laimonas Chatkevicius. He's 250 pounds and does all of his scoring in the paint. He'll take the occasional shot outside the paint but if you look below you'll see that is welcomed by Iowa State.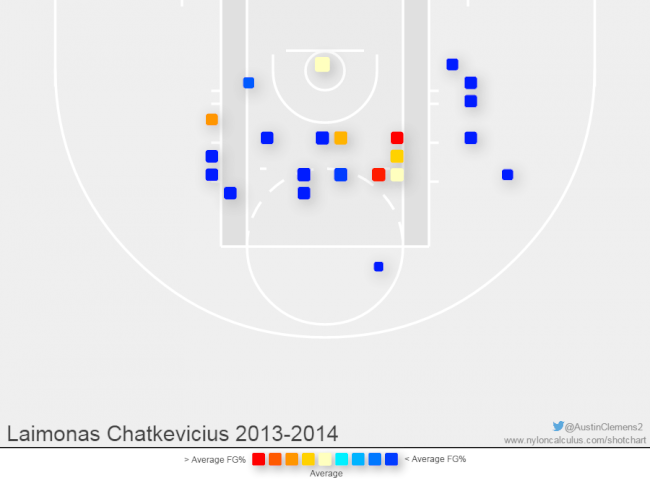 What I think will happen…
Jameel McKay has only been in the fray for two games that were both laughers but I can't help but think this team is starting to come together.  There are so many weapons offensively and so many guys making the right decisions that the offense has really been firing on all cylinders. Iowa State dealing with a solid interior defense that has a bit more height isn't a huge hurdle.
The Cyclones do such a good job getting the weak side defenders moving that they can often free up clean looks at the rim, even if shots aren't dropping from three point land.
I think South Carolina is probably a pretty good team but I also think they struggle a bit on offense and their weaknesses will align with what ISU will want them to do. The Cyclones will need to rebound well to help seal it up but I think they're capable.
Contain Notice, maybe force a few turnovers for some easy buckets, and keep playing smart and together and ISU should come out as the winner and pre-season SEC Champs!