These aren't the Horned Frogs of the last two years.
TCU comes to Ames with an overall record of 14-6 and 1-6 in Big 12 play. While most of their wins to date are almost completely unimpressive, they are a much better team than the past two seasons. They had unfortunate home losses to Baylor in overtime and Kansas by three when they made just 15-of-29 free throws. They also lost a one point game in Morgantown in controversial fashion and hung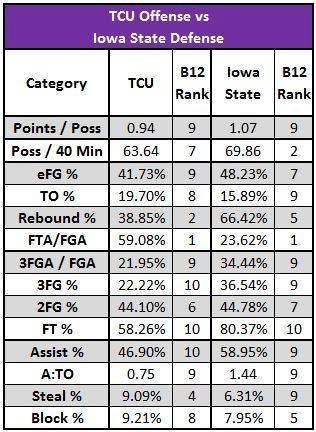 with Kansas State before dropping a five point loss.
When the Horned Frogs have the ball…
(Note: All player and team stats are now for conference games only.)
There aren't a lot of good things to say about the TCU offense. They're just ninth in the league in scoring efficiency and ninth in effective field goal percentage. They have been rebounding the ball very well in conference play to offset that poor shooting with earning extra chances. But, they're also eighth in turnovers too.
TCU has done a very good job at getting to the free throw line where they (knock on wood) have been absolutely abysmal. Will this finally be the game where ISU's opponent doesn't shoot way over their heads from the free throw line? If there ever were to be such an opponent, this would be the one.
They rarely take 3-point shots and they can't make them when they do but part of the reason they rarely shoot them is because they pound the ball inside so much. Lastly, they have an assist percentage that ranks last in the Big 12.
As bad as their offense looks, the Cyclone defense isn't reminding anyone of the '85 Bears. The first 32 minutes against Texas was the best defense we've seen out of Iowa State in the last five years but that eventually fell to the side for the Texas hot shooting.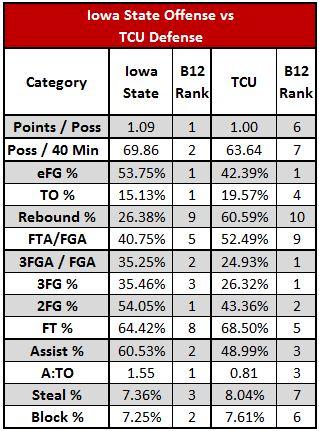 Iowa State at one point was a much better defensive rebounding team but their success there has tapered off in the last couple of weeks. That is due to bad performances, but at the same time they played teams that are very tough on the offensive glass. Baylor is the best offensive rebounding team in the country, West Virginia is fifth, Texas is sixth, and Kansas is 23rd (Arkansas also checks in at 19 and South Carolina at 31). That's a tough schedule in terms of defensive rebounding challenges. 
And, oh by the way, here comes TCU; the eighth best offensive rebounding team in the country, 
When the Cyclones have the ball…
Iowa State is quite simply leading the way in offensive efficiency in the Big 12 while placing itself among the elite scoring attacks in the country. The method is the same that it has always been with shooting the ball well, especially in the paint, and limiting turnovers. Iowa State is still launching the 3-ball at a high rate and the success is coming around as well. And that includes the abysmal 6-31 showing in Lubbock.
TCU does boast a defense that can cause problems. They're middle of the pack in scoring but they've held opponents in check with their shooting percentages. They prevent 3-point shots better than anyone in the league but their vulnerability has been rebounding and sending teams to the free throw line too often.
They do force a their fair share of turnovers and they do a great job in forcing teams out of their offensive movement and keeping the assist numbers down.
The players report…


Kyan Anderson is a baller. He's little and dynamic and he also torched Iowa State in Ames last season for 27 points in an effort to keep pace with a red-hot Melvin Ejim.
Throw in the addition of Trey Zeigler to match up with some capable big bodies down low and TCU is starting to put some pieces together. They just don't have the consistency or ability yet to formulate a strong Big 12 offense.
Zeigler and Anderson are the primary scoring concerns and while Anderson can do it all, Zeigler largely does his damage by getting to the rim off the bounce. He can score in traffic and get to the free throw line. The problem is that he only makes 55 percent of them. Actually, of their major contributors Anderson shoots nearly 83 percent from the stripe and no one else is above 56 percent. Woof.
Zeigler and a four pack of big forwards, Kenrich Williams, Amric Fiels, Chris Washburn, and Karviar Shepherd all do plenty of damage on the glass to corral rebounds. They're big guys, very active, and they play very hard. Their size isn't completely overwhelming like it is from a team like Texas but they play so hard that a cognizant effort has to be made by each and every player to box out and get the board.
If the Texas Tech loss last Saturday wasn't a hot enough fire of motivation by itself for this Cyclone team, I'd think the embarrassing Red Raider showing in Norman on Wednesday would add some fuel to that. In fact, I'm wondering if that loss will motivate this team through much of the rest of the season.
On top of that, this TCU team nearly won in Morgantown and had Kansas on the ropes in the last game out.
Georges Niang and Bryce Dejean-Jones have been playing some of their best basketball in the last few games, especially at home and the rotation seems to be getting more comfortable for everyone. Jameel McKay is still impacting the game all over the court and Monte Morris has started to up his scoring output with his gaudy assist and turnover numbers.
Limit TCU's second chances from offensive rebounding by matching their intensity in chasing down loose balls and play smart on offense. Contain Zeigler and Anderson off the bounce and do not give Anderson open looks from the 3-point line.
If ISU moves the ball like they did against Texas there will be good shots to be had. Against the Horns, they rarely settled for a questionable shot but instead worked the defense. I also think Iowa State will get a lot of TCU bigs into foul trouble to hurt the Frogs.
I think Iowa State comes to play on Saturday and finally puts together a lot of good basketball to win in a fashion that doesn't give 14,000 Cyclone fans a collective heart attack.
We hope.