The Baylor Bears are looking a bit different this year as they host Iowa State with their 12-3 record and 1-2 mark in league play. They opened with a road loss to Oklahoma and a home loss to Kansas before winning at TCU in overtime this past Saturday. The Bears are one of the surprise teams of the league and are currently playing head and shoulders above the expectations from most.
When the Bears have the ball…
Their offensive numbers are better than I'd expect after watching them a few times. They score at the fourth best rate in the league of 1.09 points per possession (PPP). They don't do it with great shooting, by creating turnovers, or at the free throw line (though they get there fairly often they shoot just the eighth best free throw percentage in the Big 12).
They do it similarly to West Virginia, by creating extra chances on the offensive glass. So far this season, the Bears are rebounding 44 percent of their missed shots on offense. That is an almost astronomical number. It is the third best average in the country behind North Carolina and Kentucky and just in front of the Mountaineers.
The Cyclones will battle that with their league leading defensive rebounding percentage where a similar battle will be waged as in Morgantown a few days ago. One question is how aggressively will Baylor attack the glass when they will likely be so concerned with Iowa State getting easy transition buckets the other way?
Baylor shoots a good percentage as a team from the 3-point line though they only shoot them the fifth most often in the Big 12. Early in the season, the Cyclones gave up 3-point shots almost as often as opponents could take them but that number is slowly falling as 34 percent of opponent shots are now 3-point attempts.
When the Cyclones have the ball…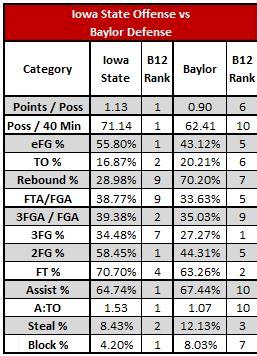 The Baylor defense hasn't quite picked up where they left off. They still implement the same 2-3 zone that has some length to it but just not as much as in years past. They've allowed 0.90 PPP and are middle of the pack in all four factors on defense (effective field goal percentage, turnover percentage, rebounding percentage, and FTA / FGA).
On top of that, their zone has allowed other teams to launch 3-point shots almost at will. Their opponents are only making 27 percent of them but many smart people will tell you that 3-point defense is random and a matter of luck more than skill.
The Bears do generate the third most steals in the league but Iowa State has been strong in that regard on offense, especially while not playing West Virginia.
The players report…
Most of the Baylor load on offense is carried by Jonothan Motley and Taurean Prince. Motley does his damage in the paint and has been quite destructive in his freshman season. Prince is back from last year but with a role that is very much increased. He's kind of a Will Clyburn type of player but I'd say less skilled and a bit more erratic with the ball. He's their leading scorer and a lot of it comes back to making nearly 49 percent of his 3-point attempts by drilling 23-47 from deep.
Match Prince up with the 3-point shooting of Royce O'Neale at 40 percent on 50 attempts, Kenny Chery at 36 percent on 44 attempts, and Lester Medford at 36 percent on 53 attempts and you have a very capable team of shooters from outside the arc. Very often nearly every Cyclone defender will have to be aware and have his hand up on shooters plus communicate well so that they don't get freed up through some simple motion or screening actions.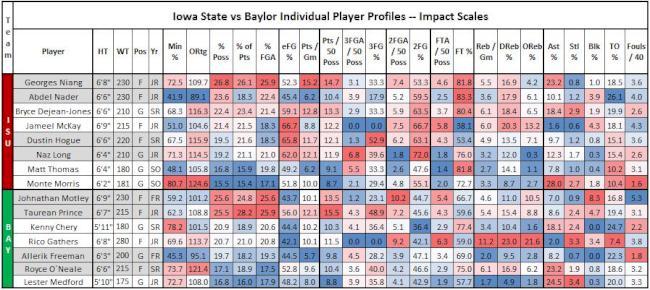 Motley and Rico Gathers are the primary scorers in the paint and for Gathers that often comes after he hauls in an offensive rebound. He grabs over 21 percent of his team's misses when he's on the court, the best in the Big 12.
The Bears have the third best assist rate on offense in the Big 12 but their point guard, Chery, isn't leading the charge there. Instead it is Medford and O'Neale with their top assist rates.
Keys to the game…
I didn't highlight it above but perhaps you noticed on your own in the tables that Baylor plays at an uber-slow tempo of 62.4 possessions per 40 minutes. That is raw possessions, but by Ken Pomeroy's adjustments, they play the 320th fastest tempo in the country out of 351 teams. For Iowa State to find offensive success, they'll need to push that tempo north for the Bears.
Which leads to the next key; rebounding. They won't be able to get out and run if they don't hit the glass on defense. Perhaps Baylor will lay off a bit on attacking the glass to try and avoid Iowa State getting easy transition buckets but I'd be shocked if Gathers and a couple of their other athletic bigs don't hit the glass hard. It has been one of the primary reasons that Baylor has been able to have any success on offense.
Just how much does Baylor's offensive rebounding impact their scoring? Check below to see how closely the plotted lines follow each other for their game by game PPP and offensive rebounding percentage.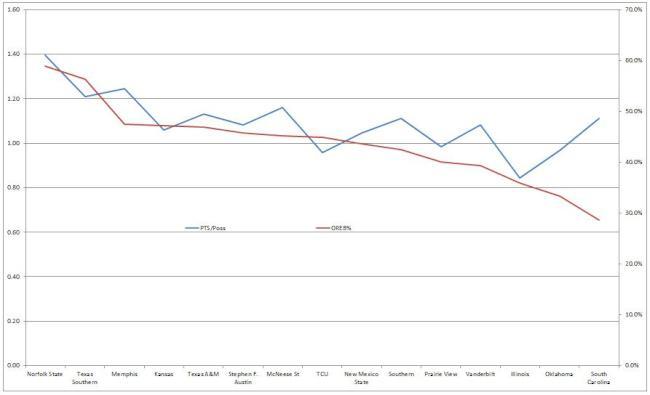 Iowa State will need to hit a couple of 3-pointers against the zone. Last year in Waco, the Cyclones started off on a torrid pace from deep but Scott Drew stuck to his defense and eventually that leveled off and ISU never got going in the paint. That trend continued in the Big 12 title game in Kansas City until the final 12 minutes or so when Iowa State went bonkers on their zone, both inside and out. Hitting some 3-point shots is probably required but they can't settle for them. Against this zone, those shots will be open whenever they want to take them, so be patient and try to find a shot in the paint first.
In the limited viewing I've had of Baylor, I do think there are gaps to exploit on the weak side of their defense. Athletic slashers like Dustin Hogue, Bryce Dejean-Jones, and Jameel McKay should be able to find openings when Baylor defenders lose track of their responsibilities. To make those happen, I think Georges Niang will have to be very patient in the middle. He's likely to spend a lot of time at the high post but he cannot go too fast or get stuck in a crowd of Baylor post defenders with nowhere to go.
Sounds simple enough, right? Well, maybe. It is another ranked team on the road and Baylor can really shoot the ball. But if the Cyclones clean up the glass, push the pace, hit a few shots while limiting the looks that Baylor gets then they'll be in the ball game.
I'm hoping I'm wrong yet again with a true road game, but, even after last week the Cyclones are just 11-111 all time against ranked teams on the road. So asking them to win two in a row seems like a bit much. I think Baylor will get enough second chance opportunities and hit well enough from outside to win by four to six points.