I think the issue first dramatically presented itself in recent history somewhere in the middle of the 2013 season. The year was stacking up to be as unsuccessful as we had seen in the Paul Rhoads era and that sparked angst for a certain sect of fans that found a 3-9 season to be unacceptable.
It was a discussion that turned to checking the temperature on Paul Rhoads' seat as the losses piled up in his fifth season. I don't think there were many, if any at all, that were clamoring for the firing of Rhoads but it was one of the first times his job security was brought into question. The topic was a spillway in the Cyclone fan base and it separated to two distinctly different bodies of water that were formed by different paths of perspective.
It wasn't simply an old versus new situation, but those were the primary party lines that most would align with. The Cyclone football program was, and still is, at the same fork in the road. Do you judge Paul Rhoads and his success to the rest of his peers or do you judge him to his predecessors in Ames?
The obvious answer is clear that it is some combination of both, but that still leaves plenty of reconciling to be done. The "old" fans that have been around remember the Jim Walden days, the Astroturf, the mismatched helmets on the field, and 15 straight losses to Iowa. If your fandom of Iowa State started sometime in the past 17 years try and fathom that agony for a moment without getting the shakes.
The old fans saw some games of Lucy pulling the ball away at the last moment, but generally the games were never close enough to inflict those wounds that crushing defeat are known to cause. The 1990's especially were almost entirely a lost decade for the Iowa State football program to build into anything resembling success.
Then, there are the new fans. These are the fans that came to the party sometime in the middle of the Dan McCarney era or later. A stable of fans that know what it's like to beat Iowa more often than not, to have teams contend in the old North Division of the Big 12, travel to bowl games, and even notching big wins in the history of the program despite some narrow misses.
This party of the Cyclone fan base sets the expectations. They want more, they demand more, and resting on the failures of past decades isn't going to appease them as they wait for a winner.
It shakes out to one group being happy with what they've got because it is largely better than everything that happened in the 80's and 90's versus the new breed that is ready for bigger and better things. While neither stance is entirely correct on its own, the meshing of the two could be the perfect balance for walking the "Cyclone tight rope."
Brent Blum enlightened us a while ago this year to the fact that Paul Rhoads has won 11 road games in just over five years while Gene Chizik, Dan McCarney, and Jim Walden combined to win just 15 road games in the previous 18 years. But that is just the start of the evaluation of Rhoads. His six seasons in Ames notched records of 7-6, 5-7, 6-7, 6-7, 3-9, and a 2-10 follow up. That includes three bowl games with just one of them being a win. His career record of 29-46 isn't lighting the world on fire. It puts his total win percentage at 0.3867. That's on par with McCarney (0.3972) but ahead of  Walden, Chizik, and Criner while lagging just behind Donnie Duncan (0.4318) and Johnny Majors (0.4455) with Earl Bruce out in the lead with an ISU win percentage of 0.5294. That's largely mediocre but closer to the top than the bottom for sure.
The average margin of an ISU game under Rhoads is -6.62 points and that is just behind McCarney at -6.11 (prior to the TCU loss it was -5.92). For much of the Rhoads tenure he has been as competitive or more competitve than his peers at Iowa State. In the 19 losses the past two seasons, eight of them have been by one score or less. The closest two year window to compare to that is 2004 and 2005 where seven losses were by one score or less.
When you look at the schedule in terms of the frequency in which they played a ranked team (really the best way I think we have to compare schedule strength across time frames), Rhoads has been give the toughest row to hoe. 37.8 percent of his games have been played against ranked opponents, which is a decent lead over Bruce and Walden at 33 percent and McCarney at 30.5 percent.
In those games versus ranked teams, Rhoads is 4-24 for a winning percentage of 0.1429. That's pretty uninspiring but it is the third best record versus ranked opponents behind Donnie Duncan and Earl Bruce.
Say what you want about the negatives of the Rhoads era in Ames, he has accomplished things that few or less have before him in Ames. History alone isn't holding the program down (see: Baylor) but the comparison and relative successhasto be accounted for in one way or another.
I'm a firm believer that there is a difference between excuses and reasons if you use a bit of critical thinking but how do we place the injury bug that has seemingly bitten Iowa State since the Jake Knott injury in 2012? I wouldn't attribute any of the injuries to the strength staff or a foundational problem with the program so it's hard to pin it on Rhoads. But, at some point with all of the failure to win games nobody cares about the injury reason, or excuse, anymore.
Comparing Rhoads with his peers isn't the same story. I think we're all pretty familiar with where Rhoads stands in regards to his record in Ames and how that stacks up with the rest of the country. We can all agree that there is a mental "fudge factor" that each of us must do when evaluating him because success like this is always relative to the program that you're coaching. For reference, similar schools by recent success and geography in the past six years: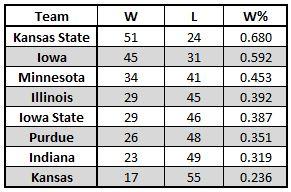 I've seen calls for accountability and clamoring of the acceptance of mediocrity and while I understand I also have to ask, is firing Paul Rhoads the only way to hold someone accountable for the slow motion train wreck in the last 26 months? And I would argue that accepting mediocrity only happens when the administration quits—not because an embattled coach is retained. To me there is only one question to ask, is the Iowa State football program better off to retain Paul Rhoads or not? It's a simple question, but all of the other information is just inputs to decode this situation and sometimes it seems to cloud the situation.
For as much as anyone thinks that keeping Paul Rhoads is an acceptance of mediocrity there is a second side to that coin. The national perception of Iowa State football and the memorable wins that Paul Rhoads has notched still weigh on the minds of the outsiders and that absolutely has an impact on any new coach considering coming to Ames. The job is already hard but if there is a feel that Paul Rhoads didn't get a fair shake—whether accurate or not—that will play heavily in to hiring a replacement. (See: Eustachy, Larry).
You know his record, you know that he hasn't won more than three conference games in a single season, you know he's lost to an FCS team each of the last two seasons, you know that Baylor beat Iowa State by a gazillion points in 2013, and you know that his fifth and sixth seasons have been a complete catastrophe. Now compile that information.
There have been two massive failings as I see it from the Paul Rhoads era. The first was unwisely promoting from within with Courtney Messingham replacing Tom Herman and the second is a bit more unproven. My theory is that Rhoads saw 2012 as a statement year, a year to compete for the upper half of the Big 12 and beyond, but that didn't quite happen. Iowa State still didn't have a quarterback but six games into the year they were 4-2 after a very close loss to a top five Kansas State team.
The following week ISU's offense struggled to produce in Stillwater and Jake Knott hurt his shoulder. He played valiantly in the next game against Baylor but from that point the season slipped away as did the dreams of Paul Rhoads. From there, he pushed too hard with how much he worked the guys. Things didn't go well so he worked them harder…just as he does with his own role.
That carried into 2013's spring game and the following fall camp where the guys were continually worked into the ground. By the time the season started they were already a tired football team and it showed against UNI and through much of the rest of the season.
Some of this has been mentioned in the public but much of it only danced around, I'm just putting the pieces together. This year we've heard a lot about keeping guys fresh and using new technology in practice to analytically keep tabs on the conditioning strain put on the players.
The important thing about those two failings is that they have both been rectified and corrected, which is good. But that doesn't mean that it isn't a day late and a dollar short for Rhoads.
Mesh his record and resume as compared to his peers with that of his predecessors at Iowa State. Whichever side of this discussion that you'd lump yourself into read the perspective of your counterparts and try to understand where they're coming from. Neither side is wrong.
In truth, we need each other. If the old guard of the fan base was running the ship we'd never see the facility improvements that we have seen or the aggression and ambition in which the athletic department has fueled the football beast in an effort to compete with the rest of the conference and country.
If the new generation of fans were the only fans we had the program wouldn't have near the stability or foundation underneath it. Or, a patience that allowed Dan McCarney to slowly build the program until he was finally able to break through in 2000. In his first three seasons in Ames, McCarney was just 6-27. In his fourth year he was able to finally beat Iowa to provide some sort of validation to what he was building but by year's end his first four seasons still had a record of just 9-35. Yet, we waited and we were eventually rewarded.
I'm not here to tell you how to think, I'm just trying to frame all portions of the argument correctly. Guessing (and it is guessing) whether firing Rhoads is better for the long term state of the program isn't an easy call. It's dependent on infinite variables, that he, a prospective new coach, and the AD have varying ability to control. Not to mention the need for timing and some luck to push everything in just the right direction.
Lastly, two points on the role of Jamie Pollard in all of this going forward. In his time here he has done innumerable great things for Iowa State's AD, facilities, and even coaching hires. I know there are some that question if he should get to hire the next football coach after "failing" with his first two hires. To that I ask, what is the barometer for success for hiring a successful coach? Is the only successful coaching hire one that places the coach at the university only to have indefinite success before resigning or retirement? That happens almost never in the grand scheme of things. Years five and six for Rhoads have been abysmal but his first four were far from that.
Second, Pollard is fiercely loyal but I also think he'll do what he has to do when he believes it is the right time, but no one should be surprised that he is backing Paul Rhoads right now when he had an extension in place for Gene Chizik after going 5-19 in his first two seasons.
That is the proper perspective of the situation as I see it. Land on your opinion as you see fit, but my suggestion is to keep the perspective that it should be founded on what is best in the long term, and also short term, of the Iowa State football program. We're all upset and frustrated and forced to question the whole operation but does that mean that Paul Rhoads is the wrong guy for Iowa State?
At this juncture if the coaching staff stays the same it seems as though nothing could possibly improve. I'm just not willing to jump on that train. Is there cause to fire Rhoads right now? Yes. Is that the solution to the woes of the Iowa State football program right now? That is the question that matters. It is certainly change but is it only for the sake of change born out of frustration and discontent? I'm not saying "be careful what you wish for", I'm just calling for an honest evaluation of whether or not Rhoads is the right guy for the job.
Neither side is wrong right now when there isn't a correct answer because that is dependent on future events that we have no way to know how they will play out. We all have the "Cyclone tight rope" to walk as we make our judgments.