It would be hard for Iowa State freshman Bryanna Fernstrom to dream of a better start to her college career than the one she had Sunday afternoon. The 6-foot-5 center from Center City, Minn. scored 12 of the Cyclones' first 14 points and finished with 25 – a new Iowa State record for points by a freshman in her first career game. 
Fernstrom's record setting day led the Cyclones to a 98-76 win over USC-Upstate and Iowa State's 20th consecutive season opening victory. 
"I hope that's not the best she ever plays, I don't know how she could play any better," said Iowa State head coach Bill Fennelly. "Everything she did was right. She made layups. We purposely ran the first two plays for her to get her the ball, made some shots, she sticks a three. It's a dream start."
Below: Bryanna Fernstrom (photo courtesy of Iowa State athletics)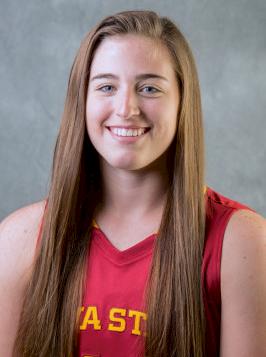 Fernstrom was making her first start after fellow freshman Claire Ricketts had started both of Iowa State's exhibition games, and even she was surprised by her performance. 
"The last couple games I hadn't been finishing very well," Fernstrom said. "I've been working hard in practice to start making my layups and I'm happy that they started going in."
It was just a coincidence that Fernstrom's family and high school teammates had made the trip for the game, but the decision to start Fernstrom came down to the numbers, according to Fennelly.
"It was just mainly a staff decision," Fennelly said. "Based on what we'd seen in the exhibition games – we stat every practice – so if you looked at her statistics in practice and in the exhibition games, she warranted the opportunity and to her credit, she made the most of it."
The Cyclones were aided by the return of senior guard Nikki Moody's nine points, five rebounds and three assists. Moody sat out the two exhibition games due to  a suspension.
Four other Cyclones joined Fernstrom in double-figures. 
Sophomore Seanna Johnson recorded 20 points and 10 rebounds while senior Brynn Williamson had 13 points and 12. Junior Kidd Blaskowsky and freshman Emily Durr had 10 points each. 
"The kids that we needed to play well to open the season, I thought Seanna, and Brynn, and Nikki, were really good," Fennelly said. "From start to finish."
While there were a lot of positives on the floor for the Cyclones on Sunday, there was one negative that was glaringly obvious to Fennelly.
"Defense was optional on our side of the ball today," Fennelly said. "We were atrocious defensively. We have got to get better real quickly."
USC-Upstate finished shooting 43 percent from the floor and also made nine 3-pointers, something that surprised Fennelly, and that was one factor in the poor defensive performance by the Cyclones.
"They shot the three a lot better than we thought," Fennelly said. "But we have got to be able to guard the ball. I mean, it was just like put their head down and drive to the basket."
The Cyclones have several things they need to clean up heading into their second game of the season when the Drake Bulldogs come to town on Tuesday for a 7 pm tip. According to Fennelly, there will be fewer mistakes with time.
"We got to clean up the silly stuff, three seconds, illegal screen, you know that kind of stuff," Fennelly said. "But that comes in time, it's got to be coached better, it's got to be emphasized more. Now you have it on video, now it wasn't an exhibition game so it counted."
With the second game of the season only a couple days away, the Cyclones will have a lot to fix in a short period of time, but that doesn't bother Fennelly. 
"Today it's real, and now we move on quickly," Fennelly said. "The great thing about basketball is usually you turn around quickly and play again, and we have a huge game Tuesday night against Drake, so we've got to get ready and we'll start tonight."