Remember that disgusting SEC vs. SEC, Alabama/LSU national championship game back in January of 2011?
Of course you do.
That single specific BCS calamity likely wouldn't have occurred had Iowa State not shocked No. 2 Oklahoma State, 37-31 in double-overtime on Nov. 18 – a win that is still viewed as one of the greatest upsets in college football history.
The trickle-down effect from that fateful night inside of Jack Trice Stadium is at the very least part of the reason why we will all witness a long overdue college football playoff for the first time in history this January.  
All of the above wouldn't have gone down without the 376 yards and three touchdown passes that Iowa State's up and coming redshirt freshman quarterback at the time – Jared Barnett – threw on that brisk night. 
Here's an off-the-wall idea for Iowa State when Senior Day 2014 rolls around on Saturday as the Cyclones host West Virginia at 11:00 a.m. (Fox Sports 1): In addition to the 16 seniors who will be honored, how about giving a formal tip of the hat to a man who led Iowa State to the most iconic win in school history and was also an original member of this class?
If Jared Barnett was good enough to help alter the future of college football then isn't he good enough to have his name read on Senior Day in Ames?
The story 
The Barnett story is unusual, sad and triumphant. Add all of the details together and frankly, it is fascinating. 
Following the Oklahoma State stunner, expectations for Barnett's budding career were sky-high – probably unfairly high actually.
Four-year starter? Heck yes, at the very least.
This is how the business of playing quarterback at that high of a level works.
The cliché that "quarterbacks get more credit than they deserve after a win and take more blame than they deserve after a loss" is as true as they come. That is exactly how Barnett, one of the most modest athletes in modern day Iowa State history, looks back on that special triumph. 
"The way I see it is, the defense played great and we did just enough to not screw everything up," Barnett joked in an interview with Cyclone Fanatic earlier this week. "It was very exciting and still to this day, three years later, when I watch those videos I get chills. It was definitely a great experience and a day that I am never going to forget."
Moving on to his sophomore campaign, Barnett lost his starting job not once, but twice to Steele Jantz during the 2012 season. Late in the year, a redshirt freshman named of Sam Richardson ended the season as Iowa State's starter in a trip to the Liberty Bowl.
It was in January of 2013 when the Garland, Texas native announced that he would transfer to Illinois State. Barnett started the first two games of the 2013 season at Illinois State, suffered a career-ending back injury, left Normal and is now finishing up his degree while making a real impact in the city of Longview, Texas. 
In addition to being the quarterbacks coach at Pinetree High School, Barnett teaches special education (in addition to co-teaching chemistry and biology) and works with at risk youth.
"They come from different backgrounds and some of them have different learning disabilities," Barnett said. "It's definitely a struggle trying to teach them things but the struggles that I have with them in the classroom are great. They are definitely learning from me and that is always great. I get really excited when I see them excel." 
Hard feelings?
Nobody would have blamed Barnett for being bitter about how things ended for him in Ames. Iowa State's quarterback carousel during the 2011 and 2012 seasons was as unorganized as a game of Twister.
Had he stayed, would Barnett have been Iowa State's quarterback of the future?
That is an impossible question to answer but an easy one to ponder. 
There is no doubt though about the fact that to the end, Barnett was one of the most popular men in Iowa State's locker room – a locker room where he is still beloved today.
"I still talk to him," senior center Tom Farniok said. "I still really like him. A great guy. I wish he was still here. Solid player."
The story is so bizarre when you consider that as a rookie, Barnett led a program that lacks much real football tradition to its brightest day, but still could never seem to have a secure hold of the starting job.
Steele Jantz had a size advantage and the bigger arm of the two. Jantz had flash while Barnett, an underdog physically, was the intangibles guy and without question was the stronger leader of the two.  
With the emergence of Richardson, Barnett however saw the writing on the wall and left for Illinois State where he thought he would see more playing time for the final two years of his career.
The obvious question: Does he regret it?
"As I sit here now and see that I am doing something that I kind of felt like I would be doing and I love it, it sucks that I'm not playing anymore but I feel like everything happens for a reason," Barnett said. "There is definitely a reason why I left and there is a reason why I couldn't continue playing at Illinois State. I do look back and think at times that yeah, maybe I should have stayed or I could have done this and this different but from where I am sitting now, I feel like I am in a really good place. I am really happy with what I am doing."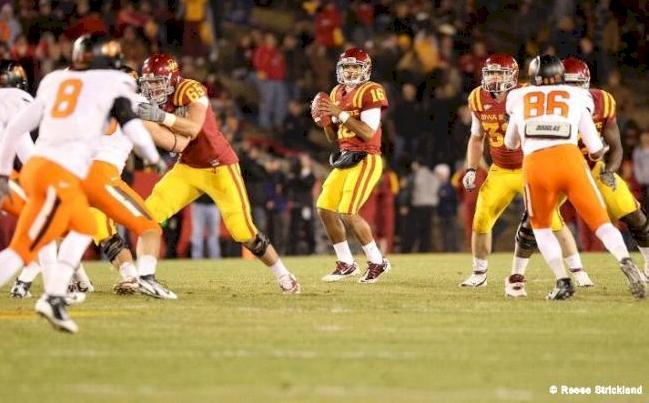 Once a Cyclone, always a Cyclone
While Barnett's job as an assistant high school football coach in the intense state of Texas keeps him busy on most Saturdays, he still intently follows the Iowa State football program. If it is checking scores on his phone, watching as many games as he can or conversing with his friends that are still on the team, Barnett is very much plugged in to the Cyclone Nation.
"I talk to Sam (Richardson) a lot," Barnett said. "I still talk to Brandon Jensen a lot. I just like to see how things are going. I talked to (Tom) Farniok just last week about things. I definitely keep in touch. Those are some of the best friends I had when I was there." 
The current relationship between Barnett and Richardson just might be the most refreshing aspect of this story. When Richardson erupted onto the scene at Kansas in 2012 with four touchdown passes in relief of a concussed Jantz, Barnett's spot at Iowa State's quarterback in 2013 and beyond was in serious jeopardy.  
Barnett left Ames but impressively was never bitter about how things went down. In fact, to this day he is Richardson's biggest fan. 
"When I was there, Sam was like a little brother to me," Barnett said. "He always asked for my advice and a lot of times, I asked for his advice. Seeing him play now is rewarding for me because I kind of feel like I was there to help mature him when he was the younger guy and a younger quarterback."
The feeling is very mutual. 
"Pretty close," Richardson said of the relationship. "They (the Barnett's) keep in contact with me and my family. Anytime we have games down there near them in Texas, I'll see them after the games and what not. But, yeah, we were pretty close, pretty close friends."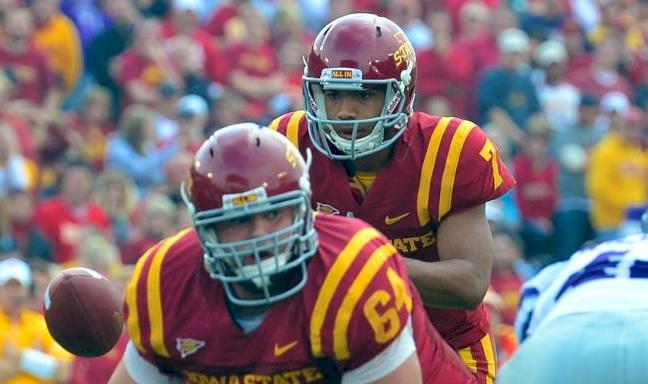 So long seniors
Barnett won't be in Ames on Saturday but from east Texas, he will be watching and rooting for the Cyclones.
"I wish I could be there so I could see all of those guys that I came in with," Barnett said. "I wish I could see the pregame festivities and stuff but I will be watching the game and I will be cheering them on just like I always have."
During a 20-minute interview with Iowa State's former quarterback, Barnett made things very clear – that he will always been a Cyclone. On Senior Day, while Iowa State won't formally honor "JB," don't forget about this humble young man's accomplishments while donning the cardinal and gold.
The Jared Barnett/Iowa State story didn't exactly work out the way that anybody had planned but based off of one November night in 2011, one can argue that Barnett made as large of an impact on this senior class as anybody.