AMES — College basketball's National Signing Day was fairly uneventful for Iowa State. Fred Hoiberg only signed one prospect to his 2014 recruiting class and while it is way too early to go making any judgments, all indications point to him being a good one.
Overland Park, Kan. point guard Clayton Custer of Blue Valley Northwest High School committed to Hoiberg almost exactly a year ago (Nov. 19, 2012) and over that period of time, the 6-foot-1 floor general never wavered.
"I am really proud that I stuck with it for so long," Custer told CycloneFanatic.com on Wednesday morning. "I never hesitated or anything. I always wanted to go to Iowa State so to put the pen to the paper to make it official was exciting."
Custer admitted that a few other schools tried to get him to re-think his decision after committing to the Cyclones but not once did he ever consider backing out on his pledge. From day one, playing college ball for Hoiberg was a priority of Custer's and there is a good chance that the two-time defending Kansas state champion will be a contributor as early as his true freshman season.
"Clayton gives us another great option at the point guard spot," Hoiberg said. "Obviously we have been pleased with what Monte Morris has given us early on this season. Clayton gives us another option in the backcourt as a pure point guard who I think can play with Monte." 
The plan is that within Iowa State's up-tempo, run and gun style of play. A future backcourt of Custer and Morris would feature two point guards who possess the ability to score, which is exciting to Hoiberg. 
Custer's Blue Valley Northwest high school team went 25-0 last season. He led the way averaging 22.2 points per game and shot 39 percent from 3-point range.
"I think that my job will be more of a score if a need to but the main thing will be to make my teammates better," Custer said of his future role. "My strength is going in there and making people look good and making others play better. If I can go in there and lead and distribute, that's what I need to do."
Custer chose Iowa State over offers from Kansas State, Oklahoma State and Oklahoma. He plans to be on campus this weekend when the Cyclones host seventh-ranked Michigan.
Heralded 2014 prospect Rashad Vaughn and fellow commit (and Marquette transfer) Jameel McKay are scheduled to be on campus as well. 
"I am going to put my recruiting hat on," Custer said.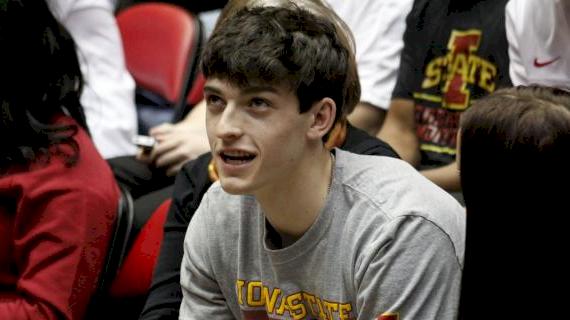 What to work on?
At 170 pounds currently, Custer needs to get stronger. That will be his focus from now until the time that he steps foot on Iowa State's campus in the summer. 
"I want to stay quick but still put some meat on so I don't get bumped off of the ball or anything," Custer said. "I will obviously keep shooting. I want to become a really good 3-point shooter. I want everybody to think it is going in every time I put it up. I will get in the gym, shoot a lot of threes and work on my body." 
Custer nearly made 40 percent of his 3-point shots a season ago. His goal as a senior is to make half of them.
"I hope it is 50 percent but who knows? There are times where I will be the one taking a shot at the end of the half so they will be tough shots so that might bring it down a bit," Custer said. "I think that is a good goal."
A targeted man 
Heading into his senior season, Custer has already played in three-straight Kansas 6A state title games. After going 25-0 a season ago and currently being ranked the 18th best high school team in the country by USA TODAY, there's no question that Custer will have a target on his back in every game he competes in this season.
"Ever since I have been in high school we have always had a target on our backs," Custer said. "It is nice to get recognized like that because we aren't the biggest most athletic team that you will see but we know we can play with the best teams. We all believe that. For them to put us up there with the best teams in the country is nice."
Blue Valley Northwest returns all five starters from last year's championship team.