This Iowa State football game preview/prediction is brought to you by our good friends at Fareway. Click on the above ad for awesome tailgate recipes for the upcoming tailgate season. 

What: Iowa State vs. Northern Iowa
Where: Jack Trice Stadium
When: Saturday, Aug. 31 at 7 p.m.
TV: Cyclones.tv powered by Mediacom
—————————————————————————————————————————————–
Those pesky, persistent, purple Panthers…
Break down the match-ups as many times as you want, but the intangibles surrounding Iowa State's season-opener against UNI don't really matter. The year, the teams, the weather, the venue, whatever – UNI nearly always plays well against FBS competition.
Iowa knows this (remembered the blocked field goals?). Wisconsin knows this (the Badgers only beat UNI by five last season). Obviously, Iowa State is fully aware this Panther peskiness all too well. Remember 2011's Steele Jantz miracle? (That is exactly what it was – miracle handed down from the football Gods to the Cyclone Nation. Iowa State didn't deserve to win that football game.) 
"They are gritty," Iowa State running back Jeff Woody said to describe the Panthers. "They are undermanned because of scholarships but that does not mean that they are undermanned because of talent." 
If an Iowa State opener against Mark Farley doesn't insert fear into you, the Cyclone Fanatic hanging out on this awesome website, then it at the very least should make you sweat just a little – especially when you consider the vast amount of youth that is present on Paul Rhoads' 2013 roster.  
Enough talk. No more jibber-jabber. The long and insufferable college football offseason has come to an end. 2013 is finally here, and so is your preview for Iowa State vs. Northern Iowa. 
The Panthers will win if…
…They run the football at will against Iowa State's young and unproven defense.
"First and foremost, we have to stop the run," Iowa State defensive coordinator Wally Burnham said regarding his team's game plan. "That's where we'll start and hopefully where it ends."
For UNI, it all begins with its 6-foot-3, 214-pound running back David Johnson, who ran for 18 touchdowns last season while only starting seven games. 
"He is an outstanding football player," Paul Rhoads said. "We looked very impressively at him coming out of high school and know the talent that he possesses. He hurt us two years ago and we know very much what he is capable of." 
Johnson scored touchdowns (one rushing, one receiving) in that 2011 Iowa State/UNI tussle.
But of course, you can't run the ball without a quality offensive line and that has to be a concern for UNI heading into its 2013 campaign. The Panthers only return two starters from last year's line on a team that went 5-6.
"I know that they lost three starters, two tackles and a center," Burnham said. "That will never help you, unless you can just reload and not many of us can. You'll probably have some inexperience there. I don't know that. They are well coached."
The average weight of a UNI offensive lineman is 285 pounds (compared to Iowa State's average of 298). It's a smaller, FCS-style line but don't let that lack of size fool you. Their lines are always undersized and for the most part, are nearly always effective. 
"They are in-sync with what they do," Burnham said. "You don't see many guys going the wrong way or screwing up too many times. They are always together and are well coached. It will be a fight."
Establishing a running game is key for UNI for the obvious reasons but none are more important than opening the game up for sophomore quarterback Sawyer Kollmorgen. The 6-foot-2, 215-pound Jenks, Okla. native threw 21 touchdowns to only eight interceptions during his rookie campaign, with 2,450 yards to boot. The most important Kollmorgen stat a guy can throw out there comes from 2012's season-opener in Madison, Wisc., where the then-rookie tossed three touchdown passes (to zero interceptions) in a 26-21 loss to the Badgers. That was Kollmorgen's first college game ever. Don't expect a raucous Jack Trice Stadium crowd to rattle UNI's quarterback.
"I think he is probably one of the better quarterbacks that we will see," Burnham said. "The quarterback has all of the throws. He, in my estimation, is a division one football player."
Of course, running the football isn't the only key to a UNI upset of Iowa State on Saturday night. As always, the FCS Panthers will have plenty of obstacles like the crowd, a depth disadvantage and size issues to overcome. But when putting together the anatomy of this possible upset, establishing the run early and wearing down Iowa State's young defense is clearly going to be an objective of the Panthers early on Saturday evening.

Quotable…
Paul Rhoads on his team's comeback win over UNI in 2011…
"That game was a dogfight, which we expected. We expect this one to be a dogfight. Do we use it as motivation? Do we count on it? We don't need to. Our players have a huge amount of respect for the Northern Iowa football program and we have their focus as we go through this week."
The Cyclones will win if…
…They don't give up the "cheap ones."
Let's go back to 2011, a 20-19 Cyclone victory for a moment shall we? The only reason that the game went down to the wire like it did was because Iowa State and surprisingly, then junior linebacker Jake Knott got burnt on a Tirrell Rennie to David Johnson 80-yard bomb with 4:17 to go in the game. 
"We let them get a couple of cheap ones on us the last time that we played them," Burnham said. "They run a lot of individual routes on your linebackers. They run a lot on the MIKE linebacker. They'll work on your WILL linebacker. You've got to be careful when you get into some man coverages. It can be tough if they catch you."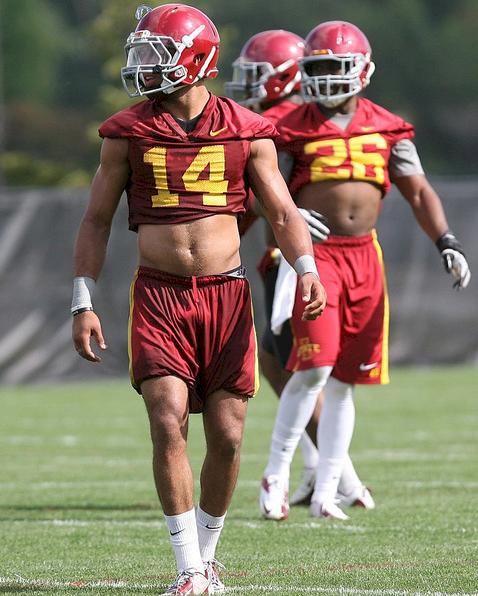 Above: Junior LB Jared Brackens will start his game as a Cyclone on Saturday. 
If something like that could happen to Knott, who is widely known as one of the smartest football players to ever play at Iowa State, then it absolutely has to be a concern heading into Saturday.
Offensively, Iowa State's story is similar to UNI's. The Cyclones need to do something that they haven't done well against the Panthers in their last two meetings, which is run the football. Iowa State only ran for 141 yards two years ago, and 117 in 2010. 
As it always is, UNI's defensive line will be undersized on Saturday night. Across UNI's front-four, the weights of Mark Farley's starters go like this: 249, 248, 311 and 241. But Farley knows this and that's why game planning for UNI is traditionally difficult.
"They play all sorts of games." Woody said. "They will slant, twist, blitz, bring two guys off of one side and slant the d-end all the way across to the other side of the formation and bring the other d-end in the middle of the formation."
What UNI lacks in size, they make up for with quickness, which is often times confusing and difficult for a bigger, more physical FBS line like the Cyclones will throw out there this weekend. 
"One thing you want to watch on Saturday is that their defensive line will not play a straight gap," Woody said. "They are going to play a slant, an angle, a pinch, some kind of different technique that you wouldn't expect."
So here we are again, back in the trenches. Sure, Sam Richardson has to protect the football. A running back making a guy miss once or twice would be nice.  But when these two teams get together, more often than not, what happens at the line-of-scrimmage is what dictates the outcome of the game.
Three key storylines to watch for…
Aaron Wimberly – There isn't a guy I am more excited to finally see in action than junior running back Aaron Wimberly. Where will he line up? How many carries will he get? How involved with he be in the passing game? 
Wimberly's teammate in the backfield, Jeff Woody, semi-reluctantly did his part in throwing more fuel on the Wimberly hype machine fire earlier this week.
"Aaron is a guy that just can burn," Woody said. "I think the only person I've seen in person and this is kind of a lofty comparison but the only other person that I've seen run as fast as he does in person is Tavon Austin." 
Wait…What? Like, former West Virginia wide out Tavon Austin?
Hello.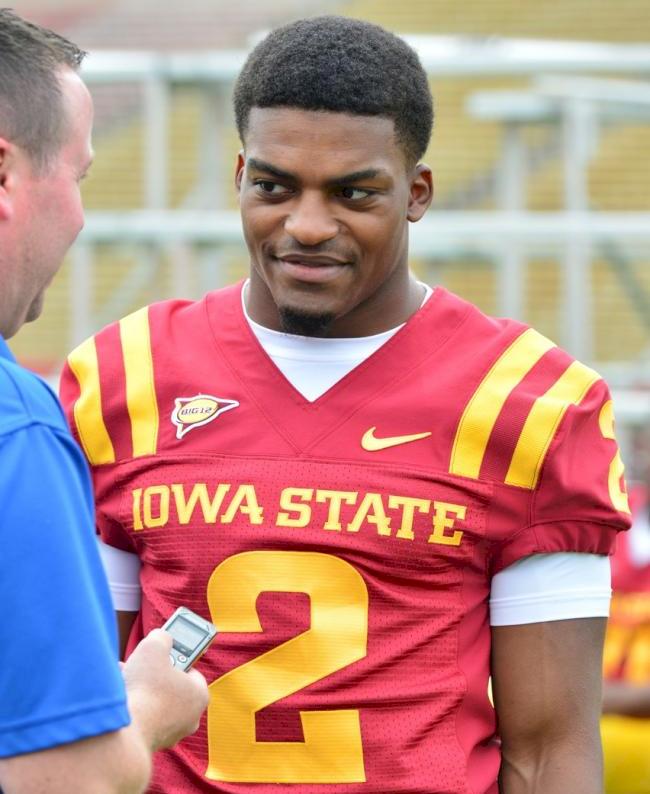 The heat – No, I don't think that this is being overblown. Iowa State has 85 scholarship players on its roster. UNI only has 65. On Monday, Paul Rhoads noted that the heat wouldn't favor one team over the other. I disagree. Especially up front, Iowa State has a lot more depth than UNI. It's Big 12 depth. The heat definitely favors Iowa State, in my opinion.
Defensive line/running back rotations –Willie Scott, David Irving, Brandon Jensen and Cory Morrissey have been listed as starters on Iowa State's defensive line. However, I'm confident that Rodney Coe, Austin Krick, Walter Woods, Nick Kron and Mitchell Meyers will all see the field. Who will play how many snaps? What will this rotation look like?
And the same goes for running back.
"It's a very tight race and we'll actually discuss more at the end of the week, the exact plan going into the 7:05 kickoff and how many series/snaps/personnel on the field, things like that," Rhoads said on Monday. "James, as a two-time captain and multiple year player in our program, deserves the starting nod. That's why he's listed at the top but you're going to see a bunch of them."
Notebook
Let's take a trip down memory lane…
*** In Iowa State's 27-0 victory over UNI in 2010, the Cyclones scored two defensive touchdowns in the win. Jeremy Reeves and A.J. Klein both returned third quarter interceptions for touchdowns that ultimately iced the Iowa State victory.
*** Iowa State's starting quarterback Austen Arnaud was injured early in that game. He was relieved by backup Jerome Tiller, who completed 11-of-22 passes in the game.
*** UNI won the time of possession battle 35:16 to 24:44 in 2011's contest.
*** UNI returns 13 starters from last season. Seven on offense. Six on defense. 
*** UNI was ranked third in the 2013 Missouri Valley Football Conference Preseason Poll. 
Prediction
For the last 1,700 words, I've done my best to convince you that under no circumstance whatsoever should Iowa State overlook the UNI Panthers. And I mean that. But even so, something tells me that Iowa State might cruise to a fairly comfortable victory when the fourth quarter rolls around in this one.
UNI has division one caliber players at quarterback and running back. Its linebacking and secondary units are like facing another FBS team. But if I'm a UNI fan seriously looking into this match-up, the trenches scare me. They scare me for a few reasons and yes, the heat is one of them. If there's one time in which the 85-to-65 scholarships would come into play in this game, this scenario is it.
UNI has questions on its offensive line. It has questions on its defensive line. Because of that, I see Iowa State wearing down the Panthers midway through the third quarter and winning by double digits.
The pick
Iowa State 34, UNI 17