At approximately 7:57 on Wednesday evening, I tweeted the following:
"Anybody else feel a vintage Iowa State groin shot coming tonight? Hope I'm wrong…."
That was right after Oklahoma State's Marcus Smart buried a ¾ court shot at the end of the first half that cut Iowa State's lead from seven to four at the break (remember that Iowa State only lost by two points, a 78-76 final). 
I caught hell from dozens of you.
"Thanks for jinxing us Williams," many of you wrote. 
Stuff like that, although a handful of you used language that I prefer to keep off of Cyclone Fanatic's front page. 
But many of you knew exactly what I was talking about and agreed. The feeling was in the air. I was attending our Cyclone Fanatic game watch party at the Keg Stand. Folks there were bracing themselves for either one huge party, or a rotten stomach.
At the point when I sent that tweet out, we all at least had a backup. The Iowa State women were up by 18 points at Kansas at the time. At the very least, Bill Fennelly's team was guaranteed to solidify an important road win heading into the month of February…
…And boom goes the dynamite.
Here are a few thoughts on the brutal night that was in Iowa State athletics…
————————————————————————————————————————————
*** Seventeen assists on 28 field goals? I'll take that any day of the week and 15 times on Sunday. The Cyclones played an unselfish basketball game on a night when Chris Babb played the best game of his career. Babb was brilliant, converting on 5-of-6 3-point attempts, scoring 19 points and limiting Markel Brown and Le'Bryan Nash for Oklahoma State (I encourage you to read more about that in today's blog by Steve Malchow).
It's those 17 pesky turnovers that doomed Iowa State.
The Cyclones are still in a good spot to reach the NCAA Tournament going forward in my opinion.
Heck, I didn't think that Iowa State would win going into last night anyway. All week long, my theory was that Oklahoma State would be the toughest remaining road trip for the Cyclones. Upcoming trips to Kansas State, Texas, Oklahoma and West Virginia are all still very winnable. In fact, if you ask me right now, I'd venture to say I like Iowa State in two of those games (pick your two – it's a toss-up). In my mind, Oklahoma State is by far the worst match-up of all of those teams for Iowa State.
Unfortunately, that game played out exactly like I thought it would, with a kick to the you know what at the end. 
*** Despite what many say, this team isn't a bad road team. It's a team that thrives in the spotlight. Last night, the pressure was on and for the most part, Iowa State showed up. The pressure is going to be on every night out for the rest of the season. It's a resiliant group that I believe will respond. 
The problem I have with this team is that as we enter the month of February, the "what ifs" are starting to really stack up (Kansas, Texas Tech and now Oklahoma State). It's very of reminiscent of football actually (Kansas State immediately comes to my mind).
*** You hate to waste that kind of a night by Chris Babb and not win.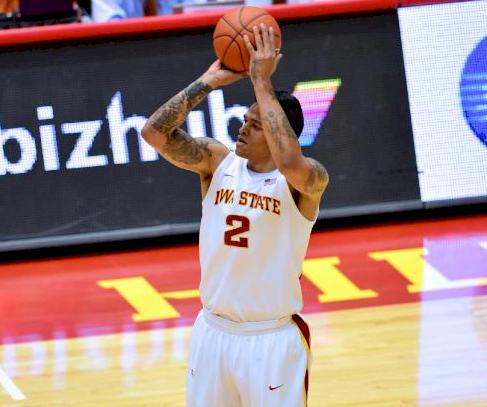 *** How good is Georges Niang? The rookie went 6-for-7 last night scoring 16 points with eight rebounds along the way. He played 29 minutes after getting into early foul trouble last night. Other than Babb, there wasn't a more valuable player on the court last night for Iowa State. He's gotten better as the season has gone on and the competition has picked up too. He's a special, special player.
*** It was good to see Percy Gibson finally snap out of whatever funk he had been in last night. The sophomore went 3-for-6 and scored seven points in the loss. Iowa State will need him to produce like that down the stretch. Anthony Booker notably did not play for the second straight game.
*** Phil BLEEPING Forte. 
*** I'm not one to pile on officials. It's not my style. But good gosh, that "excessive jumping" (or whatever) call on Melvin Ejim towards the end of the game was one of the worst I've ever seen. I was watching the game with one of my best friends and the world's biggest referee apologist Brent Blum, who even thought that call was horrible. 
*** 17 turnovers…
*** The Kansas women shot 62.5 percent in the second half last night against the Cyclones. As Bill Fennelly put it after the game (I'm paraphrasing here), Iowa State played no defense in the second 20 minutes.
*** Another reason why I love Fennelly – in his postgame interview on the Cyclone Radio Network, his opening statements went along the lines of, "This team isn't coached very well." 
He shouldered the blame for blowing a lead like that. Fennelly, one of the all-time greats, always has a way of sending messages. He's great at it. 
*** What did we learn last night about the Iowa State women? Point guard Nikki Moody is more valuable than we ever thought she was. I didn't watch the game but apparently when she left due to foul trouble, that's when the implosion began.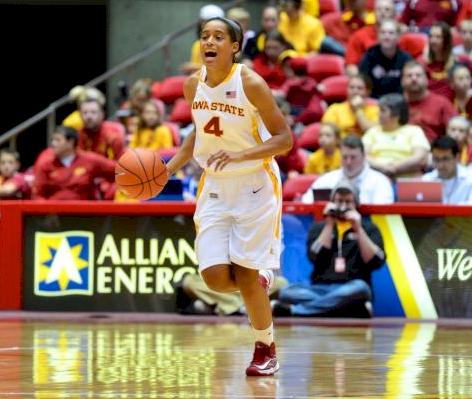 *** Who's ready for a huge day on Saturday? Texas Tech comes to town to take on the women at one. At seven, the men get Baylor (who lost a home game to Oklahoma last night by the way). It will be a big, big day. In fact, every home game (for both teams) is critical from here on out. Neither team should lose another game at home. Sure – Kansas just might be the No. 1 team in America when it comes to Hilton on Feb. 25 but it's still a very winnable game for the Cyclones. Gotta win at home. Steal one or two on the road and this team will be just fine.
*** Get ready for a lot more Iowa State basketball talk on tonight's Cyclone Fanatic/Wilson Toyota Radio Show heard from 7-8 on 1460 KXNO, LIVE from BenchWarmers Sports Bar in Ankney. Brent Blum and Tron Smith will join me and we'll hash out all of the recent happenings in Iowa State athletics.