Times sure have changed.
To state the obvious, I love the Internet. This tool that you're using right now allows me to do what I love to do for a living. But at times, it isn't always a great thing either. Just take Saturday night for instance.
I was in Kansas City for a close friend's wedding. My wife begged me to "unplug" for the day and for the most part, I did. However just like any of you would, I had my cell phone in my pocket at the reception, you know, just in case somebody needed to get ahold of me. I wasn't checking scores or anything like that (that she knows of – of course). 
While enjoying a cocktail or two and catching up with some old friends, I felt the buzz of a text message on my leg. I ignored it. But then I felt another. And another. And another. That's mathematically challenged fanatics out there. 
"Paul Rhoads to Wisconsin?"
"There's a lot of smoke this time."
You get the picture. I actually never saw it, but supposedly Jake Knott tweeted, "Change is coming."
It was at this point when a few others (meaning random people on Twitter at that point in time) caught on, the Rhoads to Wisconsin chatter picked up steam and all hell had officially broken loose. Of course Knott caught wind of this false news that he didn't know he was breaking to the Cyclone Nation and went on to explain the meaning of the tweet. It had nothing to do with Paul Rhoads. Nothing at all. 
The rest was history but for a good hour on Saturday night, the Cyclone Nation was in full freak out mode becaue of Knott's upcoming training routine to prepare for the NFL Draft. 
"Change is coming." Oh the things that could mean…
Maybe he ordered a different sub than the always reliable Italian NightClub at Jimmy John's? Perhaps Jake had a haircut scheduled for Sunday and was going to change things up a tad. Or maybe this change had to do with his mom's famous cookies (Mrs. Knott has brought cookies to Tron Smith and me for our pregame show numerous times. They are fan-freaking-tastic.). Maybe the Knott's were baking on Sunday and electing to go away with sugar cookies this year while opting for a gingerbread family of football players instead? 
Again – I love the Internet. I love Twitter. I'll be the last to complain about either. But I really wish there was something we could do about this ever-growing trend of hanging on every single word of a student-athlete's Twitter account for Facebook status. It's just not good for anybody. These guys and gals have lives outside of the sports you so passionately follow.
What's sad is that some random guy in England with three followers could have sent out a tweet about Paul Rhoads just to troll everybody in Iowa and you know what? It would have caused a stir at that point in time on Saturday night. 
This debate is just like anything in life really. With the good of a social network like Twitter, comes bad. But oh yes, times have changed.
On Iowa State Football…
— The Rhoads/Wisconsin rumor mill did reaffirm one thingover the last week. That's just how much this fan base loves its football coach. And if you haven't seen it yet, Rhoads shot down the rumors in a media session last night. You can read about it by CLICKING HERE.
— It's hard not to hurt for Shontrelle Johnson today. For those who only know him as the football player, let me assure you that he's a fantastic kid. I've never talked to Shontrelle when he wasn't smiling. From the day he stepped on campus, Shontrelle has been one of the nicest kids I've ever interviewed. If he was a true freshman full of P and V or that veteran attempting to come back from a possible career-ending neck injury, Shontrelle was happy with a positive attitude on life in general.
Now, No. 21 will attempt to come back from what Rhoads made sound like a pretty significant knee injury (Rhoads never actually gave specifics on what it was) during Sunday night's media session.I'll put my money on Shontrelle coming back as strong as ever from this. His attitude is just too positive to think otherwise.
Iowa State's running backs coach Ken Pope has to be happy. With all of the young talent that Iowa State has stockpiled at that position within the program, those guys are learning from an absolute class act.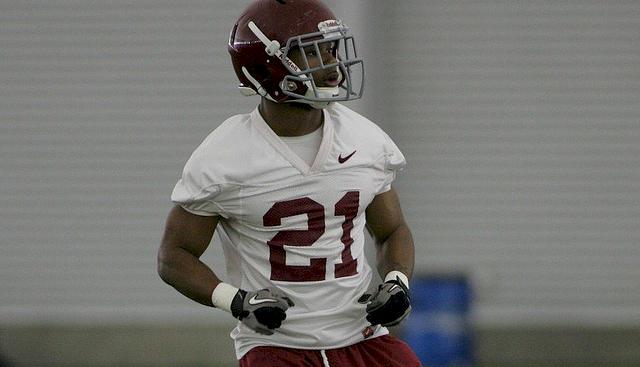 — While we're on the topic of running backs, a massive sigh of relief was let out in Ames last night when IWCC back Aaron Wimberly re-committed to Iowa State. Where he'll fit in next season, I can't exactly tell you yet. All I know is that Wimberly, who is expected to sign with Iowa State on Wednesday and attend spring practice, had additional offers from Boise State, TCU and Penn State. If Chris Peterson, Gary Patterson and Bill O'Brien want him at their perspective programs, they'll sure as heck find a spot for him to thrive at in Ames.
— I read a lot of chatter on the boards recently about Wimberly's recruitment. You see he originally committed to Iowa State on Aug. 22. Then, he started flirting with those schools mentioned above.
I see that some of have taken the, "if he doesn't want to be here, we don't want him," stance.
To a point, you are right. No. You don't want guys in your program who don't want to be there. But at the same time, can you really blame a 20 or 21-year-old kid for weighing the options of what could potentially be the biggest decision of his career (assuming that he wants to be a pro someday). 
Sure. We'd all like to believe that if a kid makes a verbal commitment that it is a stone cold lock. But that's just not realistic. Recruiting never ends anymore. Even when a young man or woman steps foot on campus, with transfer rates that we're seeing across the board in college sports, you still have to recruit that student-athlete.
I'm fine with Wimberly looking around. At least now when he arrives in Ames, he'll know that he's seen what there is to see. What could have been wandering eyes even after a signing will now be 100 percent focused on football.
On the Big Four Classic…
— Going into the weekend's inaugural "Big Four Classic," I think that I made my feelings pretty clear on the event. I wasn't a big fan. I like the in-state games the way we've seen them since I remember watching sports on TV as a kid. BUT, I also understood the decision that Iowa State and Iowa needed to make. 
I fully understand why a diehard UNI fan would be at least a little jaded about it but boycotting the event is a little ridiculous. You're only hurting your team at that point. In fact, the Panthers and Bulldogs are lucky that Iowa State and Iowa agree to play them at all. Kansas State and Kansas sure as hell aren't making trips to Wichita every other year. In fact, neither have Wichita State on the schedule at all this season. And that's just one example. 
I can't give much analysis on how Saturday played out as I wasn't there to see it first-hand. But it sounds as if this is as good as we'll (Iowans) get from now on. When you consider all of the factors at play here, I'm okay with that too.