AMES — Welcome to what very well might be the busiest week of the year in Iowa State athletics Cyclone Nation.
Of course there's the big Black Friday football contest with West Virginia on Friday. Men's basketball has a home tune-up vs. North Carolina A&T on Tuesday before heading to Vegas for holiday tournament games on Friday and Saturday. And last but certainly not least, our friends with the women's basketball program are currently faced with the tough task of a trip to the Bahamas this week.
Must. Be. Rough.
It's a busy week but a good week to be hanging out here at CycloneFanatic.com.
Before I get into this week's musings, I want to give a shout out to the over 150 fanatics that went on our inaugural charter trip this past weekend in Lawrence. Due to work obligations, I headed south on Friday but had a chance to meet up with everybody in the tailgate lots on Saturday afternoon. What a group!
Major props go out to our Director of Sales, Adam Gray, for organizing and implementing a first-class trip. Gray deserves all of the credit for the way this went down. 
Also, a big thanks goes out to Tron Smith from Wilson Toyota of Ames for heading up one of the busses. Tron is not only my radio partner, but a good personal friend who took time out of his busy schedule to help out Cyclone Fanatic. We really, really appreciate it big guy!
If you're reading this, there are some hella good Camry lease deals going on right now. Go buy from the big man! 
And also, I'd like to thank my parents, who drove from Clarinda to Ankeny, chaperoned one of the busses down to Lawrence, went back to Ankeny and back to Clarinda in a 24-hour span. Rumor has it, dad got his bus rocking by playing "Who Let the Dogs Out" on the loud speaker numerous times. Epic! My parents are awesome and I love them so much. 
Thanks again everybody and we hope to do it again real soon. If you didn't make the trip, here's a picture of the entire group before the game.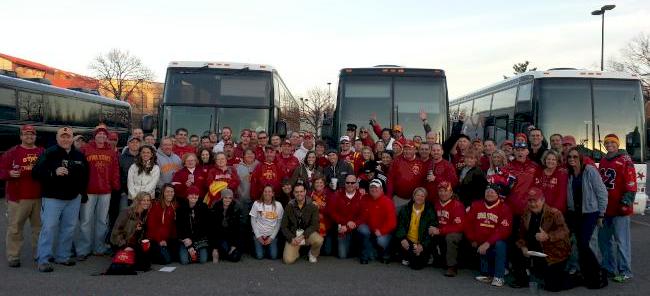 ON IOWA STATE FOOTBALL…
— After having a day to reflect on Sam Richardson's brilliant, 23-for-27, five-touchdown (four passing, one rushing) performance in Iowa State's 51-23 rout of Kansas, I couldn't help but think back to a conversation I had with former Cyclone offensive coordinator Tom Herman on the day in fall camp when Paul Rhoads named Steele Jantz his starting quarterback prior to the 2011 season.
The date was Aug. 22, 2011 to be exact. Here's a quick blog that I wrote about Richardson, who had only been on campus for a few months. 
Barring an utter disaster, you probably won't see this 6-foot-1, 198-pound rookie play for the Cyclones in 2011. But he could be Iowa State's quarterback of the future.
Offensive coordinator and quarterbacks coach Tom Herman has seen a lot over the years.
On Saturday night, he referred to Richardson as possibly the smartest true freshman quarterback he has ever been around.
It all began on day five of training camp. In a quarterback's only film session, Herman hit pause and decided to put the freshman on the spot for the first time.
"It's three down, we are in this protection," Herman said to Richardson. "Who is the ID? Who is back-blocking? Who is the o-line blocking? Where are your hot spots?"
How'd he do?
"He just bam, bam, bam bam. He spit it all out to me," Herman said. "I was like, 'Holy smokes!"'
"I thought that I would have to teach him. He just spit answer after answer after answer. He got it right. It is refreshing."
For most young quarterbacks, studying protections, routes, hot-reads, etc. is a chore. That's not the case for Richardson, who Herman says "just likes being a quarterback."
"I don't know a better way to say that. He has a personality where he likes football. He likes knowing that stuff."
—————–
What exactly does this mean? Honestly – I have no clue. Again though, I couldn't get that conversation with Herman, a man with a football mind I greatly respect, out of my mind after Saturday's big win.
By no means does one phenomenal performance against a suspect defense mean that Richardson will go down as the greatest quarterback in Iowa State history. I'm not trying to be Mr. Hype Man here. I'm just pointing out what Iowa State's coaching staff saw in Richardson from day one, a savvy young man.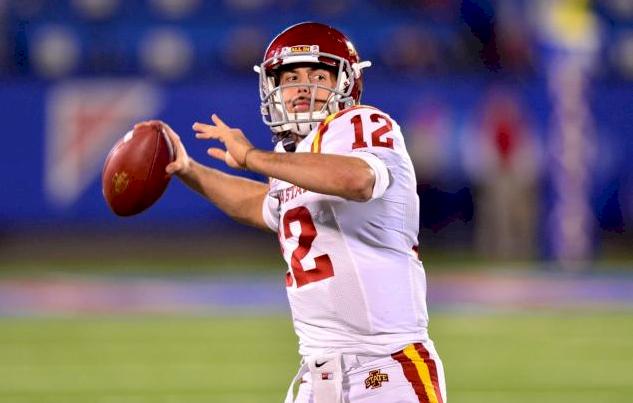 — More on Richardson…I had never been around him much until today's media session. The kids are calling him "Sunshine." It makes sense. By all means, Sam appears to be one laid-back cool dude.
— I'm not buying this quarterback competition chatter early in the week. During his press conference on Monday, Rhoads agreed that Richardson has an "edge" on the others when it comes to getting the start on Friday. I'd say… 
— I'm geeked that Iowa State is playing on Black Friday. I have fond memories from my childhood of watching games on the day after Thanksgiving. It was a tradition in the Williams house. Wake up, watch Texas vs. Texas A&M, watch the Skers take on Colorado and then head to Clarinda's annual "Parade of Lights" on the town square. 
I had a conversation with John "The Godfather" Walters earlier today about Iowa State's big opportunity to play in front of what truly will be a national audience on Friday. No regional television. National television on a network…Not ESPN…
It's a big deal. Let's hope that it's a good show and this becomes a college football tradition.
— As far as bowl projections go, I'm seeing a lot of Iowa State/Pinstripe Bowl chatter. In my very amateur opinion, that's nonsense. That's a lose-lose situation for everybody. New York put on a heck of a bowl game last year. It was a once in a lifetime opportunity for all who made the trip. But New York knows who they are. New York. It would do them no good to invite Iowa State back to the Big Apple. I just don't see this happening.
— So do you remember the stories of Iowa State's scheduling of Utah, UConn and Tulsa back in the day? You know, those programs weren't any good when the contracts were signed?
Here's a good one for you. The Spartans went 1-11 in 2010. They tallied a 5-7 mark last year. 2012? San Jose State is currently 9-2.
Why should you give a rip about this? Full disclosure – you probably shouldn't. But I'm a little bit sick in the head. You see, I look ahead to Iowa State's future schedules and examine non-conference foes from time-to-time.
San Jose State will come to Ames in 2016 as the Cyclones will make a return trip in 2017.
Now we all know that A LOT can and will happen between now and then. But for you nutty diehards out there, it's something to be paranoid about for the next four years.
RANDOMS…
— I'm not going to go into this much but I figured I had to at least touch on the latest round of realignment. So Maryland and Rutgers are going to the Big Ten?
Okay. Whatever. 
What I found interesting about this story was the tidbit that came out yesterday – implying that Florida State and Maryland were the only two schools that recently voted AGAINST raising the buyout fee in the ACC to $50 million.
Maryland is now gone. What about the Noles? Remember all of that smoke over the summer months? This confirms to me even more that some sort of flirting between FSU and the Big 12 was going down. To what extent, I have no idea.
Personally, I love the current setup of the Big 12. However, I also feel like at some point when every conference is growing to 14 and you're the Big 12 at 10, you're like that old newspaper writer who refuses to get on Twitter.
It's a good thing men and women much smarter than me are making these types of decisions.
As is always the case with realignment, stay tuned.
— You want to know how comfortable I am with who I am? I went to see the new Twilight movie with my wife yesterday. Yep. I just admitted that to the world.
Now I'm going to drag her to "Lincoln" with me tonight and she doesn't even know it.
— I'll end these musings with this…Just an idea when it comes to these holiday break men's and women's basketball games. Is there something we can do to make student tickets allow the kids into these contests? The students make the atmosphere that much better. Maybe you don't even allow them into every game with their student tickets. Maybe it's a select three or four. I don't have the answer but it makes sense in my mind. Those seats aren't being purchased by randoms when Campbell comes to town on a Sunday night. You might as well enhance the atmosphere right?
So long!