AMES — With Thanksgiving being only a few days away, let's make a festive analogy to the non-conference portion of the 2012-13 Iowa State men's basketball season shall we?
At my house on Thanksgiving, nobody ever eats the cranberry sauce. It's there every year. For some reason, we continue to buy it but nobody ever eats the gooey mess. For me personally, it's inevitable to not look past the cranberry sauce to the main event – the meat and potatoes. 
Tuesday night's 86-57 win over a severely over-matched North Carolina A&T team was the cranberry sauce to this November schedule. Up next is the main course – the mashed potatoes, stuffing, turkey and ham if you will – the Cincinnati Bearcats. Either UNLV or Oregon will be the pumpkin pie. 
Here's a recap of Tuesday's sometimes sloppy, but still convincing Cyclone victory. 
Player of the Game
Will Clyburn – A man who apparently enjoys eating cranberry sauce. 
Clyburn scored 14 points and recorded seven rebounds in the win. Tyrus McGee led the Cyclones in scoring with 16, but Clyburn's four first half field goals were important in keeping Iowa State's lead comfortable at the break. 
"I thought that Wil was really good at attacking the basket," said Fred Hoiberg after the game. "He continues to get to the basket when he wants to. He made good decisions. He didn't finish a couple of them. He had three assists. He could have had five or six I thought by us missing a couple of easy ones out there."
Through the first four games of the season, Clyburn is leading Iowa State in scoring at 15.0 per contest. 
Three Up
Rebounding – The Cyclones grabbed 53 boards compared to 30 by NCAT. Iowa State has out-rebounded its first four opponents 196 to 122. 
Georges Niang – He's played four games in his college career. He's scored in double-digits in the first four games of his college career. Niang had 14 points with six rebounds in Tuesday's win. 
I think that we'll probalby see a lot of 12 and seven type games from Niang this season. He'll have quiet but consistent nights for Fred Hoiberg's team and rarely a bad one. 
Niang is currently second in scoring on the roster averaging 14.3 points per game.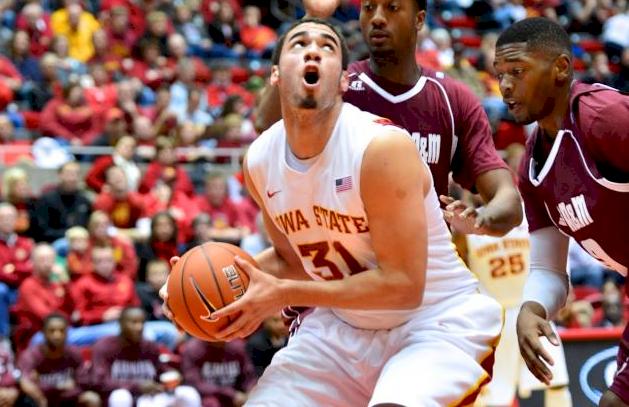 Defense – Hoiberg thinks that at this point in the season, it's pretty clear that this team will be better at it than last. North Carolina A&T shot 16 percent from the field in the first half.
"Just our ability to guard the ball and apply pressure to the point guard. We just didn't have that ability last year," said Hoiberg. "Chris (Allen) and Scott (Christopherson) did a lot of good things for us but they never really guarded a point guard full court like we are doing this year. I think we can pressure more with Babb at the 2 and Will at the 3. We've got really good length. Melvin is an excellent defender at the 4 and Booker is a solid defender at the 5."
Three Down
North Carolina A&T – I'd like to think that the Aggies shooting 30 percent from the field was due to a stifling Iowa State defense…That might have had something to do with the above statistic. Maybe. 
Or it could just be that A&T was just that bad. The Aggies shot 15 percent from the field in a 93-39 loss to Cincinnati on Sunday night too. Their poor offensive performance wasn't a fluke. 
Turnovers – Turnovers continue to be an issue with this year's Iowa State team. The Cyclones committed 17 of them in the win. 
First half shooting – The Cyclones mised their first 10 3-pointers in the game. North Carolina A&T missed its first 14 shots from the field. If Dick Vitale would have been in attendance, he would have been yelling "BRICK CITY" throughout the first 15 minutes of this one. 
Notebook
*** Iowa State's Hilton Coliseum winning streak is now at 11 games. 
*** Iowa State went on a 19-3 run over the final 6:31 of the first half. 
*** Tyrus McGee is 12-of-21 in his last three games from 3-point range. 
*** Chris Babb's assist-to-turnover ratio in his first two games back from a suspension is 9 to 1.