By Chris Williams, CycloneFanatic.com PublisherFollow Chris on Twitter @ChrisMWilliams  
Happy Monday Cyclone Nation.
Any other Iowans sunburnt today? On Sunday afternoon, I did something that I vowed a little less than one year ago to never do again. I played golf (after a couple of tough rounds last summer, I was angry at the amount of money I was spending on the game, which was a lot, compared to the amount of enjoyment it wsa giving me, which was zero).
Needless to say, today I'm fried.
That's beside the point though. Iowa State is smack dab in the middle of spring football, hoops is on the mind (with the national championship game being played tonight) and we've got a lot to get to today.
Enjoy this week's installment of Monday Musings.
ON CYCLONE FOOTBALL…
— Iowa State completed its first full scrimmage of the spring on Saturday and I'm not at all surprised that Paul Rhoads came out and told reporters that he would not make decision on his starting quarterback until fall camp. I'm glad that Rhoads just said it because we knew this was going to be the case right?
— Speaking of quarterbacks, Rhoads also told the media that his three signal callers are completing over 60 percent of their passes so far this spring. Considering the injuries on Iowa State's defense right now, is 60 percent that impressive of a number?
When the two guys who started for you a year ago completed 50.0 and 53 percent of their balls, being OVER 60 percent only seven days into spring football is a major bright spot in my opinion. Regardless of who wins the job, he'll not only have experience to fall back on, but more targets at wide receiver and what I expect to be an improved tight end position to throw to in 2012.
Iowa State won't be Boise State next season, but things are looking up for the passing game.
— This doesn't happen very often…
It seems like every time that I have stuck my head in the Jacobson Building the spring, somebody is talking about walk-on wide receiver Justin Coleman (a junior who transferred to Iowa State from Nebraska-Omaha).  Will he be a major player in the fall for the Cyclones? I honestly don't know. But I do know that with three scholarship wide receivers being down (Aaron Horne, Chris Young and Ja'Quarius Daniels), Coleman (among others) has had plenty of opportunities to shine this spring. From the sound of things, he's taken advantage of them.
And for the record, Austen Arnaud told me to keep an eye on Coleman as we watched Iowa State's first practice of the spring a little less than two weeks ago. Coleman's emergence as a player is not a surprise to those inside of the Iowa State football program. He's legit.
— Why doesn't anybody ever talk about junior running back James White? For real. Here's a guy who led Iowa State in rushing yards (819) and touchdowns (8) a season ago and since spring ball began, I haven't seen his name mentioned once on our message board.
White has been the overlooked guy since the day that he arrived on campus. He was destined to redshirt. Coming off of that, Shontrelle Johnson showed up and deservingly stole the headlines. Shontrelle went down, James produced but he's still not on the radar of most fans, media members, etc.
White has the reputation as being of of the hardest working Cyclones on the team. Don't forget about him.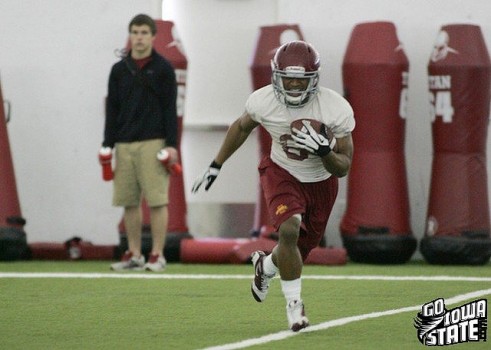 ON COLLEGE HOOPS…
— Thomas Robinson vs. Anthony Davis. The Big 12 vs. the SEC. Two of college basketball's most prestigious programs will go head-to-head tonight while playing for the grandest prize of them all, the national championship.
But don't kid yourself.
John Calipari vs. Bill Self.
That's what tonight is about.
Like it or not, modern college basketball is a coaches game. While the elite players are around for one measly season, the coaches are the constant in this sport. The coaches are the superstars.
Tonight's game features a rematch that rarely happens under these circumstances between probably the two best coaches in the game today.
Enjoy the chess match. I know that I will.
— In honor of it being Masters week, here's me giving a subtle golf clap to former TCU head coach Jim Christian for getting the heck out of town before the mob forced him out. According to multiple reports, Christian accepted the Ohio U. job on Sunday night.
In four years at TCU, Christian's best season resulted in an 18-15 (7-7) mark. That just happened to be this year. The Horned Frogs went 1-15 in Mountain West play a season ago.
The fact is that if Christian couldn't get it done in the Mountain West, he wasn't going to win in the Big 12.
Christian just did TCU a substantial favor. Now the school will be able to go out and hire a high-major recruiter and perhaps a big name who feels TCU is a bit of a sleeping giant?
Tim Floyd (UTEP) would make some sense…
I'm a huge Doc Sadler fan. He's out there. What about Larry Eustachy (Southern Miss)?
Perhaps TCU will go the assistant route and look at a Russ Springman from Texas? I'm just throwing names out there. But I think that TCU will have plenty of options.
With the Big 12 money coming, TCU's administration shouldn't be strapped for cash. With location in mind, this is an attractive job for somebody in my opinion.
— Kansas State hired former Illinois coach Bruce Weber as its replacement for Frank Martin over the weekend. From an Iowa State perspective, I have absolutely no clue how to feel about this one. It isn't the sexiest hire in the world. It's not as if Weber has been lighting things up at Illinois over the last five years. Even so, if he gets players, we all know that Bruce Weber can coach. We've seen it. It's that whole getting players thing that could give Weber problems in the Big 12.
I'll say this (again speaking from an Iowa State perspective)…I like Bruce Weber heading up Kansas State's program more than I did Bob Huggins or Frank Martin. With those two guys in control, you KNOW that Kansas State is going to be a winner in hoops.
At least with Weber, there's some reason for doubt.
— And last but not least, former Cyclone guard Tavon Sledge is going to visit Iona. This nugget comes courtesy of ZagsBlog.com.