By Chris Williams, CycloneFanatic.com PublisherFollow Chris on Twitter @ChrisMWilliams  
AMES — Below are notes, quotes and more from Paul Rhoads' first press conference of spring football 2012 that was held on Tuesday in Ames. We'll have more coverage from the event for you on Wednesday. 
INJURY REPORT: Iowa State's wide receivers have caught a case of the injury bug.
Over the span of four practices, three Cyclone wide receivers have gone down.
Last year's Big 12 Newcomer of the Year, senior Aaron Horne broke his collarbone on Saturday and is out for the rest of the spring. In addition to Horne, senior Chris Young is recovering from a concussion while redshirt freshman Ja'Quarius Daniels has missed time due to a shoulder injury.
"It's a position group that needs so much growth," said head coach Paul Rhoads in a Tuesday press conference. "I don't think that it at all sets us back. You've got a guy like Justin Coleman who joined our program after UNO (Nebraska-Omaha) dropped football a year ago that we think can help us. He's going to get more reps. Jerome Tiller is still a novice to the position. He's going to get more reps."
Those are only a few of the Iowa State wide receivers who need reps this spring. Albert Gary, Tad Ecby, Jarvis West and Quenton Bundrage all still have room to grow and will see increased reps due to the above injuries.
One wide receiver that isn't injured is one who has been quite a bit during his three years in Ames. That's senior Josh Lenz…
"I would say (he feels) good but there's no wood around here (to knock on)… I'm just trying to stay healthy and get through the spring."
Horne, along with walk-on (freshman) defensive back Levi Peters, is due to have surgery on Wednesday.
QUARTERBACKS: How are Steele Jantz and Jared Barnett responding to this year's edition of the annual Iowa State quarterback competition?
According to Rhoads, quite well.
"They are here on Monday watching tape before meetings," said Rhoads. "They were sticking around after Saturday's practice watching film on their own again immediately after it took place. We have a very hungry football team. There was a look in their eye on Saturday."
Jantz said that he is relieved to finally be running at full speed again after suffering a foot injury during his junior campaign.
"I was kind of starting to feel better again at the end of last season so I was excited to get into spring ball," said Jantz. "It's been fun."
Year two of spring football has made the game slow down for Jantz as well.
"It's all about making good decisions and being smart out there," said Jantz. "There's not so much anxiety about what it is going to be like. Now I know what it is going to be like. I can concentrate on being a better quarterback."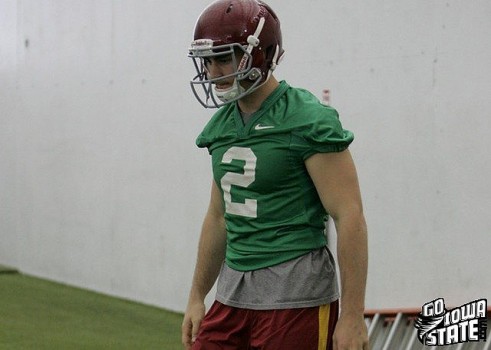 RHOADS' CHALLENGE TO JEFF WOODY: Paul Rhoads wants junior running back Jeff Woody to be a better blocker in 2012.
"We want him to be physical," said Rhoads. "You don't have to be a devastating blocker but at his size he shouldn't be a position blocking type of guy. We want him to put his face on people and knock them on the ground. As he develops that, his role potentially expands."
Woody, a 6-foot-1, 245-pound junior, understands and is embracing this challenge.
"A lot of it is hand placement. My main issue that I have is I make good contact but my hands are too wide so I can't drive someone off," said Woody. "That's really the main thing that I need to improve on so that we can have more of that two running back set that we showed a little bit of last year so that I can be an extra offensive lineman or serve another purpose that last year of the year past I wasn't able to do.
"A lot of it is effort and I have that part down. The technique instead of just running into someone, knowing how you're supposed to run into someone. That's the big difference."
THE BEARD: As we all saw when spring ball opened a week ago, Paul Rhoads was rocking his beard. Leave it to WHO-TV 13's Chris Hassel who asked the head coach about his grizzled during Tuesday's media event.
"Laziness and my wife sort of likes it," explained Rhoads.
Hassel pressed, asking why Rhoads doesn't sport the look on game days.
"It's just not what I want to represent for myself as the face of the program," said Rhoads. "I usually keep it off during recruiting as well when I go into homes in January."
All-Big 12 linebacker Jake Knott appreciates Rhoads' facial hair…
"I don't know about you guys but I think it's kind of cool," said Knott. "If I could grow one, I would."